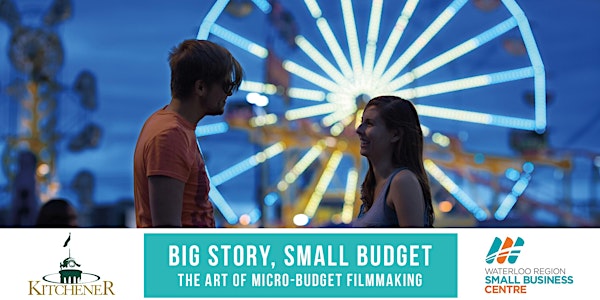 Micro-Budget Filmmaking
By City of Kitchener Economic Development - Arts & Culture
Date and time
Thu, Sep 22, 2016 4:00 PM - 7:00 PM EDT
Location
Kitchener Public Library 85 Queen Street North Kitchener, ON N2H 2H1 Canada
Description
For recent film graduates or established filmmakers, this workshop is focused on how to plan finances for filmmaking, including the importance of research, crowd funding, affordable film cameras, pre-production tips, maximizing the environment and, of course, examples of successful micro-budget films.
SCHEDULE:
4:00 PM
REGISTRATION & WELCOME
4:30 PM
PART 1 - INTRODUCTION TO MICRO-BUDGET FILMMAKING
• Micro-budget vs low-budget filmmaking
• Hidden costs of filmmaking, before and after
• Examples of successful micro-budget films
PART 2 - The importance of Research
• The Library as a source of knowledge
• Knowledge vs. Experience
• Examples of books for screenwriting, cinematography, directing, etc.
PART 3 - Substance over Style
• Don't get into the pixel-counting game; story first
• Bad production value is more than a camera issue; cast and crew matter
• Examples of movies shot with affordable film cameras and DSLRs
5:30 PM
BREAK, REFRESHMENTS
6:00 PM
PART 4 PRE-PRODUCTION
• Location scouting, hiring, and maximizing a small budget
• Practice makes perfect (methods to streamline the production)
• You can't be every role and what a skeleton crew means for you
PART 5 WORKING WITH YOUR ENVIRONMENT
• Shooting on-location if you can't afford to rent and/or build a set
• Tips for utilizing natural and available light
• Taking advantage of ambient sounds, architecture, and the outdoors
PART 6: FUNDRAISING & SOCIAL MEDIA
• Knowing your audience and submitting to film festivals
• Kickstarter vs. Indiegogo
• Local film resources in Kitchener
7:00 PM
Q & A
Speakers: Ava Torres (Director, Producer, Director of Photography) Helmann Wilhelm (Director, Writer, Editor), Jennifer Adams