Description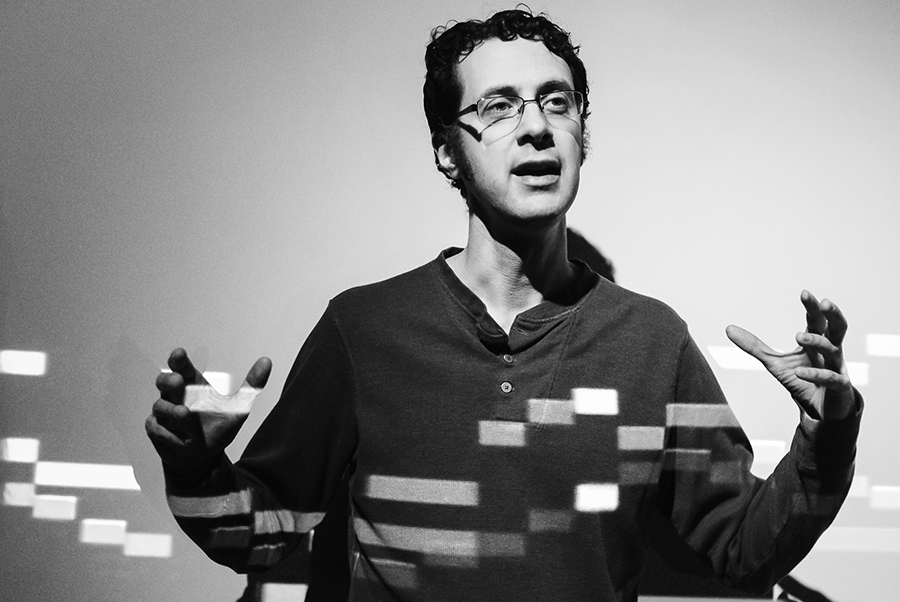 Award winning writer/performer and Fringe Festival legend TJ DAWE weaves a compelling new one-man show out of fragments from acclaimed cultural innovators to answer a few questions: How smart are you? How smart are we as a culture? How much can your brain juggle? Are we getting smarter or dumber? Dawe's THE FUGUE FUGUE is the first 2014 Micro Performance Series production, playing at Boca del Lupo's Anderson Street Space on Granville Island between February 13 – 16, 2014.
Dawe recruits the work of composer Johann Sebastian Bach, novelist Aldous Huxley, comic book writer Alan Moore, television creator J.J. Abrams, and filmmaker Robert Altman, as well as a self-penned 2011 essay, to entwine and challenge the audience to hear all the "voices" coming at us. Using multi-media elements from television, film, music, video games, THE FUGUE FUGUE will investigate our ever-increasing communication platforms, and the steps we take to calibrate our own lives.
Each year, Boca del Lupo presents the Micro Performance Series (MPS). Centered on and around Granville Island, these productions are created and performed by local, national and international artists working across disciplines in intimate and small-scale forms. Each project asks the audience, which is rarely more than 20 at a time, to immerse themselves in a world of the artists' creation. These performances are not smaller versions of what would normally be larger productions, these are pieces that exploit what is only possible on a smaller, more intimate scale.
TJ Dawe is Vancouver-based award-winning writer, performer, and director who has been creating solo theatre pieces for over 17 years. Past solo projects include Medicine, Lucky 9, Totem Figures, Maxim & Cosmo, Previously Unreleased Material, The Curse of the Trickster, A Canadian Bartender, Tracks (adapted from The Road by Jack London), The Slipknot, Labrador, Tired Cliches, Stating the Obvious, and Whank. Current projects include a stage adaptation of the popular blog PostSecret, premiering as PostSecret: the Show in Charlotte, NC in April 2014. He co-wrote the play Toothpaste and Cigars, which was recently made into the feature film The F Word, starring Daniel Radcliffe. www.tjdawe.ca @TJ_Dawe
THE FUGUE FUGUE Written and performed by TJ Dawe
Presented by Boca del Lupo's Micro Performance Series
February 13 - 16, 2014
Nightly at 7pm, 7:45pm, 8:30pm, 9:15pm with a talkback following the final performance
DURATION: 20 minutes
TICKETS: $10 general admission, seating is limited.
Photo of TJ Dawe by Diane Smithers
Organizer of Micro Performance Series: The Fugue Fugue by TJ Dawe
One of Vancouver's most innovative and dynamic theatre companies, Boca del Lupo specializes in experimental theatrical productions and spectacular outdoor presentations while focusing on collaborations with international, national and regional artists.

Led by Jay Dodge and Sherry J Yoon, Boca works with a broad spectrum of artists and organizations when creating our productions.