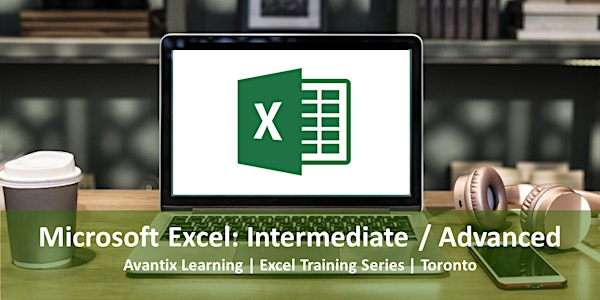 Multiple dates
Microsoft Excel Course (Intermediate/Advanced) | Online or in Toronto
Microsoft Excel: Intermediate / Advanced (2 Day Training Course) | Online in Virtual Classroom Format or in Toronto
Date and time
September 8, 2016 · 9am - December 14 · 9am EDT
Location
Avantix Learning | Online Virtual Classroom or Toronto Classroom 250 Yonge Street Suite 2700 Toronto, ON M5G 1V2 Canada
Refund Policy
Contact the organizer to request a refund.
About this event
Microsoft® Excel® Intermediate/Advanced Course (Instructor-led)
Course Dates: April 19/20, 2023 (Virtual classroom or In-person) | May 8/9, 2023 (Virtual classroom or In-person) | Check for more dates (Virtual classroom or In-person) > 
Duration: 2 days - 9 am - 4 pm (ET)
Microsoft Excel Versions:  2013 | 2016 | 2019 | 2021 | 365 (Windows)
Delivery Methods (Instructor-led): In-person (live classroom) training or virtual classroom training
Course Fee: $495 CDN per person (Virtual classroom), $545 CDN per person (Bring your own device for live classroom courses) or $595 CDN per person + HST (Avantix Learning provides device for live classroom courses)*
Virtual Classroom: Virtual classroom courses are led by a live instructor and run from 9 am to 4 pm (Eastern Time) with a 15 minute break in the morning and in the afternoon and a 1 hour break for lunch.
In-person (Live Classroom) Course Location: Our live classroom courses are offered in downtown Toronto at the Toronto Eaton Centre or at 18 King Street East, Suite 1400, Toronto, Ontario, Canada (some Avantix Learning courses may be held at an alternate downtown Toronto location). Location will be confirmed when you register.
Learning Path: Level 2
Prerequisite: Microsoft Excel: Introduction or equivalent knowledge and skills.
Custom training: Available on request. Contact us to arrange a date.
Note: Public scheduled courses are delivered as live instructor-led classroom training or virtual classroom training (as indicated). Bring your own device rates apply to live classroom courses.
This hands-on Microsoft Excel training course is designed for the user who wants to move to the next level and focus on core competencies in Excel. Students will review common functions and key concepts and then move on to powerful conditional functions and tools including IF, SUMIF, COUNTIF, VLOOKUP and conditional formatting. Links will be created and managed between worksheets, workbooks and other programs. Students will review strategies to manage list or database data using filtering, sorting, subtotalling and validations. Using Excel data, charts will be generated and formatted and then a chart template will be created to save time. Students will also summarize list data using pivot tables and will create simple macros to automate repetitive tasks. Throughout this course, the instructor will include numerous tips, tricks and shortcuts. Key takeaways include a full course manual, Quick Reference Guide with keyboard shortcuts as well as sample and exercise files.
Course topics
Working Efficiently in the Microsoft Excel Environment
Customizing the Quick Access Toolbar
Setting important Excel options
Using keyboard shortcuts for navigating and selecting cells
Applying themes to automate formatting
Mastering Key Excel Concepts
Using absolute and relative referencing in formulas
Creating a formula with a mixed reference
Naming cells and cell ranges and using the names in formulas
Managing named cells and ranges using the Name Manager
Using Shortcuts for Entering Core Excel Functions
Using different strategies to quickly enter core Excel functions including SUM, AVERAGE, MIN and MAX
Counting cells with different types of data
Inserting the current static date or dynamic date
Extracting date information from cells containing dates using core date functions
Using keyboard shortcuts to insert and display formulas
Combining text strings in a formula
Using the IF and VLOOKUP Functions
Using the powerful IF function to output conditional results
Nesting the IF function within a longer expression
Creating formulas using SUMIF and COUNTIF
Looking up data from a list using the VLOOKUP function
Dealing with VLOOKUP errors
Applying Conditional Formatting
Highlighting key information using conditional formatting rules
Removing conditional formatting rules
Editing rules for icon sets
Writing formulas in conditional formatting rules
Protecting and Formatting Worksheets and Workbooks
Protecting worksheets and workbooks
Using cell styles and themes to speed up formatting in multiple worksheets
Linking Worksheets and Workbooks
Linking worksheets and workbooks using links in formulas
Managing and updating links
Importing linked and unlinked Excel data into other programs
Summarizing Cells or Ranges from Multiple Sheets
Understanding 3D references
Inserting formulas that extract totals from multiple sheets using 3D references
Considerations when inserting, moving and deleting sheets
Manipulating and Extracting List or Database Data
Using key strategies to set up  lists or databases correctly in Excel
Identifying the parts of a list or database
Inserting records on a worksheet or adding records using a data form
Sorting records using the Sort feature with multiple sort keys
Using a custom sort to sort records
Inserting subtotals using the Subtotal feature and using the Outline feature to display subtotals and grand totals
Applying filters with multiple criteria
Using custom criteria when filtering text, number and date fields
Setting up advanced filters for more complex filtering such as overcoming the two criteria custom filter maximum
Converting Data Sets to Tables
Why you should be using Excel tables
Converting lists to tables in 3 different ways
Creating formulas in tables
Displaying totals for filtered records
Converting tables back to normal ranges
Creating Drop-Down Lists Using Validations
Applying validations to ensure users enter the correct data in cells
Creating drop-down lists to make data entry easier and more accurate
Visualizing Data using Charts and Sparklines
Inserting charts on a spreadsheet or on a new Excel sheet
Applying chart formats to improve the appearance of your charts
Changing the chart type
Applying different types of formatting using various tips and tricks
Saving time by creating a chart template
Displaying trends using miniature charts in cells called Sparklines (in Excel 2010 and later)
Summarizing List Data using Pivot Tables
Creating pivot tables to summarize Excel list or database data
Rearranging fields in a pivot table
Applying formatting to pivot tables and fields
Filtering a pivot table
Creating a pivot chart
Updating or refreshing a pivot table
Applying filtering using Excel's slicers (in Excel 2010 and later)
Adding a pivot table button to the Quick Access Toolbar
Automating Tasks using Simple Macros
Creating simple macros using the macro recorder to automate tasks
Viewing VBA (Visual Basic for Applications) code created by the macro recorder
Controlling macro security
Running a macro using different strategies
Writing keyboard shortcuts
Who will benefit
This course has been designed for Microsoft Excel users who have completed the Microsoft Excel: Introduction training or have equivalent knowledge and skills.
Can I bring my own device?
Absolutely! If you choose to bring your own device to a live classroom course, you will receive a reduced rate. Be sure to bring a power cord and a mouse is helpful.
What's included
Included in this course:
Comprehensive course manual
Keyboard shortcuts quick reference
Sample and exercise files
Refreshments (for classes conducted in Avantix Learning classrooms)
Certificate of completion
Follow-up email support
Related training
Microsoft Excel: Data Analysis with Functions, Dashboards and What-If Analysis Tools
Microsoft Excel: New and Essential Features and Functions in Excel 365
Microsoft Excel: Introduction to Power Query to Get and Transform Data
Microsoft Excel: Introduction to Power Pivot and Data Modelling
Microsoft Excel: Introduction to VBA (Visual Basic for Applications)
Microsoft Project: Introduction
More resources
How to Fill Blank Cells with Zeros, Dashes and Other Values in Excel >
10 Timesaving Excel Tricks and Shortcuts for Copying and Pasting >
How to Lock and Unlock Cells in Excel >
How to Freeze Row and Column Headings in Microsoft Excel >
How to Delete Blank Rows in Excel (5 Ways) >
About Avantix Learning courses
Avantix Learning offers live instructor-led classroom courses and virtual classroom courses allowing personal interaction between the students and the instructor. We specialize in small classes, typically ranging from 6 to 10 students to ensure an optimal student to instructor ratio.
Live classroom courses are offered in downtown Toronto at 18 King Street East, Suite 1400, Toronto, Ontario, Canada. Some courses may also be offered at an alternate downtown Toronto location.
Virtual classroom courses are delivered online by a live instructor in a virtual classroom environment.
Our top-notch instructors have years of experience in the business world and students are encouraged to ask questions during our courses. Avantix Learning senior instructors have 15 or more years of experience. A complete profile of the instructor leading a specific course is available on request.
Questions?
Have a question? Email us at info@avantixlearning.ca.
You can also find information about all of our courses on our web site at www.avantixlearning.ca.
Refunds/Cancellations
We understand that your plans may change. Check out our refund policy for information regarding refunds and transfers.
Microsoft, the Microsoft logo, Microsoft Office and related Microsoft applications and logos are registered trademarks of Microsoft Corporation in Canada, US and other countries. All other trademarks are the property of the registered owners.
About the organizer
Avantix Learning offers live instructor-led classroom courses in downtown Toronto or online in virtual classroom format. We specialize in small classes with top-notch instructors. Public courses are offered in our virtual classroom or at 18 King Street East, Suite 1400, Toronto, Ontario, Canada or at alternate downtown Toronto locations. Contact us at info@avantixlearning.ca for more information about any of our courses.