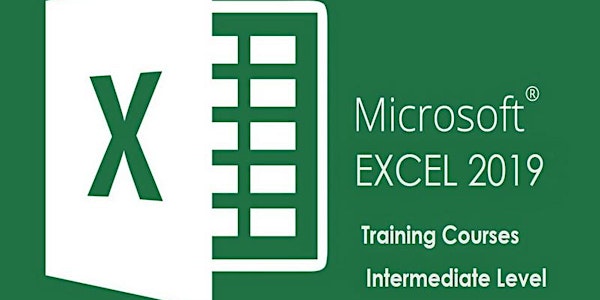 Microsoft Excel Online Training | Intermediate Level Class- Instructor-Led
MS. Excel Training Course – Excel 2019 Intermediate Level Classes
Refund Policy
Refunds up to 7 days before event
Eventbrite's fee is nonrefundable.
About this event
MS. Excel Training Course – Excel 2019 Intermediate Level Classes 
For more details and Registration, please visit Excel Course Page
This Intermediate Microsoft Excel 2019 training class is meant for students who want to advance their skill set by learning to work with Large Worksheets , Multiple Worksheets and Workbooks, Working with dates, Conditional formulas and formatting, and Using Templates.
Training Type:  Classroom Training – Downtown Toronto " Also available in Mississauga and Scarborough"
Other options : Online Training- On-site at your company office " Anywhere"
Course Level:  Intermediate
Number of students per session:  Our class sizes are typically 6 students per session. Our classes are intentionally kept small in order to foster more interaction between the instructor and students. We limit classes to a maximum of six (6) students unless we are teaching a private group or organization. Each student is provided a laptop with hands-on access to Microsoft Excel 2019 (Windows)
Locations: Toronto ( 1 Yonge St),  Also we offer the course in Mississauga & Scarborough.
Duration:   1 day  ( 10 AM- 5 PM)
Special Offers:   Sign up with a friend and save 5% each  – Sign up with 2 friends and save 10%
You can get Microsoft office including MS.Excel 2019 for less than $15/Month from Microsoft Office Official site. Select Office 365 Business
Corporate Training:  Contact us for special offers
PREREQUISITES
A working knowledge of creating/formatting simple spreadsheets, basic formulas and functions . Or our Excel Introduction Level course.
TARGET AUDIENCE
This course is intended for students who have basic skills with Microsoft Excel 2019  and want to expand their knowledge. Improving formatting, organizing data, highlighting key information and creating formulas/links between sheets. Also for  students who want to learn the topics covered in this course in the Excel 2019 interface.
COURSE OBJECTIVES
Upon successful completion of this course, you will have a good working knowledge of the following:
use the fill operations available to fill a data series
use a range of techniques to work with worksheets
apply a variety of page setup techniques
apply borders to cells and ranges in a worksheet
use common worksheet functions
create more complex formulas and functions
create and use defined names in a workbook
apply a range of number formatting techniques to worksheet cells
apply conditional formatting to ranges in a worksheet
use goal seeking to determine the values required to reach a desired result
understand and use Excel's Quick Analysis tools
create and work with tables
use a range of elements and features to enhance charts
select and change the format of objects in a chart
COURSE OUTLINE
Filling Data
Understanding Filling
Filling a SeriesFilling a Growth Series
Filling a Series Backwards
Filling Using Options
Creating a Custom Fill ListModifying a Custom Fill List
Deleting a Custom Fill List
Extracting With Flash Fill
More Complex Flash Fill Extractions
Extracting Dates and Numbers
Worksheet Techniques
Inserting and Deleting Worksheets
Copying a Worksheet
Renaming a Worksheet
Moving a Worksheet
Hiding a Worksheet
Unhiding a Worksheet
Copying a Sheet to Another Workbook
Changing Worksheet Tab Colors
Grouping Worksheets
Hiding Rows and Columns
Unhiding Rows and Columns
Freezing Rows and Columns
Splitting Windows
Page Setup
Strategies for Printing Worksheets
Understanding Page Layout
Using Built in Margins
Setting Custom Margins
Changing Margins by Dragging
Centering on a Page
Changing Orientation
Specifying the Paper Size
Setting the Print Area
Clearing the Print Area
Inserting Page Breaks
Using Page Break Preview
Removing Page Breaks
Setting a Background
Clearing the Background
Settings Rows as Repeating Print Titles
Clearing Print Titles
Printing Gridlines
Printing Headings
Scaling to a Percentage
Fit to a Specific Number of Pages
Applying Borders
Understanding Borders
Applying a Border to a Cell
Applying a Border to a Range
Applying a Bottom Border
Applying Top and Bottom Borders
Removing Borders
The More Borders Command
Using the More Borders Command
Drawing Borders
Drawing a Border Grid
Erasing Borders
Formatting the Drawing Pencil
Essential Functions
Key Worksheet Functions
Using IF With Text
Using IF With Numbers
Nesting IF Functions
The CHOOSE Function
The LOOKUP Function
Using Counting Functions
The ROUND Function
Rounding Up and Rounding Down
Manipulative Functions
The MOD Function
The TODAY Function
The NOW Function
The DATE Function
The PMT Function
Defined Names
Understanding Defined Names
Defining Names From Worksheet Labels
Using Names in Typed Formulas
Applying Names to Existing Formulas
Creating Names Using the Name Box
Using Names to Select Ranges
Pasting Defined Names Into Formulas
Defining Names for Constant Values
Creating Names From a Selection
Scoping Names to a Worksheet
Using the Name Manager
Documenting Defined Names
Number Formatting Techniques
Applying Alternate Currencies
Applying Alternate Date Formats
Formatting Clock Time
Formatting Calculated Time
Understanding Number Formatting
Understanding Format Codes
Creating Descriptive Custom Formats
Custom Formatting Large Numbers
Custom Formatting for Fractions
Padding Numbers Using Custom Formatting
Aligning Numbers Using Custom Formats
Customizing the Display of Negative Values
Conditional Formatting
Understanding Conditional Formatting
Formatting Cells Containing Values
Clearing Conditional Formatting
More Cell Formatting Options
More Top and Bottom Formatting Options
Working With Data Bars
Working With Colour Scales
Working With Icon Sets
Understanding Sparklines
Creating Sparklines
Editing Sparklines
Goal Seeking
Understanding Goal Seeking
Using Goal Seek
Challenge Exercise
Challenge Exercise Sample
The Quick Analysis Tools
Understanding Quick Analysis
Quick Formatting
Quick Charting
Quick Totals
Quick Sparklines
Quick Tables
Worksheet Tables
Understanding Tables
Creating a Table From Scratch
Working With Table Styles
Inserting Table Columns
Removing Table Columns
Converting a Table to a Range
Creating a Table From Data
Inserting or Deleting Table Records
Removing Duplicates
Sorting Tables
Filtering Tables
Renaming a Table
Splitting a Table
Deleting a Table
Chart Elements
Understanding Chart Elements
Adding a Chart Title
Adding Axes Titles
Repositioning the Legend
Showing Data Labels
Showing Gridlines
Formatting the Chart Area
Adding a Trendline
Adding Error Bars
Adding a Data Table
Chart Object Formatting
Understanding Chart Formatting
Selecting Chart Objects
Using Shape Styles
Changing Column Color Schemes
Changing the Color of a Series
Changing Line Chart Colors
Using Shape Effects
Colouring the Chart Background
Understanding the Format Pane
Using the Format Pane
Exploding Pie Slices
Changing Individual Bar Colors
Formatting Text
Formatting With WordArt
Changing WordArt Fill
Changing WordArt Effects
Included Course Materials
Course workbook "PDF" including step-by-step course exercises complete with many actual screen captures and advanced project tips, exercises and answers
Data files with all applicable Microsoft Excel files used in the course
Certificate of completion (PDF)
For more details about Microsoft Excel , please visit the product  official page EXCEL 2016
Learn What's New in Microsoft Excel 2019
Related Classes
Excel Introduction online training
Excel Intermediate online training
Excel Advanced Online Training
Take Microsoft Excel 2019 Fundamentals Training Courses in Toronto, Mississauga, Scarborough , Montreal & Ottawa
Take Microsoft Excel 2019 Intermediate Level Training Classes in Toronto, Mississauga, Scarborough , Montreal & Ottawa
Take Microsoft Excel 2019 Advanced Level Classes in Toronto, Mississauga, Scarborough , Montreal & Ottawa
Microsoft Excel 2019 Tables, Pivot Tables and Conditional Formatting
Microsoft Excel 2019 | Using Formulas for Financial Analysis.
Microsoft Excel 2019 | Using Formulas For Statistical Analysis