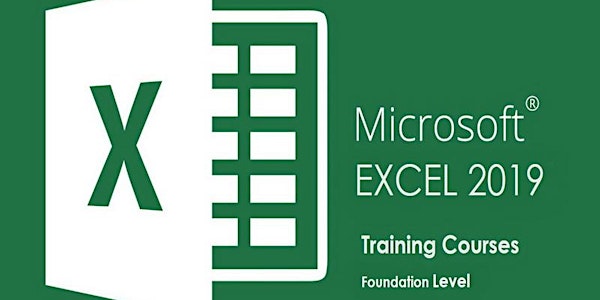 Microsoft Excel Online Training | Introduction Level – Instructor-Led
MS. Excel Training Course – Excel 2019 Basics Level Classes
Refund Policy
Refunds up to 7 days before event
Eventbrite's fee is nonrefundable.
About this event
MS. Excel Training Course – Excel 2019 Basics Level Classes
 For more details and Registration, please visit the course page Excel Introduction online training
This MS. Excel course aims to provide students with a foundation for Excel knowledge and skills, which they can build upon to eventually become an expert in data manipulation.
Training Type:  Classroom Training – Downtown Toronto " Also available in Mississauga and Scarborough"
Other options: Online Training- On-site at your company office " Anywhere"
Course Level:  Foundation
Number of students per session:  Our class sizes are typically 6 students per session. Our classes are intentionally kept small in order to foster more interaction between the instructor and students. We limit classes to a maximum of six (6) students unless we are teaching a private group or organization. Each student is provided a laptop with hands-on access to Microsoft Excel 2019 (Windows)
Locations: Toronto ( 1 Yonge St),  Also we offer the course in Mississauga & Scarborough.
Duration:   1 day  ( 10 AM- 5 PM)
Special Offers:   Sign up with a friend and save 5% each  – Sign up with 2 friends and save 10%
Bring your laptop: Save $ 50 "$250 only" (Your laptop with Microsoft Excel 2016 or Excel 2019 installed). You can get Microsoft office including MS.Excel 2019 for less than $15/Month from Microsoft Office Official site. Select Office 365 Business
Corporate Training:  Contact us for special offers
PREREQUISITES
A working knowledge of Windows is required. No experience of MS Excel is required. If you have basic knowledge of Microsoft Excel , you can improve your skills by taking our Microsoft Excel Intermediate Level Class
TARGET AUDIENCE
This course is intended for students who wish to gain the foundational understanding of Microsoft Office Excel 2016 that is necessary to create and work with electronic spreadsheets
COURSE OBJECTIVES
Upon successful completion of this course, you will have a good working knowledge of Excel basics. You will be able to create and develop Excel worksheets and workbooks in order to work with and analyze the data that is critical to the success of your organization. You will: Get started with Microsoft Office Excel 2019. Perform calculations. Modify a worksheet. Format a worksheet. Print workbooks. Manage workbooks.
COURSE OUTLINE
Getting to Know Excel
Starting Excel From the Desktop
Understanding the Excel Start Scree
The Excel Workbook Screen
How Excel 2016 Works
Using the Ribbon
Showing and Collapsing the Ribbon
Understanding the Backstage View
Accessing the Backstage View
Using Shortcut Menus
Understanding Dialog Boxes
Launching Dialog Boxes
Understanding the Quick Access Toolbar
Adding Commands to the QAT
Understanding the Status Bar
Exiting Safely From Excel
Creating a New Workbook
Understanding Workbooks
Using the Blank Workbook Template
Typing Text
Typing Numbers
Typing Dates
Typing Formulas
Easy Formulas
Saving a New Workbook on Your Computer
Checking the Spelling
Making Basic Changes
Safely Closing a Workbook
Working With Workbooks
Opening an Existing Workbook
Navigating a Workbook
Navigating Using the Keyboard
Using Go To
Recent Files and Folders
Editing in a Workbook
Understanding Data Editing
Overwriting Cell Contents
Editing Longer Cells
Editing Formulas
Clearing Cells
Deleting Data
Using Undo and Redo
Selecting Ranges
Understanding Cells and Ranges
Selecting Contiguous Ranges
Selecting Non Contiguous Ranges
Selecting Larger Ranges
Selecting Rows
Selecting Columns
Copying Data
Understanding Copying in Excel
Using Fill for Quick Copying
Copying From One Cell to Another
Copying From One Cell to a Range
Copying From One Range to Another
Filling Data
Understanding Filling
Filling a Series
Filling a Growth Series
Extracting With Flash Fill
Moving Data
Understanding Moving in Excel
Moving Cells and Ranges
Moving by Dragging
Formulas and Functions
Understanding Formulas
Creating Formulas That Add
Creating Formulas That Subtract
Formulas That Multiply and Divide
Understanding Functions
Using the SUM Function to Add
Summing Non-Contiguous Ranges
Calculating an Average
Finding a Maximum Value
Finding a Minimum Value
Creating More Complex Formulas
What if Formulas
Common Error Messages
Formula Referencing
Absolute Versus Relative Referencing
Relative Formulas
Problems With Relative Formulas
Creating Absolute References
Creating Mixed References
Font Formatting
Understanding Font Formatting
Working With Live Preview
Changing Fonts
Changing Font Size
Growing and Shrinking Fonts
Making Cells Bold
Italicizing Text
Underlining Text
Changing Font Colors
Changing Background Colors
Using the Format Painter
Cell Alignment
Understanding Cell Alignment
Horizontal Cell Alignment
Vertical Cell Alignment
Indenting Cells
Number Formatting
Understanding Number Formatting
Applying General Formatting
Formatting for Money
Formatting Percentages
Formatting as Fractions
Formatting as Dates
Using the Thousands Separator
Increasing and Decreasing Decimals
Row and Column Formatting
Approximating Column Widths
Setting Precise Columns Widths
Setting the Default Column Width
Approximating Row Height
Setting Precise Row Heights
Working With a Worksheet
Understanding Worksheets
Changing the Worksheet View
Worksheet Zooming
Viewing the Formula Bar
Viewing Worksheet Gridlines
Inserting Cells Into a Worksheet
Deleting Cells From a Worksheet
Inserting Columns Into a Worksheet
Inserting Rows Into a Worksheet
Deleting Rows and Columns
Working With Multiple Worksheets
Worksheet Wisdom
Sorting Data
Understanding Lists
Performing an Alphabetical Sort
Performing a Numerical Sort
Sorting on More Than One Column
Filtering Data
Understanding Filtering
Applying and Using a Filter
Clearing a Filter
Creating Compound Filters
Multiple Value Filters
Creating Custom Filters
Using Wildcards
Printing
Understanding Printing
Previewing Before You Print
Selecting a Printer
Printing a Range
Printing an Entire Workbook
Specifying the Number of Copies
The Print Options
Creating Charts
Understanding the Charting Process
Choosing the Right Chart
Using a Recommended Chart
Creating a New Chart From Scratch
Working With an Embedded Chart
Resizing a Chart
Repositioning a Chart
Printing an Embedded Chart
Creating a Chart Sheet
Changing the Chart Type
Changing the Chart Layout
Changing the Chart Style
Printing a Chart Sheet
Embedding a Chart Into a Worksheet
Deleting a Chart
Getting Help
Understanding How Help Works
Using Tell Me
Accessing the Help Window
Navigating the Help Window
Using Google to Get Help
Printing a Help Topic
Other Sources of Assistance
A Guide to Brilliant Spreadsheets
Good Planning Is Essential
Organization and Design
Writing Effective Formulas
Documented and Easy to Use
Included Course Materials
Course workbook "PDF" including step-by-step course exercises complete with many actual screen captures and advanced project tips, exercises and answers
Data files with all applicable Microsoft Excel files used in the course
Certificate of completion (PDF)
For more details about Microsoft Excel , please visit the product  official page EXCEL 2016
Learn What's New in Microsoft Excel 2019
Related Classes
Excel Introduction online training
Excel Intermediate online training
Excel Advanced Online Training
Take Microsoft Excel 2019 Fundamentals Training Courses in Toronto, Mississauga, Scarborough , Montreal & Ottawa
Take Microsoft Excel 2019 Intermediate Level Training Classes in Toronto, Mississauga, Scarborough , Montreal & Ottawa
Take Microsoft Excel 2019 Advanced Level Classes in Toronto, Mississauga, Scarborough , Montreal & Ottawa
Microsoft Excel 2019 Tables, Pivot Tables and Conditional Formatting
Microsoft Excel 2019 | Using Formulas for Financial Analysis.
Microsoft Excel 2019 | Using Formulas For Statistical Analysis