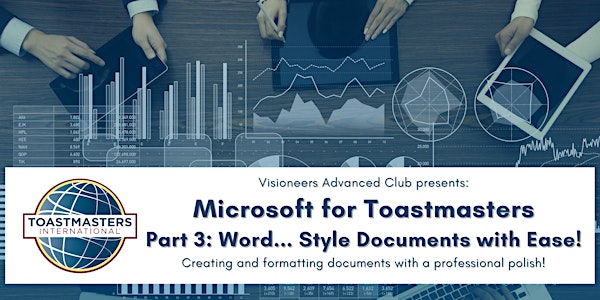 Microsoft for Toastmasters Part 3: Word... Style Documents with Ease
Word... Style and formate documents with ease for professional polish!
About this event
Style Documents with Ease!
Join us for a third "Microsoft for Toastmasters" session to continue your journey!
Every organization has a need to publish information. Whether it be a traditional written report, newsletter, event announcement, business cards, or labels - the need exists everywhere! Creating these documents can be finicky... but Microsoft Word has advanced abilities to format the information with ease and a professional appearance.
It is a powerful tool that can assist any individual - and you do NOT have to be a professional publisher to use it. A simple desire to improve efficiencies and process will start you on a journey.
With the advanced capabilities of Word, you will be able to create professional documents that are appeasing to the eye.
Through this series, our District 61 Program Quality Director and proud Visioneers Advanced member, will guide us through formatting, tools, best practices, and methodologies to set you up for success... both in Toastmasters and out of Toastmasters!
Whether you are a curious member, a Club Officer, a District Leader, or a future District leader, this session is for you!
Join us on Zoom to Style Documents with Ease:
Understand Word's capabilities and the benefits of using the software
Instil the idea that Word ALWAYS makes it easier
Use styles to best format your information with ease
Agenda:
18:45 – Sign in and network with other Toastmasters
19:00 – Sessions begin
The Zoom link will be provided in the confirmation email.
See you there!