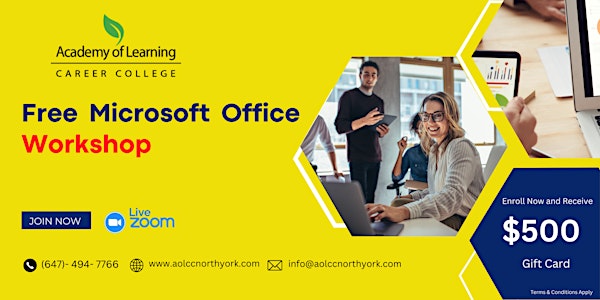 MICROSOFT OFFICE WORKSHOP
Beginner to Pro course covers basic to advance functions of Microsoft Excel,
About this event
From Beginner to Professional, this workshop covers basic to advance functions of Microsoft Excel, including creating/managing worksheets and workbooks, customizing ribbons, copying and pasting, formulas and functions, formatting labels and values, conditional formatting, charting. Data analysis is covered in detail, including sorting, data forms, subtotal command, filtering and pivot tables, macros etc. This course also includes advanced tools and new features of Microsoft office 2022.
Why AOLCC?
The secret of our students' success comes from training with Academy of Learning Career College's exclusive Integrated Learning™ System. The Integrated Learning™ System has helped our graduates successfully complete over one million training courses.
Our Mission :
To improve the lives of under-served students and the communities in which they live. Globally, our flexible, supportive environment empowers dedicated students to achieve their goals.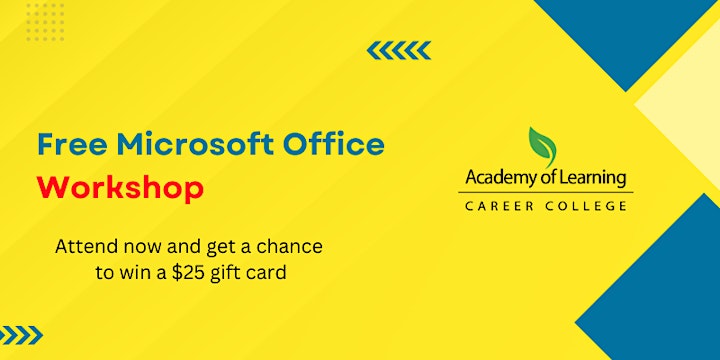 Who Should Attend?
Perfect for those who are looking to learn the essentials of Outlook, Excel and Word our Office Essentials course will give you the skills you need to work day to day in any office administration role. If you've been out of work for a while and looking for a refresher to the core Microsoft packages, then this course is also perfect for you.
What will I do on the course?
Candidates on the course will complete a variety of modules including;
· Microsoft Word (word processing)
· Microsoft Excel (spreadsheets)
· Microsoft PowerPoint (Presentation)
Visit our website for more Workshop: https://aolccnorthyork.com/events
📞 (647) 494-7766 📩 info@aolccnorthyork.com
Follow our social pages for Promotions, news and updates: