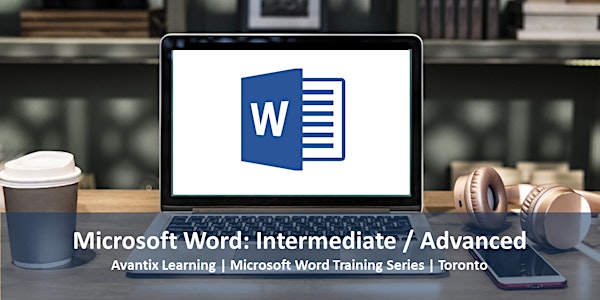 Multiple dates
Microsoft Word Course (Intermediate/Advanced) | Online or in Toronto
Microsoft Word: Intermediate/Advanced course delivered online in virtual classroom or in-person in Toronto as live classroom training.
Date and time
March 10, 2016 · 9am - May 17 · 9am EST
Location
Avantix Learning | Online Virtual Classroom or Toronto Classroom 250 Yonge Street Suite 2700 Toronto, ON M5G 1V2 Canada
Refund Policy
Contact the organizer to request a refund.
About this event
Microsoft® Word®: Intermediate/Advanced Course (Instructor-led)
Upcoming Dates: March 15/16, 2023 (Virtual classroom or In-person) | May 16/17, 2023 (Virtual classroom) | Check for more dates >
Duration: 2 days - 9 am - 4 pm (ET)
Delivery Methods (Instructor-led): In-person (live classroom) training or virtual classroom training
Word Versions: 2013 | 2016 | 2019 | 2021 | 365 (Windows)
Course Fee: $495 CAD per person (Virtual classroom), $545 CAD per person (Bring your own device for live classroom courses) or $595 CAD per person + HST (Avantix Learning provides device for live classroom courses)*
Virtual Classroom: Virtual classroom courses are led by a live instructor and run from 9 am to 4 pm (Eastern Time) with a 15 minute break in the morning and in the afternoon and a 1 hour break for lunch.
In-person (Live Classroom) Course Location: Our live classroom courses are offered in downtown Toronto at the Toronto Eaton Centre or at 18 King Street East, Suite 1400, Toronto, Ontario, Canada (some Avantix Learning courses may be held at an alternate downtown Toronto location). Location will be confirmed when you register.
Prerequisite: Microsoft Word: Introduction or equivalent knowledge and skills.
Learning Path: Level 2
Next Course in Series: Microsoft Word: Power User
Custom training: Available on request. Contact us to arrange a date.
Note: Public scheduled courses are delivered as live instructor-led classroom training or virtual classroom training (as indicated). Bring your own device rates apply to live classroom courses.
During this instructor-led course, students will work with some of Word's most powerful features including Autocorrect, Quick Parts and automatic formatting using styles. In order to save time and eliminate repetitive entry, Autocorrect and Quick Part items will be created and participants will also write their own keyboard shortcuts. Essential character and paragraph formatting concepts will be reviewed and then built into styles to speed up formatting. Graphics, hyperlinks, headers, footers and sections will be inserted and managed in Word documents. Students will also create and format tables, set up forms and generate tables of contents. Mail merge documents will be created to generate form letters and labels for multiple contacts. Throughout this course, the instructor will include numerous tips, tricks and shortcuts. Key takeaways include a full course manual, Quick Reference Guide with keyboard shortcuts as well as sample and exercise files.
Course topics
Customizing Word Options and the Quick Access Toolbar
Changing key Word options
Customizing the Quick Access Toolbar to include frequently-used buttons
Saving Time Using Navigation and Selection Shortcuts
Navigating quickly through a document
Selecting characters, words, paragraphs and an entire document using keyboard shortcuts
Inserting and Manipulating Images
Inserting images into a document
Resizing an image
Applying formatting to an image
Changing wrap options for an image
Saving and Reusing Repetitive Text and Images
Adding and editing custom AutoCorrect entries to quickly enter repetitive text and / or images such as logos
Saving repetitive text or images as Quick Parts and inserting into any document to save time
Editing and deleting Quick Parts
Applying Themes and Character Formatting
Applying themes to change colors and fonts throughout a document
Using advanced character formats such as double underline and extended spacing
Converting case
Inserting special characters such as trademarks and accents
Formatting Paragraphs Efficiently
Using best practices for paragraph spacing, alignment, indents and line spacing
Setting, changing and deleting left, centre, right and decimal tabs
Adding leaders to tabs
Applying Custom Bullets and Numbering
Applying custom bullets to paragraphs
Applying numbering
Restarting or continuing numbering
Controlling the spacing between bulleted or numbered paragraphs
Inserting Lines and Boxes
Adding lines to paragraphs
Applying border boxes with or without shading
Changing border and fill colors
Removing border lines and boxes
Using borders vs drawing lines and boxes
Inserting and Formatting Tables
Creating tables to format data in columns and rows
Formatting tables using table styles or borders and shading
Designating a header row
Inserting and deleting columns and rows
Changing column width and row height
Creating and updating formulas in tables
Keeping rows together
Saving and reusing frequently-used tables
Working with Sections
Understanding sections
Breaking links between headers and footers in different sections
Creating sections with different headers and footers, page numbering, margins and page orientation
Restarting numbering for different sections
Cleaning Up Documents
Quickly removing unnecessary characters in a document
Replacing formatting in long documents
Using Styles to Automate Formatting
Applying styles to paragraphs
Using recommended styles
Viewing the Styles task pane
Modifying styles in different ways
Creating and applying a new style
Copying styles between documents
Applying Multi-level List Numbering
Using multi-level list or outline numbering to number documents automatically
Linking styles to numbering levels
Changing multi-level list numbering
Using chapter or section numbering
Creating, Applying and Editing Table Styles
Applying built-in table styles
Creating a custom table style
Applying custom table styles to multiple tables
Modifying custom table styles
Combining paragraph styles and custom table styles
Generating Tables of Contents
Overview of tables of contents
Picking up paragraphs using specific styles in tables of contents
Generating a table of contents
Updating tables of contents
Formatting tables of contents
Creating Templates
Overview of templates
Understand the Normal template
Creating a new template
Saving a new template
Creating a new document based on a template
Attaching templates
Inserting Hyperlinks
Inserting, editing and removing hyperlinks
Formatting hyperlinks
Testing hyperlinks
Hyperlinking to a bookmark
Assigning Custom Keyboard Shortcuts
Assigning custom keyboard shortcuts to common Word commands
Recommendations for keyboard shortcut combinations
Tracking Changes
Turning Track Changes off or on
Displaying tracked changes
Accepting or rejecting changes
Generating a Mail Merge for Bulk Mailings
Setting up a main document such as a form letter or mailing labels
Linking to a data source
Inserting merge fields
Generating a merge for letters or labels
Who will benefit
This course has been designed for Microsoft Word users who have completed the Microsoft Word: Introduction or have basic Microsoft Word skills.
Can I bring my own device?
Absolutely! If you choose to bring your own device, you will receive a reduced rate. Be sure to bring a power cord and a mouse is helpful.
What's included
Included in this course:
Comprehensive course manual
Keyboard shortcuts quick reference
Sample and exercise files
Refreshments (for classes conducted in Avantix Learning classrooms)
Certificate of completion
Follow-up email support
Related training
Microsoft Word: Styles, Templates and Tables of Contents
Microsoft PowerPoint: Introduction
Microsoft PowerPoint: Design for Non-Designers
Microsoft Excel: Intermediate / Advanced
Microsoft Project: Introduction
Microsoft Access: Introduction
More resources
How to Convert a PDF to Microsoft Word >
How to Clear Formatting in Word (with Shortcuts) >
5 Ways to Insert or Type the Square Root Symbol in Word (√)
How to Delete a Page in Word (Remove Blank or Unwanted Pages) >
How to Insert the Not Equal Sign in Word (5 Ways to Type or Insert ≠) >
About Avantix Learning courses
Avantix Learning offers live instructor-led classroom courses and virtual classroom courses allowing personal interaction between the students and the instructor. We specialize in small classes, typically ranging from 6 to 10 students to ensure an optimal student to instructor ratio.
Live classroom courses are offered in downtown Toronto at 18 King Street East, Suite 1400, Toronto, Ontario, Canada. Some courses may also be offered at an alternate downtown Toronto location.
Virtual classroom courses are delivered online by a live instructor in a virtual classroom environment.
Our top-notch instructors have years of experience in the business world and students are encouraged to ask questions during our courses. Avantix Learning senior instructors have 15 or more years of experience. A complete profile of the instructor leading a specific course is available on request.
Questions?
Have a question? Email us at info@avantixlearning.ca.
You can also find information about all of our courses on our web site at www.avantixlearning.ca.
Refunds/Cancellations
We understand that your plans may change. Check out our refund policy for information regarding refunds and transfers.
Microsoft, the Microsoft logo, Microsoft Office and related Microsoft applications and logos are registered trademarks of Microsoft Corporation in Canada, US and other countries. All other trademarks are the property of the registered owners.
About the organizer
Avantix Learning offers live instructor-led classroom courses in downtown Toronto or online in virtual classroom format. We specialize in small classes with top-notch instructors. Public courses are offered in our virtual classroom or at 18 King Street East, Suite 1400, Toronto, Ontario, Canada or at alternate downtown Toronto locations. Contact us at info@avantixlearning.ca for more information about any of our courses.