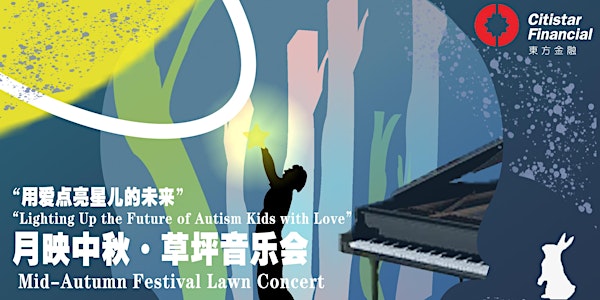 "用爱点亮星儿的未来" —月映中秋*草坪音乐会 Mid-Autumn Festival Lawn Concert
"用爱点亮星儿的未来" 月映中秋*草坪音乐会 Mid-Autumn Festival Lawn Concert ----"Lighting Up the Future of ASD Kids with Love"
When and where
Location
Sinocan Winery 2218 240 Street Langley Township, BC V2Z 3A2 Canada
About this event
每逢佳节倍思亲,咱们华人一年一度的中秋佳节来临之际,每逢佳节倍思亲,借华人一年一度的中秋佳节来临之际,温哥华音乐团体"音符园地"、北美凤凰卫视、Tom Lee通利琴行和兰里泉源酒庄联合发起"用爱,点亮星儿的未来"东方金融冠名赞助的月映中秋*草坪音乐会活动! 届时,大家将欣赏到包括大提琴、钢琴、小提琴、声乐及古筝演奏的世界名曲和极具代表性的中国乐曲。
While the Chinese Mid-Autumn Festival is approaching, it reflects the saying "our hearts grow fonder of faraway loved ones on lonely festive days". Here comes our Mid-autumn Festival Lawn Concert title-sponsored by Citistar Financial with the theme of "Lighting Up the Future of Autism Kids with Love", which is initiated by "Yinfu Yuandi"- one of the Vancouver musical groups, "North America Phoenix TV ","Tomlee Music" and"Sinocan Winery" and co-organized by "Autism Support Network Society," and "Huiyu Life Association". The concert will include performances including cello, piano, violin, singing, and guzheng, a Chinese instrument, etc. with worldwide famous music and typically traditional Chinese music.
音乐晚会将于2022年9月11号下午6:00-8:00,在兰里泉源酒庄举行。意在共庆佳节,感恩所有,同时不忘对来自星星孩子的关爱,提高社会对自闭症群体的爱心、理解和尊重。本次晚会全部筹款将直接捐赠给Autism Support Network Society,更好的服务星星孩子(自闭谱系孩子)的家庭!
The concert will be held from 6:00 to 8:00pm, September 11, 2022 at the Sinocan Winery in Langley. We will celebrate the traditional Chinese festival, show gratitude for what we have, and meanwhile, increase the community's awareness to care about the "children from the stars" who have an ASD diagnosis, and improve the love, understanding and respect for autistic people. All the fund raised during the concert will be sent directly to the Autism Support Network Society to better serve the families with autistic children!
热切的期盼和欢迎各界热心人士积极参与本次活动的捐款赞助及媒体赞助,"用爱点亮星儿的未来"!Your generous sponsorship, donation, and participation in this concert are warmly welcome! Let's light up the future of autism children with love!
赞助详谈请联系For sponsorship, pls contact Ms. Zhou, (778) 861 8166
========================================================================
风可以吹走一张白纸,
却无法吹走一只蝴蝶,
因为,
生命的力量就在于
逆风飞翔
在于被痛吻后报之以歌!
你有没有听说星星的孩子?星星的孩子是群特殊的孩子,由于脑部广泛性发育障碍患有自闭症(或孤独症)。他们孤独寂寞,不能理解平常的世界,往往表现在社会交往和沟通障碍,行为重复特殊,兴趣范围狭窄等。
你有没有认识星星的孩子?星星的孩子是群不一般的孩子,他们不同你我,却一样有燃烧的生命。他们以特有的方式认知世界,虽然世界有时无法理解。他们因为不同而害怕,他们因为不懂而惊慌,宛如天上独自闪烁的星星,封锁在自己的世界里。
震惊的是:这些孩子不是一个十个或百个,是一个数目不断增加,却不为社会所广泛关注理解的群体。全球目前被诊断为自闭症的孩子呈急剧上升趋势,2022年最新数据每44个孩子就有1位自闭症患者。这么多孩子,你有没有心痛?!
星星的孩子需要我们的关注,需要我们的尊重与理解,需要我们以阳光之爱温暖每一颗星星,需要我们停下脚步倾听他们的世界,需要我们宽容理解他们的不同,需要我们携手帮助他们的明天。2022年09月11日, 我们演奏星星的音符,让我们用爱点亮星儿的未来!