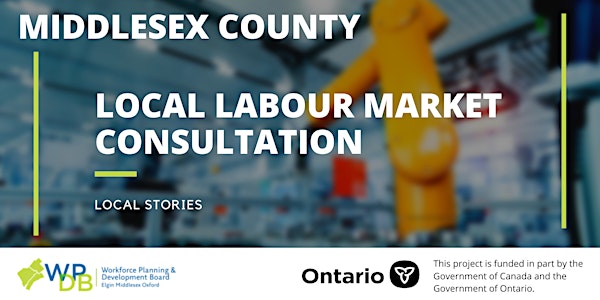 Middlesex Local Labour Market Planning Consultation
Middlesex County Stakeholders Local Labour Market Planning Consultation
About this event
CONSULTATION FOR MIDDLESEX COUNTY STAKEHOLDERS
About the Project:
The Community Local Labour Market Plan (CLLMP) is one of the Elgin Middlesex Oxford Workforce Planning and Development Board deliverables. The Local Labour Market Planning process involves conducting several community consultations with stakeholders and community partners and presenting a Community Labour Market Plan report at the end of these consultations. The report incorporates relevant data to the local labour market and economic conditions and represent an update of the report rendered in the previous year, telling local story about local supply and demand, skills shortages, industry and occupational profiles, economic and labour market changes and will focus on challenges and opportunities linked to economic development, workforce adjustment, employment and training.
The LLMP process will broadly involve the following;
· Gathering evidence, analyzing and interpreting local labour market indicators and other data
· Facilitating a consultation
· Updating last year's action plan
The Community Labour market plan will highlight labour force trends across the community including challenges and threats, and will also outline recommended actions that the community has arrived at in tackling workforce issues.
Registration for Elgin County Stakeholders: https://www.eventbrite.ca/e/166310207307
Registration for Oxford County Stakeholders: https://www.eventbrite.ca/e/166310072905