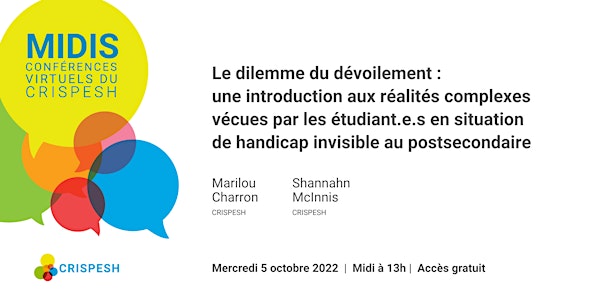 Midi-conférence du 5 octobre
Les Midis Conférences Virtuels du CRISPESH | 5 octobre 2022 CRISPESH Virtual Lunch-&-Learn Series | October 5th, 2022
About this event
Dans le cadre de sa série 2022-2023 de midi-conférences, le CRISPESH est fier de présenter / As part of its 2022-2023 Lunch-and-Learn Series, CRISPESH is proud to present :
Le dilemme du dévoilement : une introduction aux réalités complexes vécues par les étudiant.e.s en situation de handicap invisible au postsecondaire
Résumé/Abstract
Le nombre d'étudiant.e.s en situation de handicap s'inscrivant aux services d'aide à l'intégration de leur cégep augmente de façon constante depuis plus d'une décennie. De plus, le nombre réel d'étudiant.e.s en situation de handicap fréquentant les cégeps est sous-estimé. En effet, outre les enjeux d'accès à un diagnostic, l'accès à certains services et mesures d'accommodement repose sur le dévoilement d'un diagnostic. Or, plusieurs personnes préfèrent ne pas dévoiler leur diagnostic à l'établissement d'enseignement supérieur qu'elles fréquentent, notamment par crainte de stigmatisation et de discrimination de la part du personnel scolaire ou de leurs camarades de classe. Toutefois, en l'absence de ces soutiens, certains étudiant.e.s rencontrent des difficultés qui ont une influence négative sur leur réussite éducative. Ainsi, il est important de sensibiliser le personnel des établissements postsecondaires aux enjeux du dévoilement afin de favoriser l'accessibilité au sein de ceux-ci. Cette conférence présentera certains des facteurs pouvant influencer la décision des étudiant.e.s de dévoiler ou de dissimuler leur handicap ainsi que les coûts et bénéfices.
The number of students with disabilities registering for student accessibility services has been steadily increasing for over a decade, however, the actual number of students with disabilities attending CEGEP is underestimated. Some students may face barriers to accessing a diagnosis and many students prefer not to disclose their diagnosis to the institution they attend, often due to fear of stigmatization and discrimination by school staff or classmates. However, access to certain services and accommodation measures depend on the disclosure of a diagnosis. In the absence of support, some students experience difficulties that negatively impact their educational success. Therefore, it is important to raise awareness among post-secondary institution staff about the realities experienced by students surrounding disability, privacy and disclosure to increase accessibility in higher education. This conference will present some of the factors that may affect the student's decision for disclosure or concealment of a disability as well as the costs and benefits for students.
*Résumé officiel à venir/Official abstract to come
Marilou Charron, chercheuse au CRISPESH
EN LIGNE (Plateforme Zoom)
Mercredi 5 octobre 2022
12h00 à 13h00
GRATUIT
Inscription obligatoire par Eventbrite
Pour plus d'informations : inscriptions@crispesh.ca
MESURES D'ACCESSIBILITÉ
Sous-titrage pour les personnes sourdes ou malentendantes.
Interprétation simultanée du français vers l'anglais.
*** Nous tenons à présenter un événement sans obstacle. Si vous avez besoin de mesures qui ne sont pas proposées ci-dessus, n'hésitez pas à nous contacter à l'adresse suivante : inscriptions@crispesh.ca