Midi Lab: comment faire du journalisme de proximité en 2015?

Tuesday, 20 October 2015 from 12:00 PM to 1:00 PM (EDT)
Event Details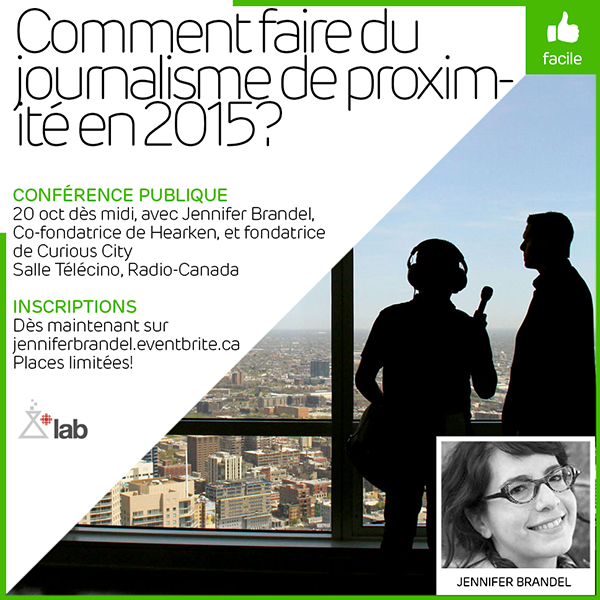 Vous êtes invités à une conférence Midi Lab intitulée: Comment faire du journalisme de proximité en 2015?, avec Jennifer Brandel (via Skype), co-fondatrice de Hearken, une plateforme d'outils participatifs à l'usage des salles de nouvelles, et fondatrice de Curious City, une émission de radio (WBEZ Chicago) axée sur la participation citoyenne. Cette conférence est gratuite et publique. Elle se tiendra à la grande salle Télécino de la Maison de Radio-Canada à Montréal, sur l'heure du midi le mardi 20 octobre prochain. Apportez votre lunch!

À propos de la conférence:
À l'heure où le journalisme doit réinventer son lien avec la communauté, cette conférence propose d'explorer les grands principes du journalisme participatif, questionnant au passage comment les médias peuvent trouver de nouvelles façons d'impliquer les communautés dans les processus de production de la nouvelle. Cette conférence s'attardera précisément à un texte publié par Jennifer Brandel et intitulé «Questions are the new comments », et qui propose de réinventer l'axe de participation journalistique du grand public.   

À propos des Midis Lab:
Les Midis Lab sont une initiative de Radio-Canada Lab, le laboratoire web de Radio-Canada. Ces ateliers visent à créer des échanges autour de projets qui nous inspirent sur le plan de la créativité, de l'innovation ou de l'engagement. Suivez les activités du Lab sur Facebook ou sur Twitter, et abonnez-vous à l'infolettre.
When & Where

Maison Radio-Canada

Montreal, QC H2L
Canada

Tuesday, 20 October 2015 from 12:00 PM to 1:00 PM (EDT)
Add to my calendar
Organizer
Le laboratoire numérique de Radio-Canada.