Midi Lab: lancement de l'Accélérateur d'idées de Radio-Canada - Automne 2015

Tuesday, 6 October 2015 from 12:00 PM to 1:00 PM (EDT)
Event Details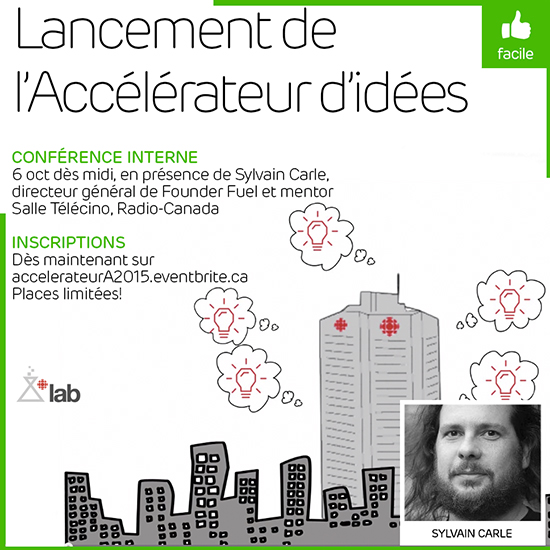 Vous êtes invités au lancement de la saison d'automne 2015 de l'Accélérateur d'idées de Radio-Canada. Ce lancement se tiendra dans le cadre d'un Midi Lab dans la grande salle Télécino de la Maison de Radio-Canada à Montréal, sur l'heure du midi le mardi 6 octobre prochain en présence de notre mentor Sylvain Carle. Apportez votre lunch!

À propos de l'Accélérateur d'idées:
L'Accélérateur d'idées de Radio-Canada est un processus de prototypage simple, social et ludique qui permet de faire émerger, de faire cheminer et de réaliser des idées novatrices tant numériques et que technologique. Ce processus vise à réaliser des prototypes pour diminuer les risques liés à des projets plus audacieux. Soumettez, votez, prototypez: l'Accélérateur d'idées de Radio-Canada vous permet de sortir de votre quotidien et de démontrer, à l'aide d'un prototype, la valeur d'une idée extraordinaire. 

À propos de Sylvain Carle:
Sylvain Carle est une figure bien connue de la scène techno montréalaise, autant pour sa réflexion sur le hacking comme vecteur de transformation des organisations, que pour son implication dans l'écosystème des start-ups ou des projets collaboratifs autour de la culture numérique. Il est actuellement directeur général de Founder Fuel, un incubateur de start-ups officiant à Montréal.

À propos des Midis Lab:
Les Midis Lab sont une initiative de Radio-Canada Lab, le laboratoire web de Radio-Canada. Ces ateliers visent à créer des échanges autour de projets qui nous inspirent sur le plan de la créativité, de l'innovation ou de l'engagement. Suivez les activités du Lab sur Facebook ou sur Twitter, et abonnez-vous à l'infolettre.



Have questions about Midi Lab: lancement de l'Accélérateur d'idées de Radio-Canada - Automne 2015?
Contact Radio-Canada Lab
When & Where
Grande salle Télécino, Maison de Radio-Canada, Montréal

Canada

Tuesday, 6 October 2015 from 12:00 PM to 1:00 PM (EDT)
Add to my calendar
Organizer
Le laboratoire numérique de Radio-Canada.