Midi Lab: les nouveaux modèles d'affaires et formats de la baladodiffusion

Friday, 10 June 2016 from 12:00 PM to 1:00 PM (EDT)
Event Details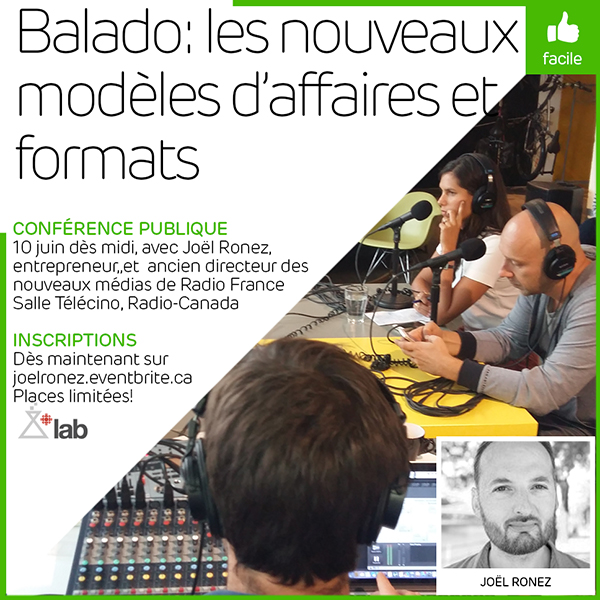 Vous êtes invités à une conférence Midi Lab intitulée: Balado: les nouveaux modèles d'affaires et formats de la baladodiffusion, avec Joël Ronez. Cette conférence publique se tiendra dans la grande salle Télécino de la Maison de Radio-Canada à Montréal, sur l'heure du midi le vendredi 10 juin prochain. Apportez votre lunch!

Cette conférence est organisée en marge de la saison d'idéation en cours de l'Accélérateur d'idées de Radio-Canada qui porte sur le thème de la baladodiffusion (outils, contenus, modèles d'affaires, mesure, etc). Existe-t-il parmi vous des employés passionnés de «podcasts» qui aimeraient aider Radio-Canada à innover en terme de baladodiffusion? C'est de le temps de vous manifester! Comme toujours, les idées les plus tôt déposées dans la boîte à idées ont le plus de chances de récolter les votes. Soumettez votre idée formidable d'ici le 14 juin! 

À propos de Joël Ronez:
Joël Ronez est entrepreneur média et créateur de contenus numériques établi à Paris. Fondateur du réseau de podcast "Binge Audio", il intervient également en conseil auprès d'acteurs du secteur culturel et médias, sur les questions d'innovations numériques. De 2011 à 2014, Joël Ronez a été directeur des Nouveaux médias de Radio France où il pilotait la stratégie numérique du premier groupe de radio français, ainsi que la chaîne Le Mouv' entre 2013 et 2014. Auparavant, Joël Ronez a été responsable du pôle web d'ARTE France entre 2008 et 2012, et a développé au sein de la chaîne la production de contenus non-linéaires et de formats innovants destinés au web.

À propos des Midis Lab:
Les Midis Lab sont une initiative de Radio-Canada Lab, le laboratoire web de Radio-Canada. Ces ateliers visent à créer des échanges autour de projets qui nous inspirent sur le plan de la créativité, de l'innovation ou de l'engagement. Suivez les activités du Lab sur Facebook ou sur Twitter, et abonnez-vous à l'infolettre.



Have questions about Midi Lab: les nouveaux modèles d'affaires et formats de la baladodiffusion?
Contact Radio-Canada Lab
When & Where

La Maison de Radio-Canada
Grande salle Télécino, Maison de Radio-Canada, Montréal

Canada

Friday, 10 June 2016 from 12:00 PM to 1:00 PM (EDT)
Add to my calendar
Organizer
Le laboratoire numérique de Radio-Canada.