Midi Lab: Lulz, comment j'ai infiltré Anonymous, par Gabriella Coleman

Wednesday, 26 November 2014 from 12:00 PM to 1:00 PM (EST)
Event Details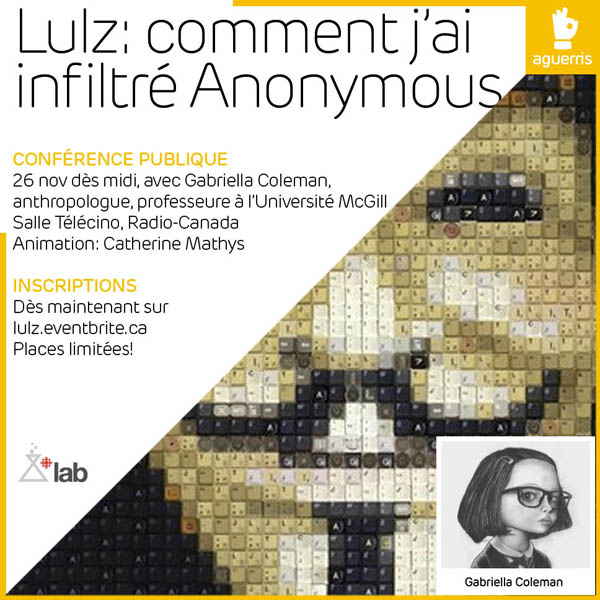 *MISE À JOUR: les inscriptions sont closes, tous les billets ont été écoulés.*

Vous êtes invités à une conférence Midi Lab intitulée: Comment j'ai infiltré Anonymous, avec Gabriella Coleman, anthropologue et professeure à l'Université McGill. Cette conférence est gratuite et publique. Elle se tiendra à la grande salle Télécino de la Maison de Radio-Canada à Montréal, sur l'heure du midi le mercredi 26 novembre prochain. Apportez votre lunch!

À propos de la conférence:
Anonymous est l'un des groupes de hackers les plus actifs et les plus connus dans le monde. Le groupe n'est pourtant pas un groupe, mais plutôt un rhizome désorganisé d'activistes informatiques dont on sait peu de choses. Qu'apprend-t-on sur eux lorsqu'on étudie Anonymous de l'intérieur?

À propos de Gabriella Coleman:
Figure connue dans le mon des hackers, Gabriella Coleman est l'une des rares anthropologues à s'être intéressés de très près aux groupes sociaux d'activistes informatiques. Avec les années, elle a permis une meilleure compréhension des journalistes envers les hackers et la culture du hacking. Son plus récent livre, Hacker, Hoaxer, Whistleblower, Spy: The Many Faces of Anonymous, est paru en novembre 2014.

À propos des Midis Lab:
Les Midis Lab sont une initiative de Radio-Canada Lab, le laboratoire web de Radio-Canada. Ces ateliers visent à créer des échanges autour de projets qui nous inspirent sur le plan de la créativité, de l'innovation ou de l'engagement. Suivez les activités du Lab sur Facebook ou sur Twitter, et abonnez-vous à l'infolettre.

Organizer
Le laboratoire numérique de Radio-Canada.