Midi Lab: présentation des prototypes de l'Accélérateur

Wednesday, 17 June 2015 from 12:00 PM to 1:00 PM (EDT)
Event Details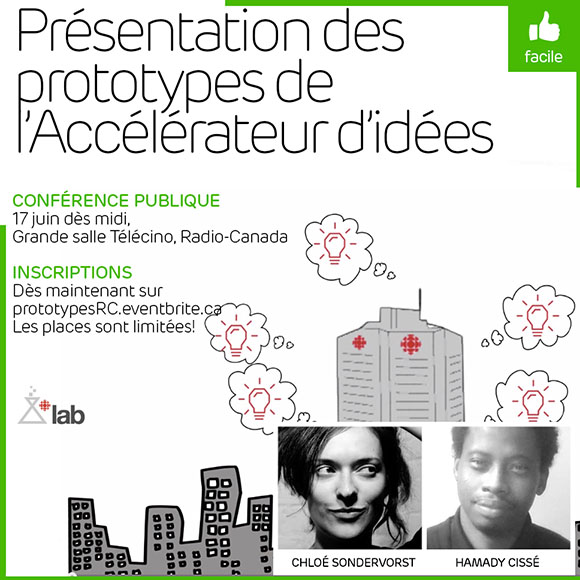 Vous êtes invités à la présentation des deux prototypes issus de la phase pilote de l'Accélérateur d'idées de Radio-Canada. L'équipe de Catherine Mathys et l'équipe de Chloé Sondervorst présenteront les résultats de leur prototypes, respectivement une plateforme sécurisée de lanceurs d'alertes et une série exclusive sur Snapchat. Apportez votre lunch! Si vous ne pouvez vous présenter en personne, vous pourrez suivre l'événement en webdiffusion.

À propos de l'Accélérateur d'idées:
L'Accélérateur d'idées de Radio-Canada est un processus de prototypage simple, social et ludique qui permet de faire émerger, de faire cheminer et de réaliser des idées novatrices tant numériques et que technologique. Ce processus vise à réaliser des prototypes pour diminuer les risques liés à des projets plus audacieux. Soumettez, votez, prototypez: l'Accélérateur d'idées de Radio-Canada vous permet de sortir de votre quotidien et de démontrer, à l'aide d'un prototype, la valeur d'une idée extraordinaire. 

À propos des Midis Lab:
Les Midis Lab sont une initiative de Radio-Canada Lab, le laboratoire web de Radio-Canada. Ces ateliers visent à créer des échanges autour de projets qui nous inspirent sur le plan de la créativité, de l'innovation ou de l'engagement. Suivez les activités du Lab sur Facebook ou sur Twitter, et abonnez-vous à l'infolettre.



When & Where
Grande salle Télécino, Maison de Radio-Canada, Montréal



Wednesday, 17 June 2015 from 12:00 PM to 1:00 PM (EDT)
Add to my calendar
Organizer
Le laboratoire numérique de Radio-Canada.