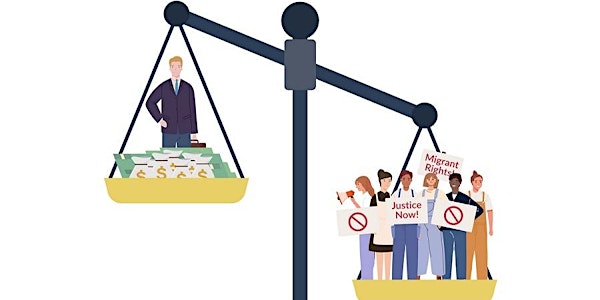 Migrant Workers Justice in Canada: Let's Act Now
Migrant workers and community partners will share awareness-raising tools and actions to demand fair treatment for migrant workers in Canada
About this event
The Collaborative Network to End Exploitation invites community members, organizations, advocates and others to participate in a migrant worker solidarity evening event.
Across Canada, migrant workers perform essential jobs and contribute to our communities. Yet many are denied fundamental rights such as the ability to change employers freely, access to supports and benefits afforded to others in Canada, or comprehensive pathways to permanent residence. Workers have little bargaining power to demand fair treatment and better working and living conditions. They can easily lose their immigration status and end up deported, exploited, and even trafficked. Successive federal and provincial governments have provided only band-aid solutions. They refuse to change the immigration and labour policies that currently facilitate the exploitation and mistreatment of migrant workers.
This virtual event features:
1. Launching of a short animated video showing migrant workers' abuses in Canada produced by the CNEE. This video can be used as an awareness-raising tool to initiate support for the government policy changes demanded by migrant workers and allies.
2. Discussing the findings in the new report called Labour Exploitation in Ontario: Insights from Migrant Workers During the COVID-19 Pandemic (working title). This report is based on a series of focus groups with migrant workers. It is a joint project of FCJ Refugee Centre, Canadian Centre to End Human Trafficking and Legal Assistance of Windsor.
3. Discussing the Campaign for Open Work Permits Now which demands that the Canadian government abolish employer-specific work permits. Coordinated by the Canadian Council for Refugees, the Campaign will launch a series of events, including a formal petition asking Canadians to support this cause. More at www.openworknow.ca
Panellists:
Leah Watkiss (CNEE)
Jovana Blagovcanin (FCJ Refugee Centre) and James Mclean (Canadian Centre to End Human Trafficking)
Hannah Deagan (Association for the rights of household and farm workers)
Participants interested in going through some of the experiences of exploitation of migrant workers and deepening their understanding of these issues are encouraged to participate in one of the in-person sessions of the Good Enough to Work But Not to Stay experiential workshop Migrant Workers Experiential Excercise. In-person sessions will take place at 70 St. Mary Str. Toronto ON:
October 15 (Saturday), 2022, from 10 to 12 pm
October 18 (Tuesday), 2022, from 3 to 4:30 pm
The Migrant Workers Excercise is an experiential workshop where participants play the role of migrant workers and are led through some of the unjust practices and exploitation workers face in Canada. To learn more about the workshop, go to www.cnee.ca/migrant-workers-exercise/