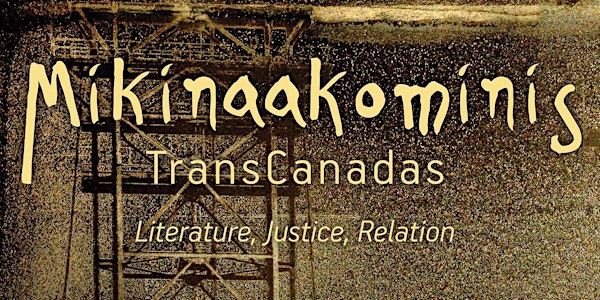 Mikinaakominis / TransCanadas: Literature, Justice, Relation
Location
University of Toronto - St. George Campus
Hart House
7 Hart House Circle
Toronto, ON M5S 3H3
Canada
Description
Mikinaakominis (Turtle Island) / TransCanadas brings together storytellers, poets, novelists, creative non-fiction writers, critics, and interdisciplinary practioners to expand the ongoing dialogue about the relationship of Canadian literatures to land, Indigenous resurgences, and Black, Muslim, Asian and other racialized subjectivities in the context of global human, nonhuman, economic, social, and ecological shifts. At both individual and collective levels, with a particular focus on developing decolonizing practices in the public sphere and in the humanities, Mikinaakominis / TransCanadas asks the hard questions that need to be asked now and attempts some provisional answers in the form of story, critique, poem, and experiment.
For information about the conference program please visit the conference webpage: https://tinyurl.com/Mikinaak-Trans-Program
NB: Please make sure you read all the information provided under Registration, including the delegates' consent for recording purposes, before registering: https://tinyurl.com/Mikinaak-Trans-Registration

Ticket information: Full conference registration includes attendance of the entire conference (three keynote addresses, four plenary sessions, two evenings of literary readings, and 30 parallel sessions of papers); 8 nutrition breaks; three lunches; and three receptions. The last reception includes a cash bar and two performances.

General public tickets for the literary events: Tickets include access to the reception that will follow each event. There will be tickets being sold at the door.. For more information about the literary authors featured, please go to https://tinyurl.com/miki-trans-readings.

General public tickets for performances by Lillian Allen & Eekwol: There will be tickets sold at the door, but for information about this closing reception and to purchase tickets in advance, please visit https://www.eventbrite.ca/e/lillian-allen-eekwol-presented-by-mikinaakominis-transcanadas-tickets-34383897162
What's the refund policy? Full refund by May 8. 80% refund for cancellations made by May 15. 50% refund by May 23. No refunds will be possible after May 24.

To request a refund, please sign into your Eventbrite account and click "Request a Refund" in the "Tickets" section. For more instructions, please visit Eventbrite Support.
How can I contact the organizer with any questions? Email: transcanadas.conference@gmail.com
Do I have to bring my printed ticket to the event? Yes. Please bring your registration ticket to the conference's registration desk to receive your registration package and name tag. If you have a General Public ticket for the literary readings and the Lillian Allen/Eekwol performance, your ticket will be required at the door.