Have a small piece of furniture you love, or could love, if only it had a facelift? Bring your own piece & learn how to give it new life!
About this event
Join us for a fun workshop and learn how to use Milk Paint by Fusion to give new life to an old piece of furniture!
Steph Perry of Scotch+Line will lead this BYOP and Milk Paint 101 workshop. No prior experience painting furniture is necessary!
Have a small piece of furniture you love, or could love, if only it had a facelift? Want to tackle a project but not bother with all the mess and supplies? Then this is a great workshop for you!
In this class, we will teach you some of the amazing techniques and uses of milk paint. At the end, you will have your own upcycled piece of furniture to be proud of.
Cost is $65 (plus tax) and all paint supplies are included as well as light refreshments during this 3-hour workshop. You just need to bring the piece you would like to paint!
You'll be able to choose your colour of paint and type of finishes. Your piece must be small enough to carry by yourself such as a side table or chair AND to be able to finish within 3 hours. If you do not have a small piece to work on, let us know and we will help locate something for you.
All registrants will also receive a 15% off coupon to shop at Concession Road Mercantile.
IMPORTANT NOTE: Once registered, please email a picture of the piece you plan to bring. Send to our instructor Steph Perry: steph_perry@live.ca. Steph will be in touch with you discuss your individual project prior to the workshop.
*Note that in the event that this workshop is postponed or cancelled due to the current COVID-19 pandemic, 100% of your ticket price will be refunded to you.
IMPORTANT: COVID-19 Workshop Guidelines:
• On the date of the workshop, if you are feeling sick or have been in contact with someone diagnosed with COVID, please do not attend and let us know so we can refund your ticket.
• We will maintain a list of names and contact information of all attendees for contact tracing purposes.
• When you arrive, we will ask you to sanitize or hand wash.
• All attendees will be required to wear a mask for the duration of the workshop. Staff and instructors will also be wearing masks. If you do not have a mask, we have them available for sale in the store.
• In order to maintain physical distancing, we will separate work tables. Our instructors will walk around the workshop space to make sure you have all the instructions you need to work on your craft.
• Throughout the workshop, we will ask you to occasionally sanitize or wash your hands.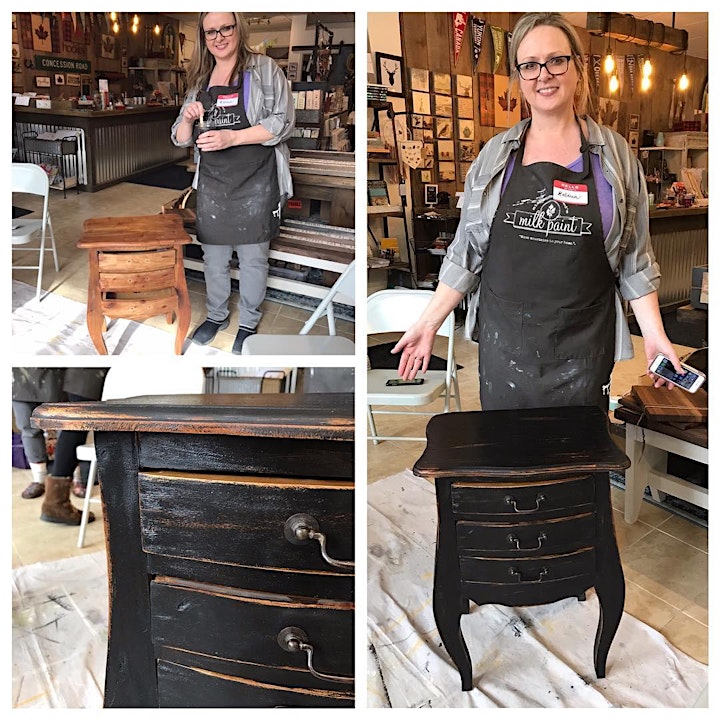 Organizer of Milk Paint BYOP (Bring Your Own Piece)
Concession Road Mercantile is a modern general store located in Alliston, Ontario and online. We offer a thoughtfully curated collection of high quality gifts, apparel and home goods. Our style is rustic, artisan, Canadian and nature-inspired. We love natural-ingredient, organic goods, handcrafted or small-batch. Because we love handmade, we also help you explore your  crafty side through workshops in things like stained glass, wood crafts, and furniture upcycling using our lines of Fusion Mineral and Milk Paint.