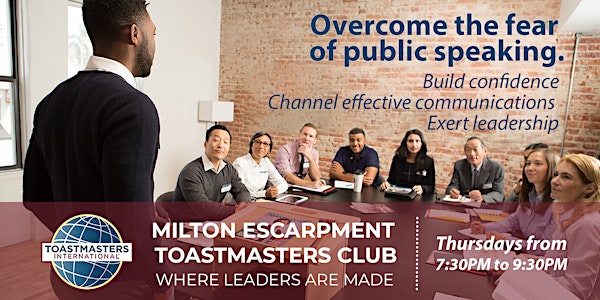 Milton Escarpment Toastmasters: Learn Public Speaking and Leadership Skills
Milton Escarpment Toastmasters Club offers public speaking and leadership training.
About this event
Do you want to improve your public speaking and leadership skills? Have you thought about meeting new people in a positive and supportive environment? Now, you have a great opportunity to do that. Our Milton Escarpment Toastmasters club (METM) members meet every Thursday evening @ 7:30 PM for two hours. You are more than welcome to attend our next meeting as a guest for free, up to three weeks.
Consider these benefits:
Improve your public speaking skills
Build leadership skills
Gain self-confidence and self-awareness
Learn to network in a small and supportive environment
Practice writing speeches and presenting
Receive regular and constructive feedback from peers
Gain a competitive advantage in the workplace
Enjoy unlimited personal growth and maximize your potential
Meet some awesome people :)
In addition to that, becoming a Toastmaster member can help you develop over 300 workplace skills, including:
Interview preparation
Online meeting management
Leadership development
Project management
Conflict resolution
Due to COVID-19, Escarpment Toastmasters club members meet "virtually" together on weekly basis (every Thursday at 7:30 PM for two hours). Once it is safe, we will have the pleasure of meeting you in person in our club meeting room.
Organizer of Milton Escarpment Toastmasters: Learn Public Speaking and Leadership Skills
METM is now the second Toastmasters Club to serve Milton and surrounding communities since February 2020. Clubs such as ours teach public speaking and leadership skills. Our club facilitates networking and provides members with a safe and supportive learning environment to develop into confident speakers, communicators, and leaders. Members have access to Toastmasters Pathways education programs that leverages over 300 practical workplace skills such as interview preparation, leadership development, project management and conflict resolution.