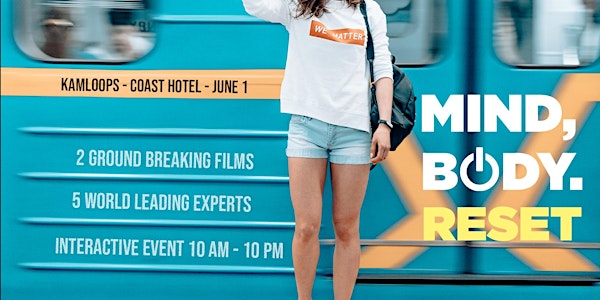 MIND, BODY. RESET- The Power is in You!-
When and where
Location
Kamloops Coast Hotel & Conference Centre 1250 Rogers Way Kamloops, BC V1S 1N5 Canada
Refund Policy
Refunds up to 7 days before event
Description
Do you feel that your not living at your full potential? Maybe you not feeling fulfilled in your personal life, have relationship issues, working at a job you dislike, or have a chronic illness that is seriously affecting your life.
Our Mind, Body. Reset day is set up for you to experience a shift. Up your game and become the person you are meant to be. There is time to reflect, engage with the speakers, listen to inspiring stories, and hear information that you will not find anywhere else.
Could you ill health and outlook stem from deep seated emotions that you many not even be consciously be aware of?
Do you know that finding your purpose in life will bring you ease, both physical and mental?
The world we live in has become more stressful, more demanding and more competitive. A large percentage of people experience low energy, lack of sleep, life purpose related issues, hormonal imbalances, confusion about what foods to eat, aging related symptoms, chronic pain and depression. This is why we created the"Mind, Body. Reset" program.
Attend our full-day, transformational and wellness event, featuring our two ground-breaking films, Wellness Experts Q & A panel discussions and five world-leading health speakers. You will discover exactly how to take your health and your LIFE into your own hands (literally!) with today's top specialists. They will guide you towards shifting your overall wellbeing from the inside out and help you unleash your body's natural ability to heal!
Luarent Goldstein the Director of the MindBodyReset and has spoken on stage to 10,000's of thousands of people sharing his purpose and igiting the audience to take action.
Option VIP - Friday Evening
Friday Night Private Wine Tasting at Harper's Trail Winery with award-winning Director/Producer Laurent Goldstein and some cast members coming from LA, San Diego, and Vancouver. We are excited to meet the Kamloops community!
This conference is arranged so that you get to hear some information that challenges the status quo, and will inspire you to take action. We have created this full day with the intent that you leave differently than you came. The day is filled to capacity to maximize the integration of wisdom and knowledge, and heighten your personal transformation. Discover, cultivate and use new practices and skills that radically change the way you experience each new day. You may become more aware of the impact you have on yourself, your community and society as a whole. The information you will hear is profound and kept hidden from the general public.
SPEAKERS Session
Jason Podollan NHL Alumnus- Peak Performance Coach

In professional sports the line between success and failure is often difficult to determine. Although Jason played in the NHL with 4 different teams, his hockey career wasn't exactly what he envisioned and he was left asking why.. Upon retiring from hockey, Jason was searching, not connecting with his corporate job and not living the active life he was used to. He decided to do a deep exploration into health, fitness, relationships and mindset. His personal quest for optimization answered a lot of questions, which became a gift to his family, and now to his clients. Having played on the biggest stage in hockey and now as a husband and father of 3 sons, Jason discovered that there is a SUPERHERO in all of us, and he will discuss how to unlock our powers.
Dr. Jeffrey Thompson- Main cast member in the documentary film "Heal"
Dr. Thompson is the Founder/Director of the Center for Neuroacoustic Research in Carlsbad, California, a research center which is actualizing its vision of "Healing the Body*Heart*Mind and Spirit through the Scientific Application of Sound." Dr. Thompson is considered the world's premier sound healing researcher, brainwave entrainment expert, and high-tech personal transformation innovator, motivator and futurist. He is a physician/ musician, composer, inventor, educator and author. His work addresses harmony between the body/mind/spirit and is clinically proven to foster deep personal wellness and expansion of consciousness. Certified in multiple healthcare modalities, Dr. Thompson draws people nationally and internationally to his clinical practice in Carlsbad, California and to his cutting-edge auditory, kinesthetic and visual therapeutic products and services.
Dr. Ara Elmajian
Dr. Ara Elmajian has practiced biological dentistry in Vancouver, British Columbia since receiving his Bachelor of Science and Doctor of Dental Surgery from the University of Alberta in 1975. Since graduation he has studied and worked extensively in the fields of chronic illness, head, neck and face pain and temporomandibular joint dysfunction. He has been an advocate for detoxification for many years and recommends and guides his patients through proper protocols suited to their needs. He has extensively studied and adopted the powerful field of homotoxicology and uses homeopathic remedies to support a person's own healing abilities. Dr. Elmajian has also been involved in research in the fields of myofascial and neural therapy. You can find him at his Kinetic clinic in Vancouver, BC.
Brandy Gillmore Phd
Brandy suffered a devastating accident which left her disabled and with no hope for recovery. For nearly 7 years she was on heavy medication, relied on a wheelchair, walker or cane and lived in extreme pain. After exhausting every possible alternative approach, Brandy began researching the placebo and the mind and through several years of research she was able to make some incredible discoveries and, even to her own surprise was able to make a complete recovery! Brandy then used those same discoveries to do something that no one else has been able to do: she has been able to demonstrate back-to-back healing results (even under medical equipment) using only the mind. Brandy has been featured on stages across the globe sharing the key insights she made that helped her go from disabled and depressed to happy and completely healthy! Be prepared to look at your body in a whole new way.
Laurent Goldstein- "Mind, Body. Reset"
Filmmaker - Health and Wellness Influencer.
Laurent has been involved in the holistic field for over 25 years and has interviewed and been on stage with leaders such as Jack Canfield, Dr. John Demartini, Dr. Bruce Lipton, Dr. Daniel Amen, David Wolfe, Bob Proctor, Robert Trujillo ... He has been taking natural supplements all his life and will share his philosphy with the audience. He is an animal lover and recently switch to a plant based diet. Laurent loves the sport of table tennis and will explain why everyone should look into this sport if they want to improve their brain function. Laurent's message is that "it is never too late" and that we should follow our passions. At age 58, after losing his business to the recession, he re-invented himself and produced his first feature length documentaries, followed by 2 more and against all odds.
Our 2 feature films, " Your Second Fifty" and "On a Scale of 1 to 10" will be presented during this tranformative day. We believe it is not good enough to educate, we first have to inspire people so that they can make the necessary changes. We hope our films are the catalysts for your new journey, like they have been for so many people. At the minimum, they are guarranteed to trigger passionate and animated discussions, so profound and challenging the underlying messages are!
We also will have a breakout session where you will be able to ask specific questions to the experts that are part of our day. The themes are nutrition, movement, technology+techniqes, mind-body connection, and how to "up your life" and live your passions.
Spend close, rare time with 5 of the top world pioneers, brightest minds, experts, leaders, authors and teachers in the field of science, spirituality, consciousness and healing!
Do not miss this rare and epic opportunity we are sharing with the Kamloops community!
Your hosts: Michael Bentley, Laurent Goldstein, Jennifer Unruh and Bernie Glemas look forward to meeting all of you. Tickets are also available at Nature's Fare and Inspire Chiropractic in Kamloops.
Film cast members include: Dr. Bruce Lipton, Dr. Daniel Amen(PBS series on the Brain), Joe Cross(Director -(Fat Sick and Nearly Dead), Dr. Michael Klaper(cast member in Cowspiracy, What the Health), Naomi Judd, Brandy Gillmore, Dr. Beth Darnell (Top Stanford pain clinic researcher) Michael Bentley, Dr. David Wang, Dr. Jeffrey Thomson(cast member in Heal), David Wolfe( Avacado Man), Dr. Donnie Epstein(EpiEnergetics), Dr. DainHeer(Access Consciousness), Dr. Fab Mancini, Dr. Neal Bernard, Dr. John Demartini, Bob Proctor, plus many more!
Schedule :
9:30 Doors Open
10:00 Introduction to the Mind, Body. Reset Day by Laurent Goldstein
10:15 Film Starts- Healing from Chronic Illness
12:00 Expert Panel Discussion
12:40 - Lunch Break
2:00 - Speaker's Session- 5 Speakers
5:15- 5:45- Breakout Session- A time to ask questions around these themes- Nutrition+Detox, Movement, Mind/Body Connection, Technology+Aging.
5:45-7pm Dinner Break - Live Music from 6:30-7:00
7pm - Introduction of the next film- Lead Your Life with Passion - Your Second Fifty
8:45-9:30- Expert Panel Discussion + Raffle Prizes.
NO MORE AUTO-PILOT LIFE!
We like to thank our sponsors - Natures Fare in Kamloops (tickets available)- SierraSil - Boiron -Pranin Organics-Citrus Pie Media Group.