Join us to gain insights into how technology can help optimize your production and distribution in our next Mind the Gap!
About this event
An organization's logistics and operations can play a central role in managing the cash flow of the business through short-term operational improvements. It is critical for a business to identify and prioritize opportunities that drive efficiencies and improve productivity.
This session will examine current and emerging technology trends relating to operations and logistics. Join us to gain insights into how technology can help optimize your production and distribution for efficiency and to tap into the unexplored operational potential.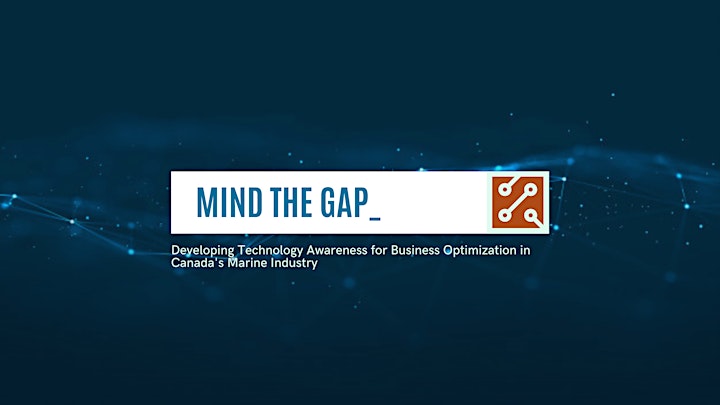 About the Series:
The emergence of digital technologies has catalyzed a shift to a digital economy. This digital revolution has seen sweeping changes in how work is done across industries, including Canada's marine industries. A recent study found that industry members communicated a growing awareness of a skill gap, particularly among tenured workers. Regional marine employers have also expressed some concern that this gap, coupled with a gap in awareness of new technologies, could cause further lags in the adoption of new technology and digital skill development – which in turn could shift our role from leading the blue economy, to lagging it.
COVE brings you a six-part discussion series designed to inform and support SMEs as they expand their ability to use data effectively and advance their digital maturity. Led by a technical expert in the ocean industry, panelists will share their first-hand experiences with recognizing the technology gaps as they related to their business, the sore points of adoption, and the benefits of adoption to their own business optimization. Our moderator and guests will provide an overview of examples of existing technologies that support the topic of focus, describe how the technologies can further support businesses, and provide an overview of adoption considerations.
Starting January 26th, join us every second Wednesday for six weeks to learn what's new and relevant to your business, and consider how a technology awareness strategy can help you mind the gap.
Missed the previous sessions? Click HERE to watch them on our YouTube channel or click on the titles below:
Additive Manufacturing (Jan 26)
AI, Automation and Robotics (Feb 10)