Mind to Muscle Connection - 2022 Brain Injury Awareness Month
Online exercise workshop for brain injury awareness month focusing on the mind to muscle connection
About this event
Brain Injury Association of York Region is pleased to present Mind to Muscle Connection - 2022 Brain Injury Awareness Month
In Canada, June is Brain Injury Awareness Month. Each year national, provincial, and local associations run campaigns to increase awareness about the prevalence of brain injury; the obstacles that exist for those with brain injury; and the need for more services and support at all stages of recovery.
Each week, for the month of June, the Brain Injury Association of York Region will be showcasing a different aspect of recovery following a brain injury.
--
Please join Shriya Maharaj, Certified Exercise Physiologist from Propel Physiotherapy, as she will engage and challenge participants to connect their minds with their muscles. Through a series of exercises and movements, participants will improve their intention to movement, challenge their strength and conditioning, and be in touch with moving mindfully. Each class has a unique focus and an easy-to-follow structure. We look forward to having you all join us!
--
Equipment suggestions:
Yoga mat
Open and safe space to move around (approximately two of your own snow angels)
Light resistance bands
Weights, pillows, or household objects
Sturdy Chair or bolster for sitting
Nearby wall or countertop for support (if necessary).
--
Week 1:
"Laying the Foundation"
Focus: "Essential Strength" exercises + variations
Circuit of 2-3 rounds of 5-8 exercises, 30-45 seconds:
Intro to strength training and general physical activity principles
Dynamic warm-up
Posture and core setting.
Practice essential strength exercises with cues
Strength Circuit
Core strengthening.
Cool down stretches
Week 2:
"Mind Muscle Connection"
Focus: Direct attention to specific body parts during strength exercises and breathing awareness
Circuit of 2-3 rounds of 5-8 exercises, 30-45 seconds each.
What is mindful movement?
Education on the benefits of mindful movement
Dynamic whole body warm up
Strength exercises (30-45sec + break)
Cool down stretches
Week 3:
"Low Impact HIIT + Core"
Focus: Low impact exercises with emphasis on speed, level/directional changes and timing to challenge aerobic fitness.
Multiple bodyweight based exercises, 45 seconds each with timed breaks
Intro and education on HIIT:
What is HIIT training?
Benefits of HIIT training?
How to modify for low impact?
How can I challenge myself? (RPE Scale & Talk Test)
Dynamic warm up
HIIT exercises
Cool down stretches
Week 4:
"Strength + Conditioning Balance"
Focus: Combined Strength and balance training through compound movements Circuit of 3-4 exercises, multiple circuits; 20-30 secs + timed break.
Review physical activity principles
Review intensity management
Warm-up.
Introduce circuit exercises with cues + variations
Strength circuits
Isolated Core strengthening.
Cool down stretches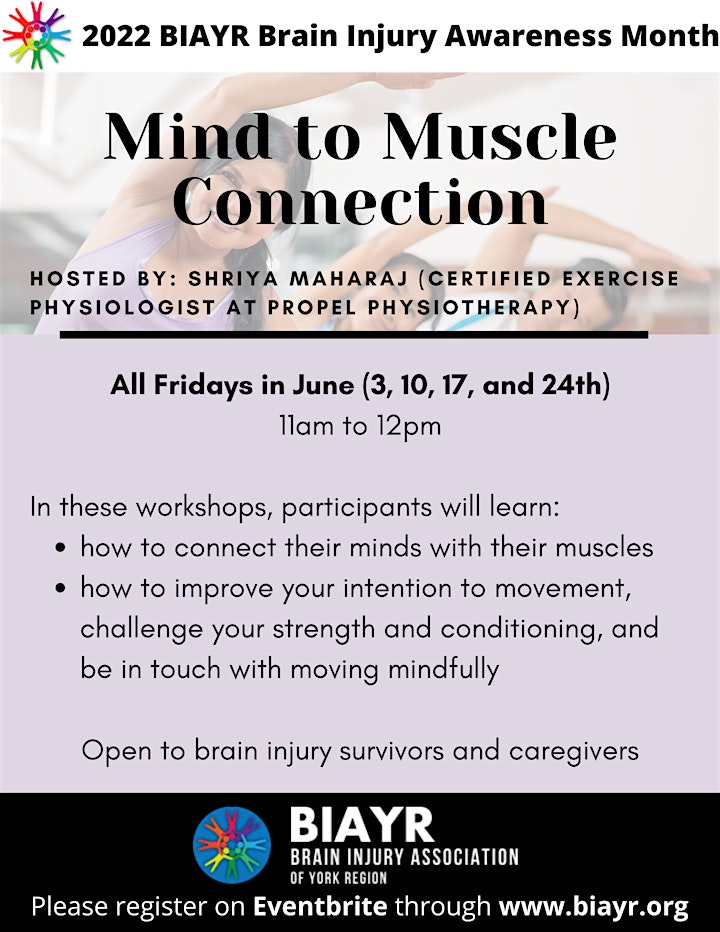 About Shriya Maharaj, Certified Exercise Physiologist (HBSc, MClinExP, AES-AEP):
"As a former dancer, Shriya understands the importance of posture and core stability in everyday activities. She uses this as the foundation of her exercise programs. Through goal setting and problem-solving strategies, she is able to help clients achieve their optimal quality of life.
Seeing the sense of accomplishment and confidence growing as clients learn new skills and become stronger is one of the things she enjoys most about her job. She gets excited when someone tells her they were finally able to put their socks on by themselves or go down the stairs without fear of falling.
Shriya Maharaj has experience in exercise programming and testing. She works with a wide variety of clients, including the elderly and those with musculoskeletal, neurological, metabolic and cardiovascular conditions. Shriya believes in finding ways for clients to be active no matter their mobility or fitness level. She uses a combination of education and exercises principles to help clients complete daily activities and manage pain.
Shriya is registered with the Canadian Society for Exercise Physiology and Exercise and Sports Science Australia. She holds a master's degree in clinical exercise physiology from the University of Queensland in Australia and a bachelor's degree in Life Sciences from The University of Toronto. She continues to add to her experience and education by attending health and wellness conferences and refining her assessment skills through professional advancement courses.
Health, wellness and fitness have always been important to Shriya. She purposely chose a career that would allow her to continue to pursue and promote it.
In her spare time, she enjoys travelling and cooking. She is always on the lookout for new recipes to try, and she enjoys chatting to clients about places they have travelled and her own experiences abroad for leisure and work. Shriya also loves a good book and always has one in her bag waiting for any opportunity to read it."