Event Information
Refund Policy
Contact the organizer to request a refund.
Eventbrite's fee is nonrefundable.
Reduce stress and anxiety, connect to your body, and relax your mind. Learn simple meditations and techniques you can use in everyday life.
About this Event
These classes take place online on 6 Mondays. February 1st to March 8th, 2021 from 7:30-9:00 PM CST.
Mindful Movement is an exercise philosophy for your mind and body where you create greater flexibility, strength, and balance by concentrating your focused attention on and within the body.
This is an exploratory class in mindfulness, meditation, visualization, and proprioception applying mindful movements within your body.
You will practice meditation and mental body scans, learn and practice slow and controlled mindful movement patterns that are healing in nature, and as well as give your body and mind some love through loving-kindness meditations.
Each week we will explore a new concept to focus our awareness on.
This practice is slow and gentle in nature, anyBODY can participate and find benefits connecting to movement. The class is designed to meet you where you are. Your body will tell you how to move and lead the majority of the session. Your work is to let your mind give up control and listen to your body's innate wisdom.
Weekly Themes:
Each week will have a new theme or intention for exploration in the class. Some examples are:
Relaxation: learn how to relax and let go and what that feels like in your mind and body.
Flexibility: understand what flexibility and stretching feels like, examine the relationship between flexibility and relaxation.
Strength: understand what strength, power, and force are in your body.
Balance: understand balancing in space and how our muscles stretch and engage to help us balance in new positions.
Class Structure: 1 -hour class + 30 min free chat
Welcome
Breathing Meditation (Pranayama)
Guided Body Scan Meditation
Visualization and Introduction of Class Concept
Discussion of Class Concept
Exploration of Movement & Class Concept (Asana)
Free Movement
Guided visualization, body scan, or loving-kindness meditation (Shavasana)
Namaste & Goodnight (if you need to go)
Class discussion
Skills You Will Practice:
How to be mindful.
How to breathe.
How to stretch.
How to strengthen.
How to work towards goals (focused play).
How to meditate and visualize.
How to embody.
How to understand yes and no within your body.
How to relax your mind and let your body lead.
Allowing your body to express itself without judgment.
The Space:
Be part of a compassionate, curious, and playful community. We will hold space for each other to learn, grow, and explore mind and body. Each class we will begin by reciting the pledge (adapted from the Loving-Kindness Meditation):
"I am happy, I am healthy, I am safe, I am enough, and I am loved. Just as I am"
Who is this for?
Anyone looking for a way to reduce stress and anxiety in their life. Anyone who wants to carve out self-care time to be present with their mind and body. Anyone who wants to create a stronger relationship with their body and intuition. Anyone who enjoys meditation, yoga, and learning different practices. Anyone who wants to become more flexible, strong, or increase their proprioception to assist in other sports and exercise.
What people are saying about Mindful Movement and Jessica:
"A great way to learn how to focus and how mindfulness can help improve physical and emotional sides of your life."
"I enjoyed slowing down for an hour and focusing on myself and mindfulness - but I found it hard!"
"Mindful Movement is a great way to spend a gentle hour focusing on yourself. The self-care it promoted by getting my body moving and my mind focused really helped release the stress of daily life. I was even able to carry these strategies forward into my week. This is a class that lends itself well over Zoom - a rebranding of 'Zoom fatigue'." - Alissa W
"I'm taking away a reminder to take time to meditate and also that the body can be moved in so many ways!"
"My takeaway was connection, peace of mind, freedom, and I wanted more. And it couldn't come soon enough!" - Kelly M
"While taking a brief timeout for personal and mental wellbeing, I experienced Jessica's offer to movement. Which landed deeply at a time when that was exactly what I needed!"
"Jessica is organized, very personable, and connects to ensure clients are engaged." - Elvis R
"Jessica is a grounded coach with a calm and encouraging demeanour."
Why I Created This Program:
In the Mindful Movement program, I have put together my years of practicing and expertise within meditation, yoga, skating, coaching, and facilitation. When I was working as a software developer, my mind was very active, solving problems and creating new things. This was very exciting, but it was also too active. I had trouble shutting it off and taking breaks for myself. This practice helps your mind take a back seat and gives your body a chance to lead.
About Jessica
Jessica Watson is a life coach, yoga instructor, skating coach, and a technology educator. She worked in a corporate career in Tech for a handful of years before she became aware of the stress and anxiety that were running her life. She learned about meditation and it helped her create new mindsets and possibilities for her life. She is now living a very comfortable life which she enjoys her day to day, her work, and her relationships. Jessica developed her mindful movement practice over the past four years. It has been essential in helping her through grief and depression after losing her Mom, as well as building a strong and healthy body. Jessica wants to share this practice with others to help people find more peace and calm in their lives, connect to their intuition, and fall in love with their body and movement.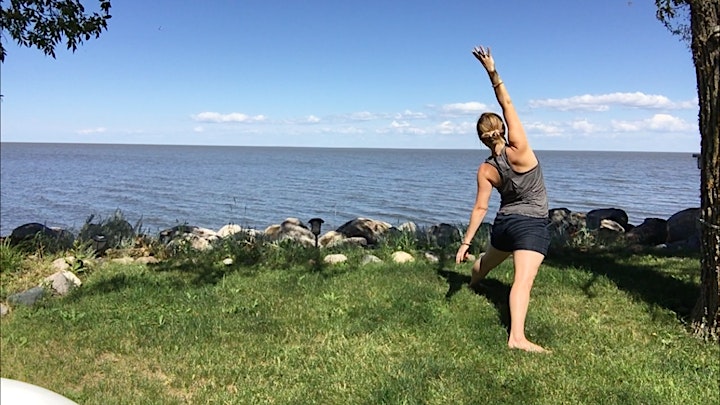 Date and Time
Location
Refund Policy
Contact the organizer to request a refund.
Eventbrite's fee is nonrefundable.