A virtual mini event guiding you to a healthy lifestyle with superfoods!
About this event
MINDFUL NUTRITION: 30 DAYS TO RESET THE MIND, BODY AND SPIRIT.
Join Luciana and Rebecca as they deep dive into a holistic lifestyle lead by superfoods. Learn how their experience with a 30 day transformation shifted their overall health and allowed for more spirituality, connection and fulfillment in life.
Enjoy a guided meditation led by Luciana to start us off and then deep dive into Purium's 30 day Ultimate Lifestyle Transformation!
Schedule:
6:30 - Meditation
6:35 - Welcome + introductions
6:40 - The Ultimate Lifestyle Transformation
6:50 - Q&A
7:00 - Close
Meet your Hosts:
LUCIANA:
Luciana Santaguida is a holistic practitioner: yoga teacher, sound healer, reiki master , meditation guide, spiritual mentor and successful singer and performing artist.
REBECCA:
Rebecca Madamba is a rising indie musician, reiki practitioner and health enthusiast !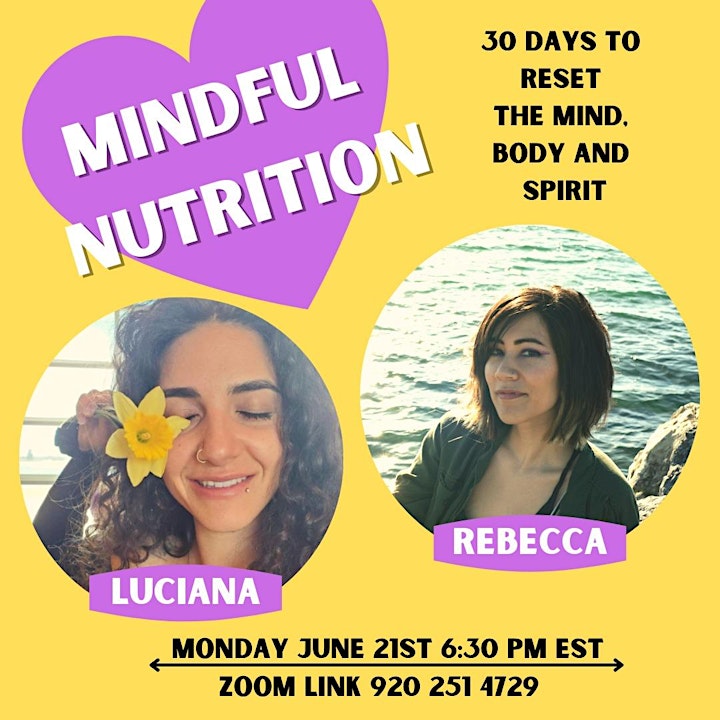 Organizer of Mindful Nutrition : a virtual guide to better health