Event Information
Refund policy
Contact the organizer to request a refund.
Eventbrite's fee is nonrefundable.
Mindful self-compassion (MSC) is an empirically supported, eight-week training program designed to cultivate the skill of self-compassion.
About this event
Based on the ground-breaking research of Kristin Neff and the clinical expertise of Christopher Germer, MSC teaches us how to treat ourselves with kindness, care, and understanding when we are struggling.
Self-compassion can be learned by anyone. No previous mindfulness experience is required to participate in this course. Practising mindful self-compassion promotes emotional strength and resilience. It helps you to motivate yourself with kindness, forgive yourself and others when needed, and respond to difficult emotions. Learning to be more self-compassionate can reduce self-criticism, improve our ability to connect authentically with others and respond to our struggles with greater perspective.
In the course, you will learn how to:
Practice self-compassion in daily life
Apply mindfulness and self-compassion skills in difficult moments
Motivate yourself with kindness rather than self-criticism
Handle difficult emotions with greater ease
Transform challenging relationships, old and new
Manage caregiver fatigue
Practice the art of savouring, gratitude and self-appreciation
A few words from Chris Germer & Kristin Neff, developers of the MSC program.
"Self-compassion boosts the immune system, it reduces anxiety, and it's the easiest way to keep our hearts open to others. Some measure of fear is a healthy response to a contagious virus, of course. We want to respond to the contagion in a wise manner – with preventive measures that benefit ourselves and others." (read full article HERE). And HERE is a brief video about the power and beauty of treating ourselves with kindness & compassion, as we would treat a friend.
WHEN: Wednesday evenings, March 24th - May 12th, 6:30 - 9:00 p.m. Half-day, retreat Sunday April 25th (9:30 a.m. - 1:30 pm).
FEES: $425. Fees are most often covered by insurance companies who cover the services of MSW, RSW. Otherwise, it can be counted as a medical expense towards income tax.It is strongly recommended that you purchase the Mindful Self-compassion Workbook by Kristin Neff & Chris Germer to accompany the course.
REGISTRATION: Please email sara @ saramarlowe[dot]com for more info and to register.
Taking this 8-week course is the first step on the path to becoming a mindful self-compassion teacher.
Sara is a certified mindful self-compassion teacher through the UCSD Centre for Mindfulness and registered social worker (MSW, RSW).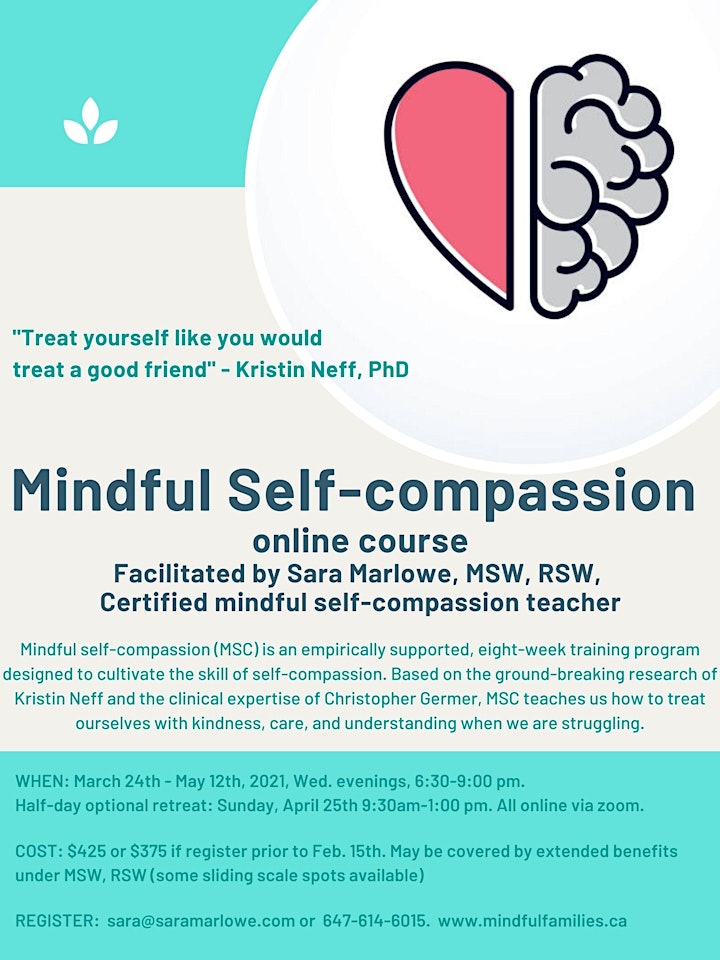 Location
Refund policy
Contact the organizer to request a refund.
Eventbrite's fee is nonrefundable.