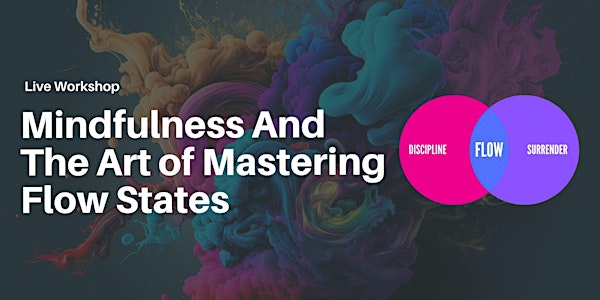 Mindfulness And The Art of Mastering Flow States
Use mindfulness to overcome urges and develop the laser-like clarity and single-minded focus necessary to consistently get into flow.
Date and time
Starts on Tue, Jun 6, 2023 3:30 PM PDT
Refund Policy
Contact the organizer to request a refund.
Agenda
1. Digital Mindfulness
---
Many of our biggest compulsions and distractions today are digital. You'll learn how to use mindfulness to overcome digital distractions so you can significantly reduce your screentime.
2. Visualization
---
Clear goals and a plan of action you can easily visualize make it much easier to pay attention and resist distractions. You'll learn a scientifically proven visualization practice for improving focus...

3. Laser Focus
---
Improving focus goes beyond just a daily mindfulness practice, we need to plan our day for focused flow sessions. You'll learn a weekly pre-planning process that will help you unlock laser-like clari...

4. Creative Flow
---
Getting into flow involves committing yourself to take bigger physical, mental, emotional, social and creative risks with mindful intentionality. Learn how to use mindful breathing to embrace your fe...

5. Deep Sleep
---
Discover how screens disconnect us from our natural biological rhythms and how this is leading to an epidemic of fatigue and burnout. Learn the #1 daily habit that is proven by science to balance you...

6. Peak Experiences
---
Discover how peak experiences can create a deeper sense of meaning and purpose in your life. Hit the reset button on your stress by tapping into the power of peak experiences for life-enhancing awe, ...

About this event
1 hour 30 minutes

Mobile eTicket
Do you struggle with staying focused, have shiny object syndrome and feel overwhelmed by all the digital distractions you have to deal with every day?
This 90-minute workshop on Mindfulness and Mastering The Art of Flow States will help you find your focus and start eliminating all those unnecessary distractions that steal your time, energy and attention.
Mindfulness involves learning to observe our thoughts, feelings and sensations without judgement, labelling or resistance -- which makes it a powerful practice for breaking the cycle of instant gratification, anxiety and procrastination.
Flow is a state of mind that occurs when we are totally immersed in a meaningful and challenging activity. It is a state of optimal human performance where we do our best work with 100% of our attention and zero distractions.
In this workshop, we will unpack the science of mindfulness and flow psychology from the work of pioneering medical doctor Jon Kabat-Zinn who popularized mindfulness training in the West through MBSR (Minfulness-Based Stress Reduction) and professor of psychology Mihaly Csikszentmihalyi who did the foundational research on flow states and how they improve focus, increase fulfillment and help us achieve optimal performance.
Here's what you will learn:
In this 90-minute in-depth Mindfulness and The Art of Mastering Flow States workshop, you will learn:
1. How to practice mindfulness meditation and apply mindfulness practices that improve focus, concentration and performance.
2. Using rhythmic breathing and visualization to reduce stress, manage discomfort and enhance emotional intelligence and self-regulation.
3. Improve your stress management skills by developing greater resilience when dealing with risk, uncertainty and adversity.
4. Access flow states during your work day, performance events and everyday life.
After the workshop you will also receive:
Downloadable Flow Canvas, a 1-page weekly planning template for getting into flow that makes it easy to plan out your week in less than 20 minutes.
The Flow Productivity Toolkit for creating the optimal web browsing environment for flow sessions where you can do your most important work with all your typical distractions blocked.
A Flow State Meditation audio track to listen to before your flow sessions to prime your mind and body for full focus and sustained concentration.
A brainwave entrainment music track for making it easier to get into the relaxed alpha brainwave state associated with the relaxed focus necessary for flow when performing a task.
About the instructor:
Kyle Pearce is an online business coach, learning experience designer and growth marketing specialist.
He helps people align their passion, expertise and purpose with a highly-profitable business model so they can get more value for their time, consistently find flow in their work and make a creative living doing work they enjoy.
He has been teaching mindfulness, flow state psychology and peak performance optimization since 2013 through his online learning community DIY Genius.
About the organizer
Fun and interactive online workshops for brand storytelling, content marketing and mindful productivity.