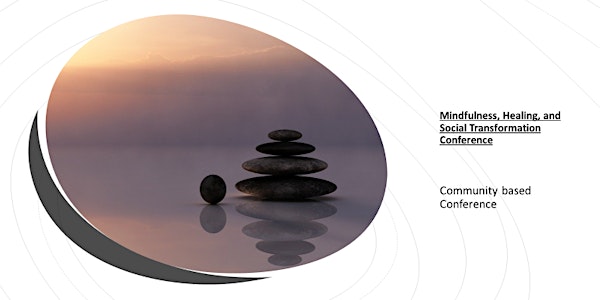 Mindfulness, Healing, and Social Transformation
An opportunity to share experiences and insights about Mindfulness and other holistic healing practices to improve community mental health.
When and where
Location
Thorncliffe Park Community Hub 45 Overlea Boulevard Toronto, ON M4H 1C3 Canada
About this event
Conference Partners
This event is a partnership between The Canada Center for Transformative Social Change ( CCTSC ) and TNO, the Neighborhood Organization (TNO ).
Background:
The Covid pandemic, high poverty rate, inequality, and the economic recession we pass through as global citizens created challenges for individuals, groups, and communities across the globe, including our Canadian society. As individuals, organizations, and a society, we face increasing challenges, including a lack of social cohesion, maintaining social solidarity, and practicing healthy healing practices to address our daily psychological and social stressors. Furthermore, we are still behind in addressing the issues of indigenous people and minority groups in our society and the problem of economic inequality. This conference will discuss the individual, community, organizational, national, and global healing strategies that might effectively address these and other issues.
Applications and Benefits:
This conference will address how Mindfulness and other healing practices can assist in overcoming societal and psychological strains. Some of the issues discussed have been ongoing, while others are new or have been exacerbated by the Covid pandemic. This conference aims to raise awareness of the importance of Mindfulness and other healing practices in dealing with mental health and societal challenges we face daily. Although this conference will include a wide diversity of experts in many fields, it will empower the participants to undertake their critical thinking and apply concepts and practices to their unique work situations and daily routine.
Here are some of the potential benefits of this conference: participants can gain some knowledge about mindfulness practices and techniques to deal with stress, anxiety, trauma, and more. In addition, professional participants will learn about recent research in mindfulness studies and strategies for combing emotional, mental, physical, and spiritual healing. Furthermore, all participants will explore the benefits of traditional practices from different cultural lenses and learn about specific innovative holistic programs.
This conference is an opportunity to share experiences and insights about Mindfulness and other holistic practices, promote critical thinking, and develop strategies for individuals, communities, and community-based organizations to deal with mental health and societal challenges.
Registration for Attending Online:
This conference is an in-person event; however, if you cannot attend in person and want to attend some of the workshops online, please email (aqeel.saeid@cctsc.ca) to add you to the online list. Make sure to write the following words in the subject space, " Attending The Conference Online."
You will receive zoom links to some workshops and the open space activity. See the conference plan for further details.
TNO employees and volunteers:
Please email Devi Raghunauth, Manager, Family, and Wellness, at ( graghunauth@tno-toronto.org ) to book your ticket.
Light refreshments will be served at the conference
Conference Program:
Mindfulness, Healing, and Social Transformation
Day One: (Friday- November 18)
Friday Morning: Concepts and Practices for Promoting Social Transformation
8:00 am -8:30 am registration
8:30-9:00 a.m.
A Brief Welcome to the Conference
Opening: Recognition of Land
9:00-9:45 a.m.
Brief Meditation – 10 minutes, Brad Hutchinson - Canada Center for Transformative Social Change Chair.
Keynote Speakers: Mindfulness, Healing, and Social Transformation.
5 minutes break
9:50 – 10:20 a.m. Indigenous Wholistic Healing and Growing Challenges (Leonard Benoit (He/Him) Indigenous Patient Navigator, Indigenous Program Development, The Wilson Centre Toronto General Site).
10 minutes break
10:30 -11:00 am. Wholistic Theories, Values and Other Practices in a Post-Pandemic World (Peter Dunn, Ph.D.)
11:00-11:30 am. Mindfulness and Mental Health - (Simplified experimental research- Aqeel Saeid Ph.D.)– (In person and online)
Q &A for the speakers (30 min)
12–1:00 pm Lunch break
Friday Afternoon:
Impact of settlement and displacement on mental health & social transformation (Panel of settlement workers and social workers)
1:00–1:30 pm. Settlement and mental health (Mathura Thiagarajah - TNO & Aqeel Saeid )
1:30- 2:00 pm. How mindfulness and cultural healing practices can help newcomers? (Tania Jivraj and Hafsa Alavi - Health Access Thorncliffe Park ).
1:30–2:15 pm Individual stories of mindfulness practices (open discussion) (Brad Hutchinson)
3:00-3:15 Break
3:15- 4:00 pm Panel: Moving from Individual to Collective Healing approach (Aqeel Saeid, Arthur Lockhart, and Brad Hutchinson )
4:00–5:00 pm Group Reflections and Discussions of Action Steps (open Space) (In-person and Chat Rooms)
Second Day (Saturday, November 19)
Saturday Morning:
9:00 - 9:30 am: Reporting Back from Yesterday's Experiential Workshops (Chat Rooms
and in-person discussions).
Addiction, Justice, and Mindfulness Practices:
9:30 - 10:00 am: Problem Gambling and Mindfulness – Peter Chen and Nigel Turner Ph.D. (CAMH-)
10:15- 10:50 am: Networking for professionals – Open to making professional connections
10:50–11:20 am: Mindfulness in Dealing with the Criminal Justice System and Oppressions (Arthur Lockhart and Terry Swinton).
10-minute break
11:30 am - 12:00 pm: Addressing the violence issues in our community – (Farhan Ali – Neighborhood Community Office - Toronto Police Service).
12:05- 12:35 pm Mindfulness and suicidal prevention ( Arthur Lockhart – Brad Hutchinson)
12:15 - 12:45 pm: Restorative and Transformative Justice (Peter Dawson Ph.D.)
15 minutes break
1:00- 1:30 pm: Migration and unanticipated grief ( Soheila Pashang Ph.D.).
1:35–2:05 pm The Next Steps in Social Solidarity and Transformation in a Post Pandemic Era (Open Space Process – Arthur Lockhart, Aqeel Saeid, and Brad Hutchinson)
Group Discussions
2:10 - 2:20 Closing remarks.
For further information about the conference and the speakers, see the following link:
https://cctsc.ca/wp-content/uploads/2022/09/Conference-CCTSC-TNO-Final-Sep-2.pdf