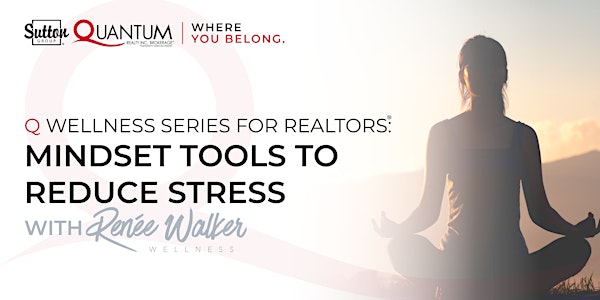 Mindset Tools to Reduce Stress with Renée Walker
Join Renée Walker at our Oakville office to learn some of the best ways to reduce stress!
By SUTTON QUANTUM - SESSIONS
Date and time
Tue, Feb 14, 2023 1:00 PM - 2:00 PM EST
Location
Sutton Quantum Realty Inc., Brokerage 260 Lakeshore Rd E Oakville, ON L6J 1J1 Canada
About this event
About Renee Walker
As a certified meditation teacher, yoga instructor, reiki master, and spiritual life coach, I am deeply passionate about helping you align and elevate your energy level. My purpose is to guide you towards peace while empowering you to discover your inner strength.
I have spent the last 18 years of my life committed to my spiritual growth. What I have learned is that the more connected I am to self - through daily practices & rituals, the more I'm able to show up authentically with a sense of ease & peace within. I design each meditation & yoga class and coaching program with this in mind. My intention is to create a space which helps you strengthen and deepen your connection to your mind, body & heart so you can truly feel your best from the inside out. As a bonus, we do this together in a community of heart centred souls.
It's time to come back to YOU. Let's do this!