Location
Edenvale Conservation Area
Highway 26
Minesing, ON L0L
Canada
Description
Calling all naturalists and nature-lovers alike!
The Friends of Minesing Wetlands is celebrating it's 20th year of a non-government, not-for-profit group who's main goal is to promote educational, recreational and public awareness about the internationally significant Minesing Wetlands. In honour of this very special milestone the Friends, with partners the Nottawasaga Valley Conservation Authority, Nature Conservancy of Canada and Ducks Unlimited Canada, we are pleased to announce the First Annual Minesing Wetlands Bioblitz!

What is a bioblitz?
A Bioblitz is a volunteer-based biological inventory of a specific area. Participants include local scientists, professional naturalists, amateur enthusiasts and members of the general public. The goal of the Bioblitz is to identify as many species as possible in a set amount of time. This event provides community members with hand-on learning opportunities that can enhance their knowledge of species identification, biodiversity, citizen science and stewardship.
Why the Minesing Wetlands?
The Minesing Wetlands is one of Southern Ontario's largest wetland and is home to many unique habitats, vegetation communities, and a vast array of wildlife. The Minesing Wetlands, previously known as the Minesing Swamp, are a Ramsar-designated (internationally significant) wetland located in south-central Ontario. The Minesing Wetlands are one of the largest wetland complexes in southern Ontario and host the largest and best example of a string fen in this part of the province. The Minesing Wetlands have also been designated as a Provincially Significant Wetland (PSW) and a provincially significant Life Science Area of Natural and Scientific Interest (ANSI) by the Ontario Ministry of Natural Resources and Forestry (MNRF).

So we ask... why not!
How does it work?
You will be conducting surveys on a series of hiking trails located in the peripherals of the Minesing Wetlands. You will meet your expert leader and/or participants at your designated hiking trail (which you will choose after you register). All participants will be required to stay with their expert leaders, within close proximity to the designated trail at all times. After the morning and before the afternoon sessions happen, everyone will reconvene at Basecamp (Edenvale CA) to enjoy lunch and brief words of thanks from the organizers.

Schedule: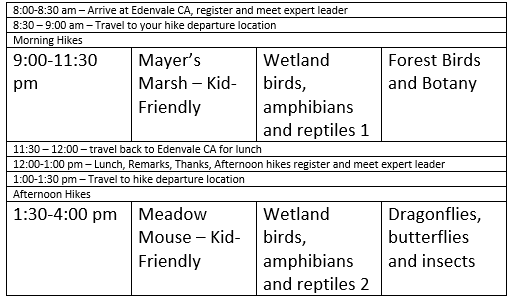 Please note:
A more thorough description of each hike, including distance and walking surface is available when you view the ticket type

Parents will be required to stay with their children curing the kid-friendly hikes at all times during the event.
Want to get involved?
We are currently searching for expert leaders to lead or co-lead one of 6 hikes. Please see "Expert Leader" ticket type for more information.
We will now be accepting participants! Please select a ticket based on the hike(s) you would like to participate in!

Thank you for your interest in the Minesing Wetlands Bioblitz!
- Friends of Minesing