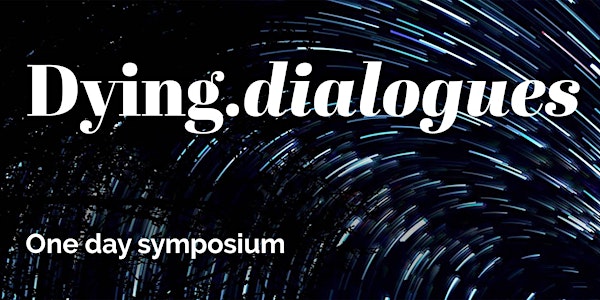 Mini-Symposium on death, dying, and design
Dying.dialogues is a mini-symposium on death, dying, and design and is part of the Dying. event series running in conjunction with DesignTO
Date and time
Sat, Jan 25, 2020 8:30 AM - 5:00 PM EST
Location
OCAD University 100 McCaul Street Toronto, ON M5T 1W1 Canada
Refund Policy
Contact the organizer to request a refund.
Eventbrite's fee is nonrefundable.
About this event
Dying.dialogues includes two events January 24th and January 25th as well as an exhibit.
January 24- 6:00 pm Dying.dialogues Keynote
Nikki Salkeld and Ashley Rudolph , MOTH. (Keynote eventbrite)
January 25 - 8:30 am Dying.dialogues Symposium
9:00 am Opening speaker Dr. Naheed Dosani
Dr. Naheed Dosani is a palliative care and family physician at Inner City Health Associates and William Osler Health System. He is the founder and project lead of Palliative Education and Care for the Homeless (PEACH), a mobile, shelter-based outreach program that delivers palliative care for Toronto's most vulnerable individuals.
9:30 am Session 1
- Equity and palliative care (Paul Holyoke, Saint Elizabeth Health)
- A design agenda 'Love after death' (Stacey Pitsillides)
10:30 am - break
11:00 am Session 2
- MAID and design opportunities (Vickie Micallef, Elinor Keshet)
- Biophobia and design (Real Eguchi) concurrent workshop
- MMRY BX (Donna Dooher) concurrent workshop
12:30 - 1:30 pm - exhibit, artists discussion and LUNCH
1:30 pm Session 3
- Journey mapping death(Olivia Tischler, Lisa Robinson)
- Reimagining conversations at end of life (Fran Quintero Rawlings)
- Cradle to Grave, Grave to Cradle (Burcu Turkay)
- Reflection room 3.0 (Holyoke, Georges, Kalles) concurrent workshop
3:00 pm - break
3:30 pm Session 4
- Engaging the public in research (Karen Oikonen)
- MMRY BX (Donna Dooher)
- Time moving - exploring perception at end of life (Kate Sellen)
4:30 pm Closing panel
During DesignTO there will be a number of events under the Dying. series with an opportunity to visit exhibits across Toronto.
In 2019, the Dying. attracted over 3000 attendees, 14 speakers, including keynote Ivor Williams (Helix Centre), and 12 exhibiting artists and designers over the course of the DesignTO festival. In its second year, Dying. will continue to offer the public the opportunity to creatively engage in conversation about death and dying through the lens of art and design.