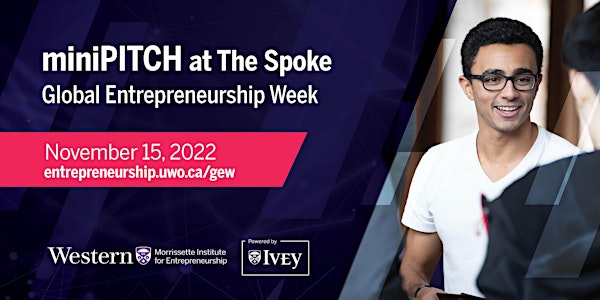 miniPITCH at The Spoke
It's Global Entrepreneurship Week! Celebrate with us by pitching your business idea for funding at miniPITCH!
When and where
Location
The Spoke Richmond Street London, ON N6A 3K7 Canada
About this event
Join Morrissette Institute for Entrepreneurship as we celebrate Global Entrepreneurship Week! Events will be held across campus from November 14-18, and this is one you don't want to miss!
On November 15th, come pitch your business at The Spoke!
What are you waiting for? Pitch your business or idea, and convince our panel of judges why your idea deserves up to $150 in funding!
How to Participate:
1. Register to compete:
Registration deadline is Monday, November 14th at Midnight.
2. Attend a How to Pitch Workshop:
Brush up on your pitching skills by attending one of our "How To Pitch" Workshops. The workshop will be virtual. This workshop is not mandatory but is recommended.
3. Pitch!
The miniPITCH event will be on Tuesday, November 15th at The Spoke in UCC. Contestants must pitch in person. Contestant pitching order will be determined through a random draw day of.
There is no guarantee that you will have the opportunity to pitch as there are a limited number of slots. If your name is drawn and you are not in attendance, a new name will be drawn. We will keep drawing names until the entire pot has been awarded.
Pitch-ers will have 3 minutes to pitch and judges will deliberate on the spot to determine if the candidate receives the funding. Students should anticipate a 2 minute question period from judges after the pitch. Note that slides are not allowed, and we will be timing you!
We can't wait to see all the amazing ideas you're working on. Good luck!
Eligibility:
Any undergraduate or graduate students from Western, Huron, King's or Brescia in any program are welcome to participate.
NOTE: You can only receive funding once per semester. If you received funding at miniPITCH in October of 2022, you are welcome to apply to pitch again in February 2023.