Minister McKenna's Reflections on Our Shared Responsibility to Our Planet
Description
The CIC National Capital Branch presents
MINISTER McKENNA'S REFLECTIONS ON OUR SHARED RESPONSIBILITY TO OUR PLANET
Tuesday, June 5 (World Environment Day)
Join us on World Environment Day for an evening with the Honourable Catherine McKenna. The Minister of Environment and Climate Change will give a keynote address on environmental protection, Canada's wild places, and the challenges and opportunities of tackling climate change in the 21st century. The Minister will discuss action being taken by the current government to protect the environment and strengthen the economy, drawing on past experiences and looking forward to the future. Following her remarks, there will be a moderated discussion, and an opportunity for questions.
Catherine McKenna was elected the first female Member of Parliament (MP) in Ottawa Centre on October 19, 2015. On November 4, 2015 she was appointed Minister of Environment and Climate Change. Before a career in politics, Catherine co-founded and was the executive director of Canadian Lawyers Abroad, a charitable organization based at the University of Ottawa. She was the executive director of the Banff Forum, a leading Canadian organization that brings together young leaders to discuss how to tackle key public policy challenges facing Canada. Catherine taught at the Munk School of Global Affairs and was a board member of the Trudeau Centre for Peace and Conflict Studies. She has worked internationally as a legal adviser for the UN in East Timor and on trade issues in Indonesia. Catherine is an active member of the Ottawa Centre community.
Ailish Campbell, Chief Trade Commissioner of Canada and Assistant Deputy Minister, Global Affairs Canada, will moderate this event. Previously she was general director at Finance Canada and vice president, policy - international and fiscal issues, at the Business Council of Canada. She serves on the board of the Banff Forum, a national non-partisan not-for-profit organization promoting leadership and public policy engagement, and the International Advisory Council of the School of Public Policy at the University of Calgary. She holds a BA (Honours) from Queen's University, a Master of Science, Economics (International Relations and International Political Economy) from the London School of Economics and a D. Phil in International Relations from the University of Oxford.
TIME:
5:00 pm: Registration, reception and cash bar
6:00 pm: Presentation, discussion
7:30 pm: Dinner (optional)
Please notify us in advance of any special dietary requirements.
The deadline for registration and cancellation is 10 pm on Saturday, June 2.
To join, or renew your membership to the CIC please go to www.thecic.org/get-involved/
TICKET PRICES: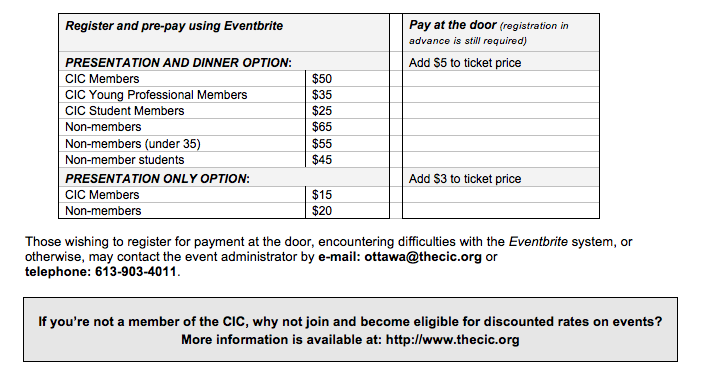 ---

Le chapitre de la Capitale nationale présente
RÉFLEXIONS DE LA MINISTRE McKENNA SUR NOTRE RESPONSABILITÉ PARTAGÉE ENVERS NOTRE PLANÈTE
Mardi 5 juin, 2018 (Journée mondiale de l'environnement)
Joignez-vous à nous lors de la Journée mondiale de l'environnement pour une soirée avec l'honorable Catherine McKenna. La ministre de l'Environnement et du Changement climatique prononcera une allocution sur la protection de l'environnement, les espaces sauvages du Canada et les défis et les possibilités de s'attaquer au changement climatique au XXIe siècle. La ministre discutera des mesures prises par le gouvernement actuel pour protéger l'environnement et renforcer l'économie, en tirant parti des expériences passées et en regardant vers l'avenir. À la suite de ses remarques, il y aura une discussion modérée et une occasion de poser des questions.
Catherine McKenna est devenue la première femme élue à la Chambre des communes à Ottawa-Centre le 19 octobre 2015. Le 4 novembre 2015, elle a été nommée ministre de l'Environnement et du Changement climatique. Avant de faire carrière en politique, Catherine a co-fondé et était directrice générale de Canadian Lawyers Abroad, un organisme de bienfaisance basé à l'Université d'Ottawa. Elle a été directrice exécutive du Banff Forum, une organisation canadienne de premier plan qui rassemble de jeunes leaders pour discuter de la façon de s'attaquer aux grands défis de politique publique auxquels le Canada est confronté. Catherine a enseigné à la Munk School of Global Affairs et a été membre du conseil d'administration du Centre Trudeau pour les études sur la paix et les conflits. Elle a travaillé à l'échelle internationale en tant que conseillère juridique pour l'ONU au Timor oriental et sur les enjeux liés au commerce en Indonésie. Catherine est un membre actif de la communauté d'Ottawa Centre.
Ailish Campbell, déléguée commerciale en chef du Canada et sous-ministre adjointe, Affaires mondiales Canada, animera cet événement. Auparavant, elle était directrice générale à Finances Canada et vice-présidente, Politiques-questions internationales et fiscales, au Business Council of Canada. Elle siège au conseil d'administration du Banff Forum, un organisme national à but non lucratif qui fait la promotion du leadership et de l'engagement en matière de politique publique, ainsi qu'au Conseil consultatif international de l'École supérieure de politique publique de l'Université de Calgary. Elle est titulaire d'un baccalauréat spécialisé de l'Université Queen's, d'une maîtrise en sciences économiques (relations internationales et économie politique internationale) de la London School of Economics et d'un doctorat en relations internationales de l'Université d'Oxford.
HEURE:
17 h 00: Inscription, réception et bar payant
18 h 00: Présentation et discussion
19 h 30: Repas (facultatif)
Veuillez nous avertir à l'avance de tout régime alimentaire particulier.
La date limite d'inscription est le samedi 2 juin à 22 h 00.

Pour vous abonner ou renouveler votre adhésion, prière de visiter www.thecic.org/get-involved/
PRIX DES BILLETS: