About this Event
Hosted by the Métis Nation - a rights bearing Indigenous nation within Canadian confederation, one with its own language, practices and culture - this conference is bringing together minority representative organizations and citizens from across Canada for a conversation that focuses on rights, education, and the economy. This conference will speak to the well-being of minorities and how Canadians, especially from racialized and marginalized communities, can gain access to the success they work hard to achieve.
With expert and engaging speakers such as Jean Teillet - Métis Rights lawyer, Anthony Morgan - Human Rights lawyer, Shree Paradkar - Atkinson Fellow in Minority and Indigenous Education, Jino Distasio - Professor, Urban Geography, University of Winnipeg, and Nuzhat Jafri, Executive Director, Canadian Council for Muslim Women, participants will be invited to be a key part of this conference by sharing with others their struggles, frustrations, successes, and aspirations as minority representatives from across Canada.
The Department of Canadian Heritage will provide information on its Anti-Racism Strategy.
Tareq Hadhad, Peace by Chocolate, from Syria to Antigonish, Nova Scotia, will start the conversation on the economy with his family's incredible worldly journey of coming to Canada fleeing war in Syria. Tareq will then join a panel of industry leaders, including Claudette McGowan, Morteza Ahmadi, Bidhu Jha and Jason Carvhalo who will share wisdom on what it takes to take part fully in Canada's economy.
Dorota Blumczynska, Canadian Council of Refugees, Vice President, will skype in from Toronto to discuss the state of international migration and what Canada should do to accommodate these shifts and increases.
Also present, as invited guests and active participants, will be members from the diplomatic community, Governing Members of the Métis Nation, and Canadian senators.
This conference will assemble a diverse network of community leaders to showcase culture, language, and customs but we will come together in unity to talk about our strengths, our common goals, and all that is good in this country we call home.
There is no fee to attend this conference. All meals, including the Gala dinner on November 19, are included. However, travel and accommodation will not be provided. In this event, Fairmont Chateau Laurier has provided a special room rate for conference guests.
https://book.passkey.com/go/METI1119
Toll free reservation number:1-800-441-1414
For more information about this event contact Kelly Patrick. kellycpatrick@gmail.com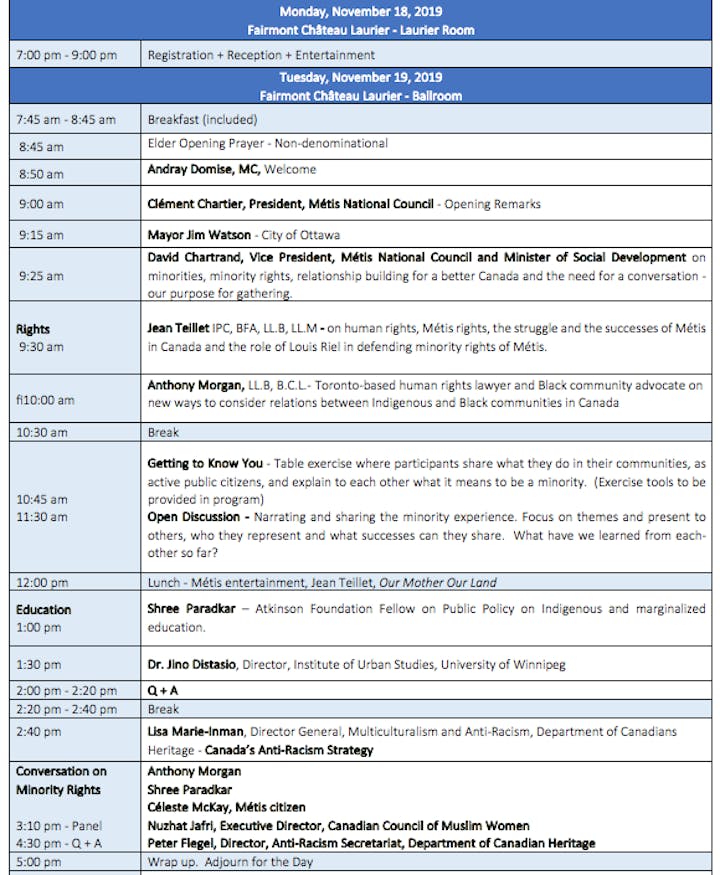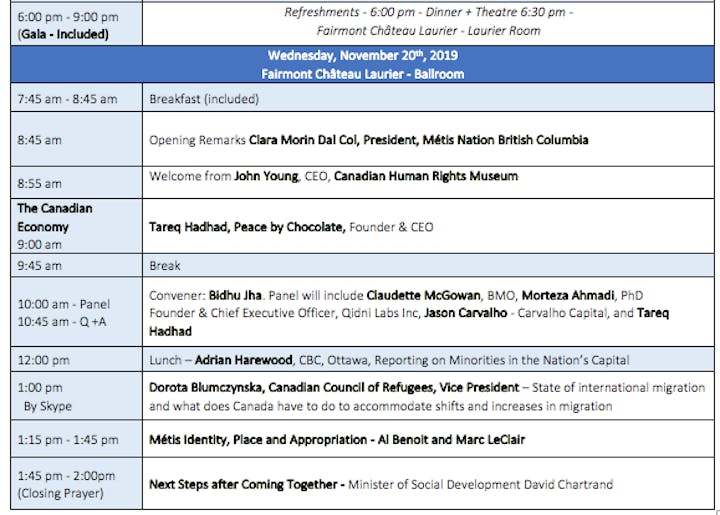 CONFERENCE AGENDA
DAY 1 - Monday, November 18, 2019 - Fairmont Château Laurier - Laurier Room
7:00 pm - 9:00 pm Registration + Reception + Entertainment
DAY 2 - Tuesday, November 19, 2019 - Fairmont Château Laurier - Ballroom
7:54 am - 8:45 am Breakfast (included)
8:45 am - Elder Opening Prayer + Non-denominational
8:50 am - Welcome and Introductions by host Andray Domise
9:00 am - Clément Chartier, President, Métis National Council
9:15 am - Mayor Jim Watson - City of Ottawa
9:25 am - David Chartrand, Vice President, Métis National Council , MInister of Social Development on Minorities, Minority Rights, Relationship Building for a Better Canada and the need for a conversation - our purpose for gathering.
9:30 am - Jean Teillet IPC, BFA, LL.B, LL.M - Human Rights, Métis Rights, the struggle and the successes of Métis in Canada and the role of Louis Riel in defending minority rights of Métis
10:00 am - Anthony Morgan LL.B, B.C.L.- Toronto-based human rights lawyer and Black community advocate on new ways to consider relations between Indigenous and Black communities in Canada
10:30 am - Break
10:45 am - 11:30 am - Getting to Know You - Table exercise where participants share what they are doing in their communities and explain to each other what it means to be a minority. (Exercise tools to be provided in program)
Open Discussion - Narrating and sharing the minority experience. Focus on themes and present to others, who they represent and what successes can they share. What have we learned from each-other so far?
12:00 pm - Lunch - Métis entertainment, Reading by Jean Teillet, Our Mother Our Land
1:00 pm - Shree Paradkar – Atkinson Foundation Fellow on Public Policy with a focus on Indigenous and marginalized education
1:30 pm - Dr. Jino Distasio, Director, Institute of Urban Studies, University of Winnipeg
2:00 pm - 2:20 pm Q + A
2:20 pm - 2:40 pm Break
2:40 pm - Lisa Marie-Inman, Director General, Multiculturalism and Anti-racism, Department of Canadian Heritage - Canada's Anti-racism Strategy
3:10 pm - Conversation on Minority Rights - Panel - Jean Teillet, Anthony Morgan, Shree Paradkar, Celeste McKay, Nuzhat Jafri , Executive Director, Canadian Council for Muslim Women , Peter Flegel, Director, Anti-Racism Secretariat, Canadian Heritage
5:00 pm Wrap up. Adjourn for the Day
6:00 pm - 9:00 pm - (Gala - Included) - Refreshments - 6:00 pm - Dinner - 6:30 pm - Entertainment - 8:00 pm - Fairmont Château Laurier - Laurier Room
DAY 3 - Wednesday, November 20th, 2019 - Fairmont Château Laurier - Ballroom
7:45 am - 8:45 am Breakfast (included)
8:45 am - Day 2 Opening
9:00 am - Welcome from John Young, CEO, Canadian Human Rights Museum
9:05 am - Tareq Hadhad, Peace by Chocolate, Founder and CEO
9:45 am - Break
10:00 am - Conversation on Minorities and the Economy - Panel
Convener: Bidhu Jha. Panel will include Claudette McGowan, BMO, Morteza Ahmadi, PhD, Founder & Chief Executive Officer, Qidni Labs Inc, Jason Carvalho - Carvalho Capital, and Tareq Hadhad
10:45 am - Q +A
12:00 pm - Lunch – Adrian Harewood, CBC, Ottawa, Reporting on Minorities in the Nation's Capital
1:00 pm - Skype - Canadian Council of Refugees – State of international migration and what does Canada have to do to accommodate change
1:15 pm - 1:45 pm - Métis Identity, Place and Appropriation - Al Benoit and Marc Leclair
1:45 pm - 2:00pm (Close) - Next Steps after Coming Together - MNC Vice President and MNC Minister of Social Development David Chartrand