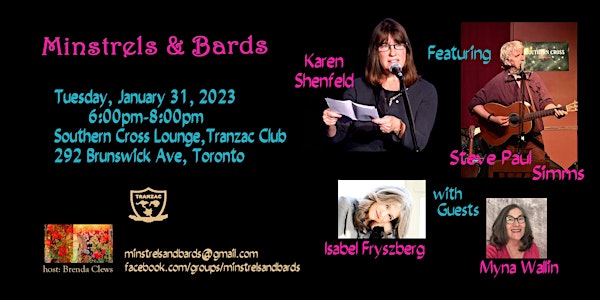 Minstrels & Bards Winter 2023 Edition
Minstrels & Bards Winter Edition- Featuring Karen Shenfeld & Steve Paul Simms, with Guests, Isabel Fryszber, Myna Wallin & Gianna Patriaca
Date and time
Tue, Jan 31, 2023 6:00 PM - 8:00 PM EST
Location
Tranzac Club 292 Brunswick Avenue Toronto, ON M5S 2M7 Canada
About this event
Minstrels and Bards is a quarterly soirée in the Southern Cross Lounge at the Tranzac Club in Toronto. A gathering of writers and musicians on the last Tuesday of January, April, July & October from 7:00-9:00 pm. Brenda Clews hosts these beautiful events. There are a poetry/writer feature and a singer/songwriter feature, as well as Guests or 5 min 'Highlights.' All forms of music and writing are welcome.
We pass the hat for the features - a $10. donation is recommended, though any amount is appreciated.
Our soirées are warm, convivial, supportive and very talented evenings and I would love you to come out and enjoy a marvellous couple of hours and perhaps share a poem, song or prose reading of your own.
The Tranzac is fully accessible. The Southern Cross room has a bar, and tables, and they will make sandwiches or you are welcome to bring dinner while you enjoy the show.
The Winter 2023 Edition features:
Karen Shenfeld has published three books of poetry with Guernica Editions: The Law of Return (1999), which won the Canadian Jewish Book Award for Poetry in 2001, The Fertile Crescent (2005), and My Father's Hands Spoke in Yiddish (2010). Her latest book, To Measure the World, was published by Ekstasis Editions in May 2020. Her poetry has also appeared in national and international journals and anthologies. As well, Karen Shenfeld has brought her poetic sensibility to the writing of magazine stories and to filmmaking. She is currently writing a screenplay that has been optioned by the director, Bruce McDonald.
Steve Paul Simms is a singing guitarist and sometime actor who has written hundreds of songs in a wide variety of styles. After training and working in theatre for many years, he began a lively occupation in entertainment for Seniors, and has played lots of retirement residences and nursing homes in Ontario, singing everything from Elvis to Bing to Beatles, Vera Lynn, Johnny Cash and SP Simms himself. He sings at The Tranzac on the fourth Sunday of every month, and has several cds of original material. He is proud to be part of Brenda Clews' show.
With Guests:
Myna Wallin, a Toronto poet and prose writer, was recently published in The Antigonish Review, Vallum Magazine, Quarantine Review, NōD Magazine, Sledgehammer Literary Magazine, The Miramichi Reader, the League of Canadian Poets' chapbook On the Storm/In the Struggle, Anti-heroin Chic, among many others. Upcoming poems will appear in EVENT Poetry & Prose. Myna has a master's degree in English from the University of Toronto. Her latest collection of poetry, Anatomy of An Injury, was published by Inanna Publications in 2018. Wallin was longlisted for the 2022 New Quarterly's Nick Blatchford Occasional Verse Contest.
Isabel Fryszberg and the Uncommons are original. Their songs are written or co-written by Isabel Fryszberg. She has won audiences through her compelling, and timeless songs.
She is the recipient of the 2020 Alumni Achievement Award in Occupational Therapy from the University of Toronto for her innovative work in mental health, and community arts
Most recently, 'Distance,' an animated video, about the desire for intimacy and connection, has been featured at the Female Eye Film Festival, TIFF lightbox and Folk in Film Festival at Folk Music Ontario 2022.
In recent years the award-winning Fryszberg basically stepped away from country-type music & contemporary comparisons. Her previous videos "End of an Era," & "Each Day a Little Less," are marvelous stand-alone songs.~ Amerincana Highways, John Apice.
https://linktr.ee/Isabelfryszberg
YouTube: https://www.youtube.com/channel/UCpDjR-ib6t1fVAlTRxrGfAA
Instagram: https://www.instagram.com/isabelfryszberg/
Facebook: https://www.facebook.com/isabelfryszbergmusic
Spotify
https://open.spotify.com/artist/0XMflcMtvW2i0A7UihLjnF?si=kPkpcgHKSpGyB5CXzi3U0w
https://twitter.com/IsabelFryszberg
Bandcamp: https://isabelfryszberg.bandcamp.com