Sales Have Ended
Registrations are closed
This event has now ended. Please register for our next hackathon!
Sales Have Ended
Registrations are closed
This event has now ended. Please register for our next hackathon!
Write Code. Get Noticed. Get Hired.
About this Event
Mintbean Hackathons
Are you a software developer? Looking for a new project?
Come join us and code together in a week long hackathon with a very active community of growth oriented developers gathered in one virtual place to help each other learn.
We kickoff with an orientation and challenge release on Fridays at 1PM EST and submissions are due on Thursdays at 12PM EST.
Don't want to code alone? You can hack along with up to 3 people! We even have a channel in our Discord for you to find a partner/group to hack with!
Join our Discord and find a partner or team in the #find-a-team channel!
Come join a fun and challenging coding competition, learn new skills, and meet new people from the comfort of your own home with Mintbean Hackathons.
Challenge Topic
Nothing beats making music with a beat box that you've built with your very own hands! Come build a web beat box app in this hackathon!
Who Can Attend?
Front End Developers
Full Stack Developers
Self Learners
Job Seekers
Anyone who wants to code!
Event Details
Team Size: 1-3
Date: Friday, November 27, 2020
Start Time: 1:00PM EST / 10:00AM PST / 12:00PM CST
Where: Zoom*
*A zoom link will be emailed to you 30mins before the event starts!
Schedule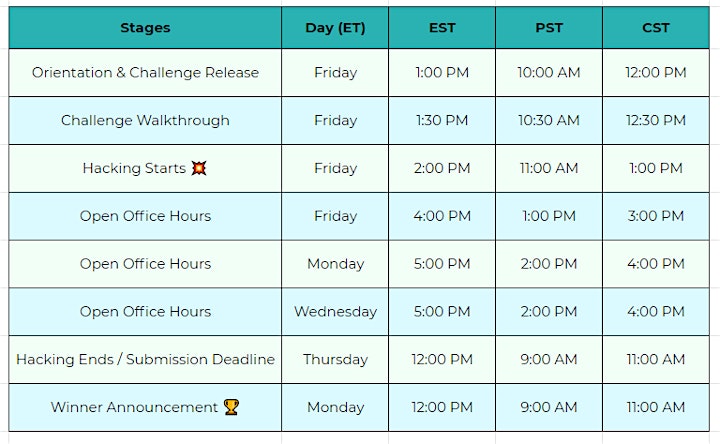 About Us
Mintbean is an online community of software developers interested in perfecting their craft. Our virtual hackathons and online unconferences are a fast-paced and fun way to keep sharp. They help you impress potential employers, learn new technologies, grow your skill set, and build your portfolio.
Follow us on our social media: LinkedIn. Facebook. Twitter. Website
We're very excited for you to participate!