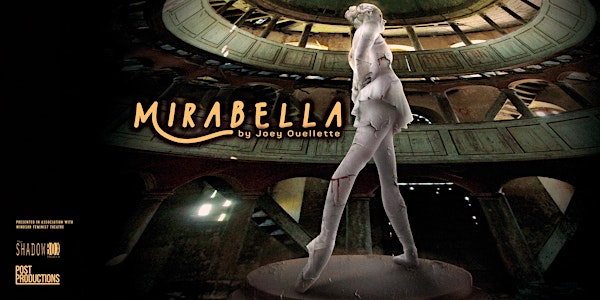 Mirabella by Joey Ouellette
Post Productions presents the thrilling romantic mystery Mirabella by Joey Ouellette -- winner of the 2022 Windsor-Essex Playwriting Contest
Date and time
Fri, Jun 16, 2023 8:00 PM - 10:00 PM EDT
Location
The Shadowbox Theatre 103B - 1501 Howard Ave Windsor, ON N8X 3T5 Canada
Refund Policy
Contact the organizer to request a refund.
Eventbrite's fee is nonrefundable.
About this event
The only thing more powerful than passion is obsession. Start your summer right with the thrilling romantic mystery Mirabella by Joey Ouellette -- winner of The 2022 Windsor-Essex Playwriting Contest!
Detective Michael Byrne is drawn back to Butcher's Town, the neighborhood where he grew up, to investigate a murder at the Mirabella. For decades the Mirabella has been the sole bright light in the heart of Butcher's Town, a ballet theatre that gave the residents opportunities to experience beauty, promises of life beyond the drudgery of slaughterhouses and abusive families... and an outlet for obsession. Byrne's investigation forces him to confront personal demons, reveal the dark secrets buried in the Mirabella's foundation, and cast a light on shadows best left undisturbed. What is the line that separates love from obsession? How do we know whether our love is a gateway to darkness instead of light?
CAST
Joey Ouellette as Det. Michael Byrne and Conrad Keyo
Fay Lynn as Det. Lila Osillic and Sherri Carter
Michael K. Potter as Stephan Illyich Lebedev, Benjamin Burrows, and Eamon Conner
CREW
Playwright: Joey Ouellette
Director: Michael K. Potter
Producers: Fay Lynn and Michael K. Potter
Set Designer and Painter: Fay Lynn
Lighting and Sound Designer: Michael K. Potter
Lighting and Sound Operator: Ezra Poku-Christian
Poster and Program Designer: Kris Simic
Promoter: Michael K. Potter
Mirabella by Joey Ouellette is presented in association with Windsor Feminist Theatre
About the organizer
Post Productions provides intimately-staged entertaining theatrical experiences that arouse the heart and fuel the mind, drawing patrons into lives quite unlike their own to help them understand the world, other people, and themselves with fresh insight. As a unique brand of theatre, Post Productions complements the Windsor-Essex scene by staging provocative productions for audiences that want more for their dollar: post-theatre, post-art, post-entertainment.

We commit to:
1. Hold auditions only for roles that have not been pre-cast

2. Treat every member of the cast, crew and audience as free agents with dignity and respect

3. Conduct all business affairs with honesty and integrity

4. Collaborate with other artists in Windsor-Essex to mutual benefit whenever possible

5. Focus on character and story over all other aspects of theatre

6. Cast only the best local acting talent

7. Contribute to a vibrant, thriving and diverse Windsor-Essex theatre community by supporting, patronizing, and encouraging other companies

8. Strive to push ourselves to improve and grow with each performance of each production

9. Work with each other, rather than over or under each other

10. Use theatre to challenge conventions, habits and assumptions by staging productions that leave audiences compelled to think, discuss, and debate long after the show ends