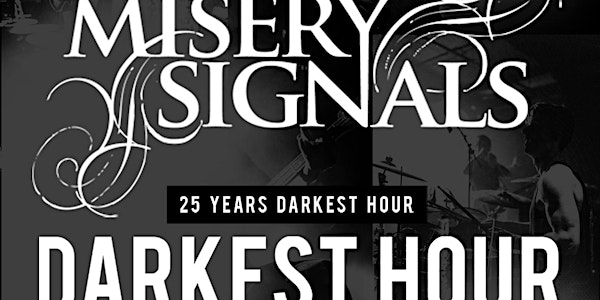 Misery Signals + Darkest Hour with SECT, Neck of the Woods
Presented by the Rickshaw
Event Information
Performers
Misery Signals, Darkest Hour
SECT, Neck of the Woods
Location
Rickshaw Theatre
254 E. Hastings Street
Vancouver, BC BC V6A 1P1
Canada
Iconic metallers Misery Signals + Darkest Hour storm the Rickshaw! With hardcore heavyweights SECT, and local rippers Neck of the Woods.
About this event
Misery Signals is the type of group who inspires questions about time signatures and musical gear rather than hairstyles or love lives. Their combination of progressive, technical and atmospheric riffage with melodic prowess, impassioned frenzy and unhinged rock n' roll edge helped define part of the New Wave Of American Heavy Metal, a subgenre that includes the commercially successful likes of All That Remains, Killswitch Engage and Lamb Of God. The transcendent experimentalism of Deftones, the mind-bending pulse of Meshuggah, the power of seminal Metalcore masters Shai Hulud and the adventurously dynamic engagement of "thinking man's metal" band Cave In all exist within the unique blueprint Misery Signals have pioneered for themselves.
A bastard child born of the mid 90s punk/metal/hardcore movement, Washington, DC's DARKEST HOUR combine the passion, energy, and soul of punk/hardcore with the style, speed, vengeance and fury of melodic speed/thrash/death metal.
With two countries and four hometowns between them, Sect was born when two project ideas between tour mates merged into the same experiment, finally taking shape in 2015 and culminating in recording sessions in Raleigh NC in early 2016. Sect is comprised of five veterans of '90s hardcore who cut their teeth in that formative moment of political, cynical, antagonistic extremes.
Formed in early 2014, NECK OF THE WOODS' exhilarating brand of progressive metal and charged live shows have quickly earned them a reputation as one of the most exciting acts to emerge from Vancouver's metal scene.
Visit rickshawtheatre.com for full listings
Performers
Misery Signals, Darkest Hour
SECT, Neck of the Woods
Date and time
Location
Rickshaw Theatre
254 E. Hastings Street
Vancouver, BC BC V6A 1P1
Canada
Refund policy