Description
Join me in celebrating 10 years of Miss604.com! It's been a crazy adventure since the early days of diary blogging and I am thankful every day that I get to write about the city I love, travel to amazing places, and curate information for my brilliant readers.
This event will be fairly simple: I'd like to get people together to celebrate, tip a glass, and hang out with other readers and supporters.
Food and Drink: First 50 people through the door get a free beer ticket thanks to beer sponsor Granville Island Brewing. I'll have a special "604" cocktail and additional Granville Island pints (from the donated keg) on special.
Complimentary canapés will be served throughout the event.
Additional food and beverage will be available for purchase off The Belmont's menu.
Raffle: I will have some fantastic prizes up for grabs (you know me and contests) and raffle tickets will be available for purchase* at the event with proceeds supporting Covenant House Vancouver. *Raffle is cash only!
Thanks to raffle sponsors Whitecaps FC, Vancouver Canucks, BC Lions, White Spot, Triple O's, Mission Hill Wines, The Arts Club, Fraser Valley merchants, London Drugs, the BC Sports Hall of Fame, Rize, and Vancity!
Net proceeds from this event support Covenant House Vancouver and my Covenant House Sleepout campaign this November.
Covenant House helps homeless, runaway and at-risk young people between the ages of 16 and 24 for short-term residential care through their Crisis Shelter and longer term care in their transitional living program Rights of Passage (ROP). Business leaders and celebrities will sleep out this November so homeless youth don't have to, as they raise money and awareness for homeless youth.

Thank You Sponsors!
A very big thank you to major sponsors LONDON DRUGS, PATIO SOCIAL, GRANVILLE LIQUOR STORE, TOURISM SURREY, and HONDA CANADA.
Thanks to host venue The Belmont Bar, bringing a new flavour to Granville Street.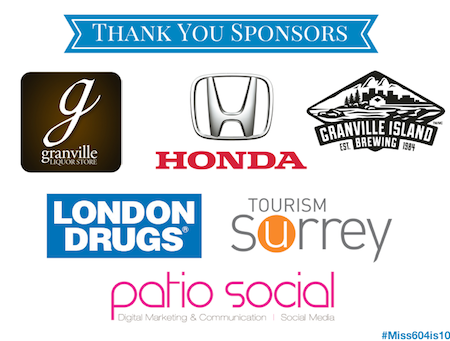 Organizer of #Miss604is10 Anniversary Celebration
Rebecca built her first website in 1997 and she has been blogging about life in BC since 2004 on Miss604.com. Over the last 15 years, Miss604.com has has become the most award-winning blog in Western Canada with 20 local "Best Blog" and "Best Twitter" awards, a national award from Notable.ca, and an international media award from Variety - The Children's Charity. Rebecca has co-authored 2 books for Pearson/Que (Blogging to Drive Business) and 10,000 blog posts about fun things to do, local insights, travel and history. Join one of Rebecca's 115,000 followers on social media @Miss604.