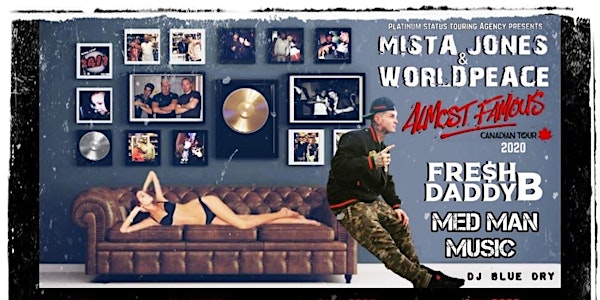 Mista Jones Almost Famous Tour Live In Truro, NS 2/7/2020
Mista Jones Almost Famous Canadian Tour 2020
When and where
Location
Truro Horsemens Club 288 Main Street Bible Hill, NS B2N 4H4 Canada
Refund Policy
Contact the organizer to request a refund.
About this event
Platinum Status Touring Agency X 730 Records
& Top Quality Designer Presents :
MISTA JONES - ALMOST FAMOUS TOUR
Live in : Truro, NS July 2nd 2020
VENUE: Horsemen's Club 288 Main Street
===============OUR SPONSORS===================
- Top Quality Designer
- Med-Man-Brand.com
===============CONTESTS/PRIZES=================
================TOUR SUPPORT=================
==============================================
Hosted by: T
Music by: DJ Blue Dry
Special Guest: TBA
Performances by: To Be Announced
-
-
-
-
-
-
=============================================
(subject to change)
Doors open 9:00pm
Show starts 10:30pm
==================================================
Tickets:
==> $20 advance
==> $25 at door
Tickets Available @
- from any of the opening artists
- call 819-271-8821
This show will SELL OUT so get your tickets fast!!!
==============================================
Mista Jones links:
Press Release Links:
Hip Hop Canada: (HipHopCanada.com)
https://www.hiphopcanada.com/mista-jones-247-video/
Bring Ya Eh Game: (BringYaEhGame.com)
http://www.bringyaehgame.com/mista-jones-24-7
FACEBOOK FAN PAGE:
https://www.facebook.com/MistaJones730MMB
Music Videos:
Mista Jones - Living The Life
https://www.facebook.com/TheRealMistaJones/videos/1628015003891573/
Mista Jones - The Island (Mi-Gente Remix)
https://www.facebook.com/TheRealMistaJones/videos/1628044137221993/
Mista Jones - All I Know
https://www.facebook.com/TheRealMistaJones/videos/1357098420983234/
Mista Jones Feat Sans Pression- We Dont Stop
https://www.facebook.com/TheRealMistaJones/videos/2038416566184746/
Mista Jones - 24/7
https://www.facebook.com/TheRealMistaJones/videos/579595722483942/
===============================================
MED-MAN-BRAND.COM
https://www.youtube.com/channel/UCISoEOp08WzCieRXwNLArhQ
blog - www.growyourownmedicine.blogspot.com
facebook - https://www.facebook.com/medman.brand
instagram - http://instagram.com/medmanbrand
twitter - https://twitter.com/med_man_brand
ustream - www.ustream.tv/channel/medmanbrand
linkedin -
http://www.linkedin.com/profile/view?id=286685145&trk=nav_responsive_tab_profile
===============================================
FOLLOW US @
*** 730mmb.weebly.com/ ***
Facebook - TheRealMistaJones
Instagram - @TheRealJeffJones
Twitter - @DaRealMistaJones
Itunes: https://music.apple.com/ca/artist/mista-jones/1153339134
Spotify -https://open.spotify.com/artist/2iqa4k5rpKbuYs83Ekaf8h
Merch:
shop.spreadshirt.com/730-mafia-money-boys/
Bio:
Platinum Status Touring Agency Is presently planning Mista Jones' 5th Headlining Canadian tour ..
-The first one, Named "The New Wave Tour" consisted of 10 cities with artists such as Evil Ebenezer
and Sans Pression on Select dates.
-His Second Tour "The Detour" consisted of 7 cities With artists
such as MadChild, Necro, Kung fu Vampire & Locksmith on select dates.
-His 3rd Headlining Tour Was PART 1 of His 1st Full Canadian tour tittled ,Mista Jones -I Am Canadian Tour" Where He Started in
Winnipeg MB (June 2nd) to St Johns NF (June 29). consisting of 7 of the 10 Canadian Provinces and 20 cities ,
-The 4th Tour Was Called "Self Made Self Paid Canadian Tour"
which consisted of 36 cities in all 10 Canadian provinces.
-The 5th one is called "Almost Famous Tour"
Mista Jones is not only an artist, he is an Audio Engineer Graduate from Recording Arts Canada in Montreal ,
He Personally Sets up his own shows and Tours ..
He has toured with Madchild and performed with many different artists such as:
Merkules, Riff Raff, Necro, Kung fu Vampire,Locksmith,Mayday, Rich Homie Quan Onyx, Evil Ebenezer,
Snak The Ripper, Swifty Mcvay of D12, Alpha Omega, Kryple of DoomSquad and Has Promoted shows
with Antlive BoomBapKings (Public Enemy Af.)
He has put together 3 Full albums
"Egotistic" (Available on I-Tunes & Spotify) in Which he produced entirely himself
"The New Wave" ( With Feats. From Alpha Omega , The son of Old Dirty Bastard "Y.D.B." ,Sans Pression, & Jessica Anbara)And the 3rd album is not yet Released ..
He also has Four Mixtapes available :
1 What time is it
2 Can't knock me down
3 The Detour
4 Heat Wave
Jeff's story shows that consistency and hard work can pay off despite any sort of setback or obstacle.
It shows that anyone, at any point can turn their life around and achieve great things with the proper help and guidance,
even if he came from a not so wealthy family, and even if he had made bad decisions growing up,
At the end of the day he had a vision, and subconsciously making the right decisions in order to achieve it..
Mista Jones Story
Mista Jones, A.K.A Jeff Jones, Youngest of three brothers Was born in Ottawa,Ontario 1987 and Raised in Gatineau Qc.
He did not come from a wealthy family and things didn't always come easy for him.
He was often Misunderstood and his parents (which are separated) didn't quite agree with his passion for music,
Both his brothers fallowed their Fathers footsteps in perusing a career in Computer Programming.
Jeff's Mother had a new man in her life and she then decided to move to Hawkesbury to join her new boyfriend but Jeff decided
to stay in Gatineau with his 2 older Brothers. Jeff was 15 years old at the time and was still attending high school.
Not having parents around made it difficult for Jeff to attend school everyday as his situation was different from his peers.
He then had no other choice but to assume responsibilities and be self sufficient. Money was also an issue so he decided to
start selling marijuana at school and in the neighborhood, which almost got him expelled from school but they did not find any evidence.
The school then tried again to expel Jeff because he was missing to much classes , but because he had good grades they weren't able to do so.
Jeff graduated high school in 2005 , by that time he had his own Studio and taught himself the basics in recording and was getting all his friends involved by getting them to start rapping even writing some of their versus.. By that time Jeff was getting heavy into selling all kinds of drugs and also started using.
Jeff's Mother had moved back a couple years later after her new man passed away of a heart attack,Jeff decided to move back with her so she wouldn't be alone in grieving ..After a couple months, Jeff's mother started noticing a lot of weird activity and caught on to what he was doing.. She then Decided it was time for a change but Jeff wasn't trying to hear it. So she had done some research and discovered an audio engineering coarse in Montreal in which she used to lure Jeff out of his Drug dealing lifestyle ,and on to pursuing a career that he had always dreamed of. Jeff Graduated Recording Arts Canada in 2010. Today he is getting ready to tour across Canada with a positive message.
"That consistency and hard work can pay off. Fallow your Dreams
Don't let anything or anyone tell you , you cannot achieve"
"You are the Creator and the Master of your own Destiny"
Spreading his story by reaching out to young upcoming artists or troubled youth
Who are going through a rough time , and may feel trapped or suffocated with their own issues .. To help them realize that they are not alone and with the right help and proper guidance , There is still a light at the end of the tunnel ...