Sales Have Ended
Ticket sales have ended
Sales have ended for this event, but be sure to check back for other upcoming events!
Sales Have Ended
Ticket sales have ended
Sales have ended for this event, but be sure to check back for other upcoming events!
Alfalfa the Red Mangalitsa pig is waiting for you to come celebrate the start of the Christmas Holidays with him out at the farm.
About this event
Here is what awaits you...
$25 is your ticket price for your vehicle. No matter if you are 2 per vehicle or 5-6-7-8 people It's only $25!!!
Experience the farm on a wagon ride tour
Meet the Red Mangalitsa, one of the last lard pig in existence to have a wooly coat, feed them some treats (it is Christmas, after all!) and meet our very special Red Mangalitsa Alfalfa. What is so special about Alfalfa? Well he is the only Mangalitsa on the farm that will sit for a treat like a dog!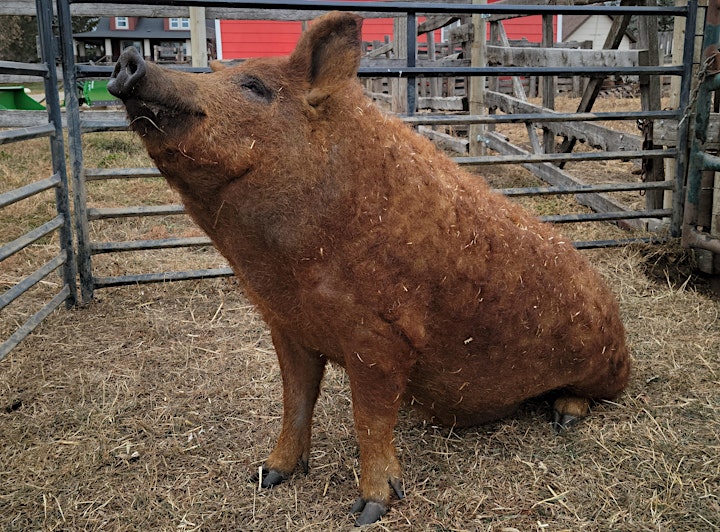 Artisanal Christmas Market
Come and get some last minute shopping! We have all you could ask for including; handmade soaps, pottery and crafts, specially sourced and roasted coffee, homemade shortbread cookies, chocolate bombs and much more! Make sure you bring cash, as not all vendors will be able to accept card payments.
Chicken Alley
While waiting for your wagon ride tour, why not head into our barn for the self guided "Chicken Alley". Our special Frizzle chickens will be waiting to see you!
Fire pit
Stay warm and cosy if the Canadian Winter is in full swing! We will have a fire pit and ample seating to keep you toasty.
Hot Chocolate and Popcorn (Courtesy of REMAX Key)
Sit by the fire, relax with a nice cup of Hot Chocolate and some popcorn provided by the wonderful people at REMAX Key.
Meet Santa!
He's coming! Santa is coming to Eh Farms! He's taken time out of his super busy schedule to come and see you before he heads back to the North Pole for Christmas!
Your very own Mangalitsa Ornament
The kids will take home a reminder of the magical day they had at Eh Farms, and it will be theirs to decorate as they wish!
Christmas Tunes!
Get in the Christmas spirit with some of your favourite christmas songs!
We are also accepting donations for the Wheatland County Foodbank, if you wish to donate please bring a non-perishable food item with you to this event so families do not have to go without this Christmas.
This event is COVID safety regulations compliant:
Timed tickets are REQUIRED for entry
Operating at 1/3 Capacity
Masks mandatory inside
Social Distancing in effect
As we are exempt from the Restrictions Exemption Program, proof of vaccination is not required for entry
Organizer of Mistletoe & Swine -Christmas event out at Eh Farms
Eh Farms established in 2017, Strathmore Alberta.
We are a local business family owned farm.  We specialize in raising 100% pure Red Mangalitsa (Woolly) pigs for meat production and for breeding stock. We were the first in Canada to import these Red Mangalitsa pigs from California.
At Eh Farms, we firmly believe in keeping the traditional ways of farming and respect our animals. Our pigs are bred to grow fat and wholesome over longer periods of time. The pigs live their best life until they are fully mature (about 24 months) and ready for production. The resulting meat is marbled with healthy fats that make for some flavour-filled meals! Aside from the meat, various lards are also produced from the different parts of the pig.
Follow us on instagram eh_farms