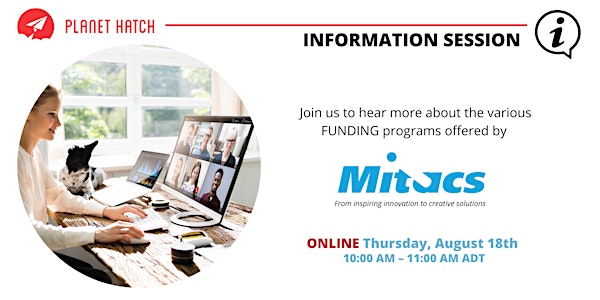 Mitacs: An Information Session
Hosted by Planet Hatch and Mitacs. Learn different FUNDING programs offered by MITACS for student entrepreneurs and business owners.
About this event
Planet Hatch
Planet Hatch is an entrepreneurship centre located in Fredericton, New Brunswick. We support entrepreneurs and startups to grow into well-positioned, internationally competitive companies. We do this through programs, mentorship & coaching, funding, events, and our facility.
MITACS
What we do
From building partnerships to developing talent.
For over 20 years, Mitacs has assisted organizations in reaching their business goals, has funded cutting-edge innovation, and has created job opportunities for students and postdocs. We are passionate about developing the next generation of researchers who will work to fuel Canada's knowledge-based economy.
Our History
A dynamic evolution
Founded in 1999, Mitacs has grown far beyond its original focus on applied and industrial research in mathematics. Today, we support a wide range of disciplines, from STEM to social innovation; broadened our undertaking to include college and undergraduate students, as well as new graduates and postdocs; and expanded our network of businesses, hospitals, municipalities, and not-for-profit organizations of all sizes and in all sectors. With close to 400 employees and regional hubs in Montréal, Ottawa, Toronto, and Vancouver we are an integral part of Canada's innovation ecosystem.