Fuel up on fresh business inspiration and get connected to other like-minded people at our parent-friendly professional development events.
About this Event
Mixing Babies And Business™ Events 🚼📊
RSVP and share this event with other parents you think may be interested in discussing entrepreneurship, leadership and creating a social impact during this casual Q&A style chat!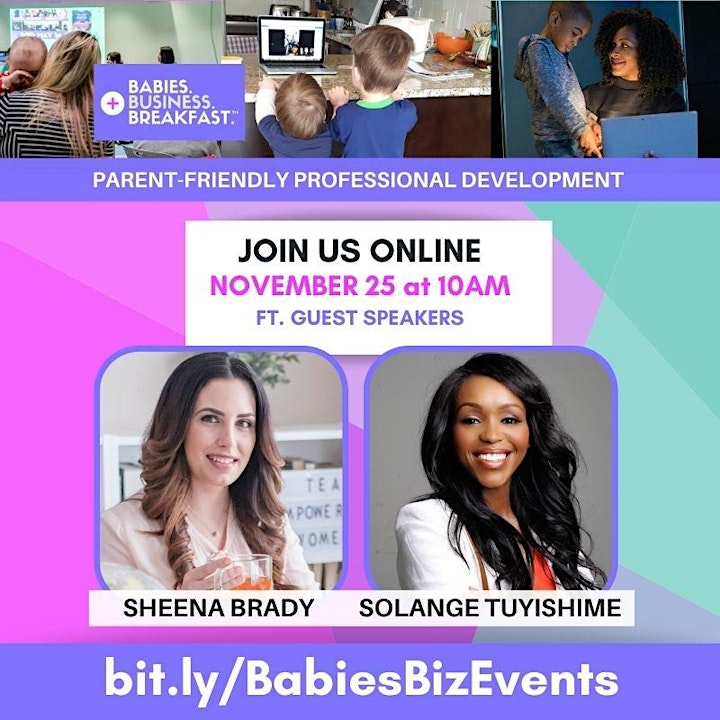 GUEST SPEAKERS:
WHO IS THIS EVENT FOR?
Founders, freelancers, remote workers and potential career changers who are also parents (moms AND dads, parents-to-be welcome too!) who want to learn how to mix business and babies.
Invest in yourself alongside your loved ones at these parent- friendly professional development events, complete with virtual networking and family-friendly activities.
Whether you're setting out to build a startup, launch a small business, remote work, freelance or seeking a career change, learn from guest speakers whom have built and/or worked in successful companies – all while raising their families.
FEEDBACK FROM PREVIOUS ATTENDEES:
"Appreciated the interaction, networking tips, simplicity of the presentation. Love the concept and hope to attend future events."
"Wish there was time for more! Good amount of info in short time. Thank you, would love to see more opportunities like this."
"FUN!" (from one of the children in attendance)
"Love the interactive and engaging activities."
"I really enjoyed it and it was nice to meet parents in the same boat as me."
EVENT AGENDA:
10:00 a.m. – Login Online + Welcome
10:05 a.m. – Introductions For Attendees (And Their Families)
10:15 a.m. – Guest Speaker(s)
10:40 a.m. – Extra Time + Audience Q&A
10:50 a.m. – Session Recap + Event Close
11:00 a.m. – Everyone Logged Off
TECH INFO:
Register to reserve your space (each ticket is valid for one household to attend the live online session).
You'll receive details of the online meeting room 12 hours prior to the event start time and you'll need to download the Zoom app and install it on your desktop computer, tablet or mobile device: https://zoom.us/download
These events will be recorded and you'll also receive access to a video replay within 72 hours of the event finish time. If you'd prefer not to be recorded, please mute your audio and turn off your video upon joining the online event.
OTHER INFO + Q's?
Contact us via our Eventbrite Organizer profile or contact[at]mixingbabiesandbusiness.com
We're looking forward to connecting with you!
Amy Lynch (+ family)
Founder | Community Organizer | Event + Podcast Host
http://mixingbabiesandbusiness.com/
ABOUT MIXING BABIES AND BUSINESS™
We believe parenthood and professional development don't have to be mutually exclusive. As a social impact business and community, we're focused on producing parent-friendly professional development, digital resources and more inclusive and flexible work solutions for primary caregivers.
Since 2018, parents like you–and their children–have been attending our events, reading our newsletters and showing up because they believe the future of work includes making space for them, alongside their families.
Join our movement. Bring your kids.
Can't make it but still want to stay in the loop!?!
We get it, life happens. Connect with us for more parent-friendly business events, experiences, inspiration and resources at the link above.
Special thanks to Bayview Yards for the digital sponsorship to help with online event hosting, to keep the community connected for the remainder of 2020 and into 2021.