The virtual summit dedicated exclusively to MLOps, Production and Engineering. Join when you can - all recordings provided.
About this event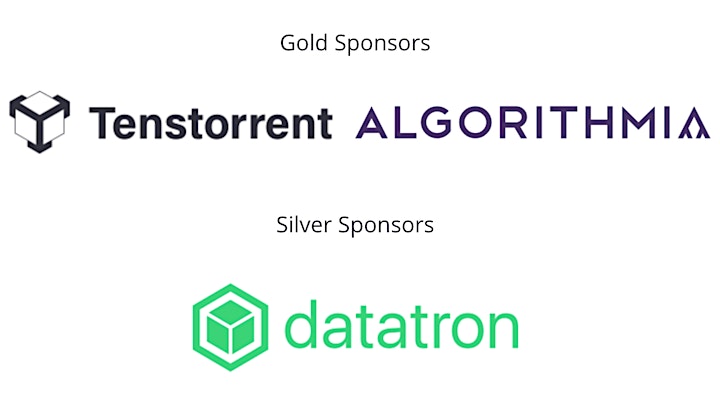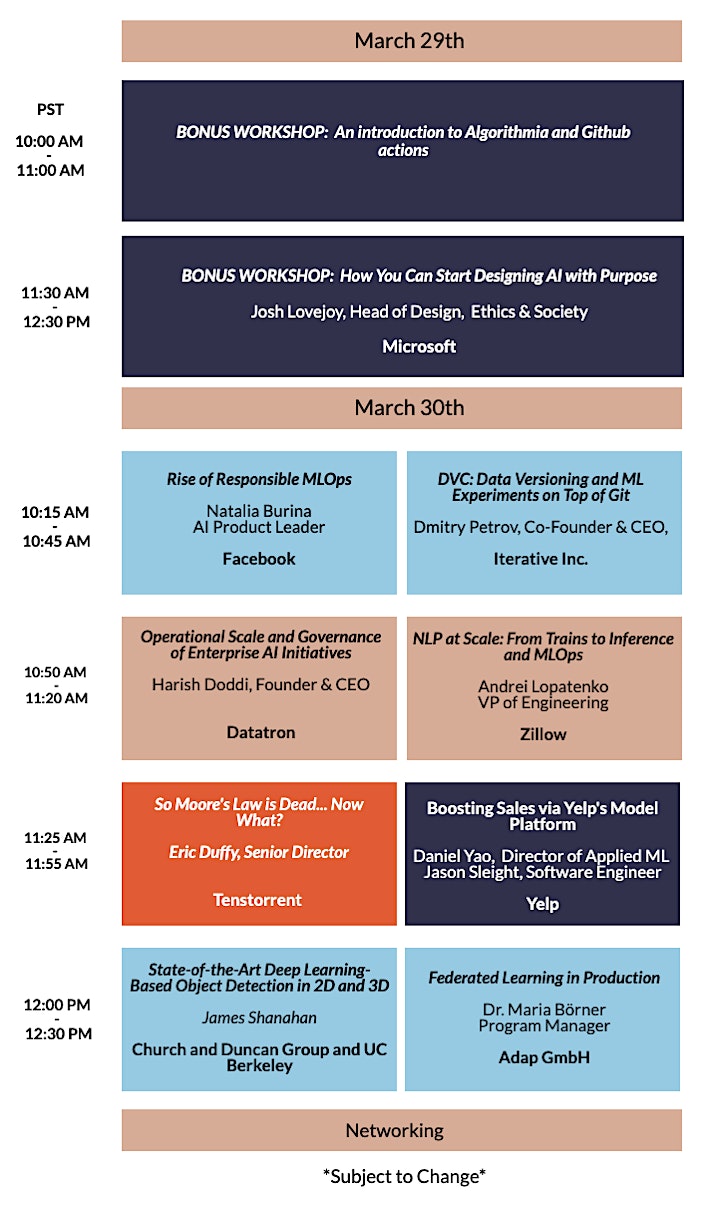 You can still register here:http://bit.ly/MLOpsBayComp
Join us for The Bay Area's virtual event dedicated exclusively to ML in Production. 
Too few companies have effective AI leaders or an effective AI strategy.
An interactive conference is one in which you meet attendees before the event, message speakers directly, discuss specific areas of your work and establish a stronger network. We're working to help you with a clearer understanding of best practices, methodologies, and principles of effective ML.
The micro-summit includes:
9 speakers
3 hands on workshops
Access 8+ hours of live-streamed content (incl. recordings)
Talks for beginners/intermediate & advanced
Case Studies, Executive Track – Business Alignment & Advanced Technical Research
Q+A with speakers
ML workshops
Channels to share your work with the community
Workshops are on March 29th are from 10 AM - 1 PM and talks on the 30th from 10 AM to 12 PM
Join this new initiative to help push the AI community forward.
MLOPSWORLD.COM/BAYAREA
Part of the larger MLOps: Production & Engineering World this Bay Area chapter will showcase companies and talks specific to the city.
We believe these events should be as accessible as possible and set our ticket passes accordingly 
The TMLS/MLOps initiative is dedicated to helping promote the development of AI/ML effectively, and responsibly across all Industries. As well, to help data practitioners, researchers and students fast-track their learning process and develop rewarding careers in the field of ML and AI. 
What to expect at MLOps;
Business Leaders, including C-level executives and non-tech leaders, will explore immediate opportunities, and define clear next steps for building their business advantage around their data.
Practitioners will dissect technical approaches, case studies, tools, and techniques to explore challenges within Natural Language Processing, Neural Nets, Reinforcement Learning, Generative Adversarial Networks (GANs), Evolution Strategies, AutoML and more.
Researchers will have the opportunity to share with their peer's cutting-edge advancements in the field.
MLOps: Production and Engineering World is held by TMLS and intended to unite and support the wider AI Ecosystem, and companies operating within it.
With an explorative approach, our initiatives address the unique needs of our community of over 9,500+ ML researchers, professionals, entrepreneurs and engineers. Intended to empower its members and propel AI research, & business applications on a global stage, our events attempt to re-imagining what it means to have a connected community; offering support, growth, inclusion for all participants.
FAQs
Q: What are the technical requirements to be able to participate?
Laptop or personal computer, strong, reliable wifi connection. Google Chrome is recommended to run the Virtual Conference platform.
Q: Can I watch the live stream sessions on my phone or tablet computer?
Yes, the Virtual Conference is accessible via a smartphone or tablet.
Q: Which sessions are going to be recorded? When will the recordings be available and do I have access to them?
All sessions will be recorded during the event (provided speaker permissions) and will be made available to attendees approximately 2-4 weeks after the event and be available for 12 months after release.
Q: Are there ID or minimum age requirements to enter the event? There is not. Everyone is welcome.
Q: How can I contact the organizer with any questions? Please email faraz@torontomachinelearning.com
Q: What's the refund policy? Tickets are refundable up to 15 days before the event.
Q: Why should I attend the MLOps? Developments are happening fast - it's important to stay on top.
For businesses leaders, you will have direct contact with the people that matter most; consultants and experts, potential new hires, and potential new clients. For data practitioners, you'll have an opportunity to fast-track your learning process with access to relevant use-cases, and top quality speakers and instructors that you'll make lasting connections with while building your network. 
The event is casual and tickets are priced to remove all barriers to entry. Space, however, is limited. 
Q: Who will attend? The event will have three tracks: One for Business, one for Advanced Practitioners/Researchers and one for applied use-cases (Focusing on various Industries). Business Executives, PhD researchers, Engineers and Practitioners ranging from Beginner to Advanced. See Attendee Demographics and a list of the Attendee Titles from our past event here. 
Q: Can I speak at the event?
Yes you can submit an abstract here.
*Content is non-commercial and speaking spots cannot be purchased. 
Q: Will you give out the attendee list? No, we do our best to ensure attendees are not inundated with messages, We allow attendees to stay in contact through our slack channel and follow-up monthly socials.
Q: Can my company have a display? Yes, there will be spaces for company displays. You can inquire at faraz@torontomachinelearning.com.