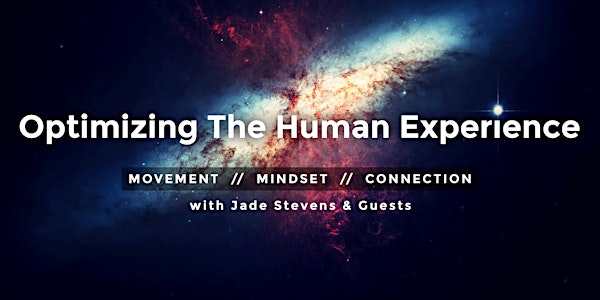 MMC 2018: Optimizing the Human Experience - Autumn Equinox Edition
When and where
Date and time
Fri, Sep 21, 2018 5:45 PM - Sun, Sep 23, 2018 6:00 PM MDT
Location
Mission Fitness 27 Skyline Crescent NE Calgary, Alberta Canada
Description
Immersive Workshop – 2.5 Days in Calgary @ Mission Fitness
WATCH Promo Video on YouTube
Join Jade Stevens and Guest Facilitators as we answer the question:
What Do I Need To Do To Wake Up Every Single Day and Love My Life?
Wo do this by going deep into the foundations of Mindset, Movement and Connection.
My mission is to help you Optimize the Human Experience so that you can Feel Good Now.
Not tomorrow, NOW.
This workshop is for you if:

you're ready, willing and open minded
you feel an overwhelming sense of boredom and loneliness

you've made a poor choice in life and find yourself dwelling on it, wondering if it defines you as a person

you've recently "woken up" and know that there's got to be more to life, but don't know where to start

you ask yourself "is this all there is to life" over and over

you often describe yourself as "okay" when asked how you are

you have 'meh' experiences and relationships

you no longer want to accept the status quo, you want more

you're ready to challenge yourself in new ways and form a new and improved identity
This workshop is NOT for you if:
you lack the willingness to learn, change or grow

you're ready to write a goodbye letter (please contact professional support immediately)

you're looking for a quick fix

you're a personal development junkie who never applies what you learn

you want to just sit there and take notes
You will walk away with tools that you can put into action immediately. You will have everything you need to start waking up and loving every single day of your life.
Side effects may include, but are not limited to:
Inner growth

Identify and resolve limiting beliefs

Increased confidence

The ability to experience more joy

Pain reduction

Improved mobility

Improved relationships

Deeper connection the world around you

More energy

Better sleep

Closer connection to God/Source
Why the Autumn Equinox? The Equinox is a powerful time of year where we can access higher levels of consciousness. The veil between the physical/spiritual worlds diminish we are offered an opportunity to step into illuminated states of freedom, joy and bliss.
*Complimentary snacks and kombucha included. Bring a lite lunch.
*Free street parking.
Visit JadeStevens.net to subscribe to the mailing list. You'll be informed of future events, podcast release and other juicy resources.
About the organizer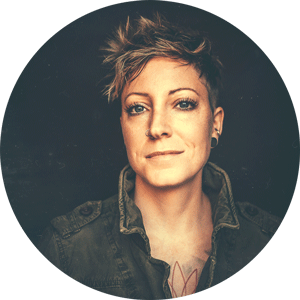 Jade has a passion for exploring what it means to be human.
Movement, Mindset and Connection have emerged as the three pillars for Optimizing the Human Experience from years of travel, expirimentation, diverse experiences and study.

She draws from a 15 year career in Design & Marketing, a love of music and the arts as well as a deeply invested interest in personal development and working with a variety of spiritual, inner work and business mentors over the years.
Jade hosts the Rise & Thrive Podcast (launching Fall 2018) where she digs into topics from unique perspectives - opening you up to new ideas and challenging you to think a little differently about common topics and ideas.