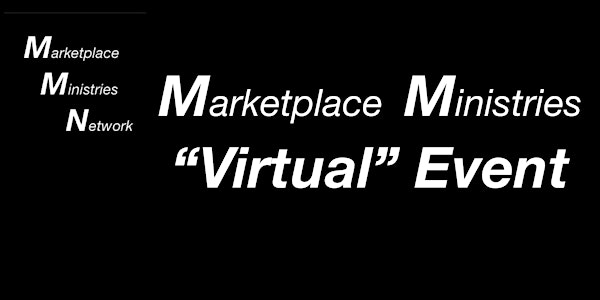 MMN - Marketplace Ministries Network VIRTUAL EVENT(Nov. 2, 2022)
* * * Our SECOND EVENT of the 2022-2023 Season * * *
About this event
PLEASE NOTE the DAY, DATE, and TIMING for this "ONLINE EVENT"
Our 2022 - 2023 SEASON EVENTS are being extended to a wider audience, and your local time zone may differ from that of our "Mountain Time Zone".
ADVANCE REGISTRATION is REQUIRED, as the Virtual Event URL will ONLY BE SENT TO THOSE REGISTERED TO ATTEND.
 =======================================
WE INVITE YOU to register and participate in this FREE upcoming VIRTUAL EVENT:
Wednesday, NOVEMBER 2, 2022
(6:00 pm to 7:15 pm MDT)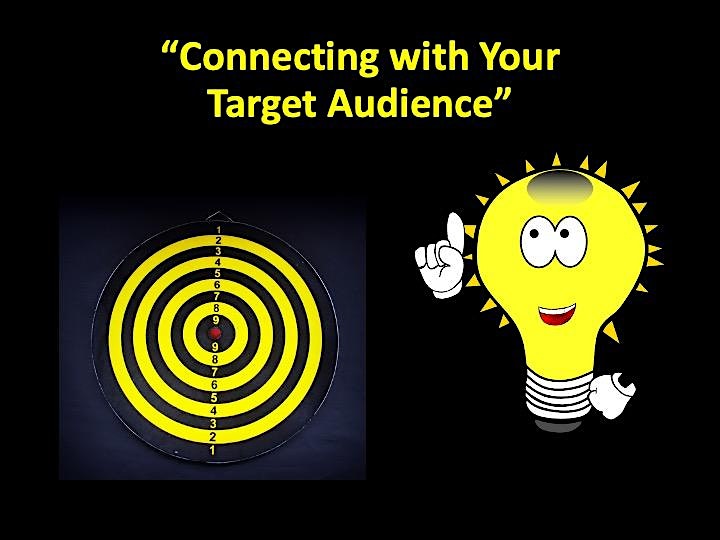 YOU'RE A FOLLOWER of JESUS CHRIST and you want to represent Him well in the 'Marketplaces of Life'.
ARE THERE OTHERS with a Similar Objective? (YES, there are!)
Whether you're starting your journey, or further along and looking at the "Next Thing" - the Good News is that you're not alone! Others are more than willing to help you face the challenges ahead.
INCREASE your CONFIDENCE and prepare to take the COURAGEOUS step of moving ahead with the VISION the Lord has impressed upon your heart.
Gain PRACTICAL INSIGHTS from our experienced presenters on SHARING our faith with others in the marketplace.
"CONNECT, LEARN and GROW" as you contribute your Insights and experiences Before, During and After the live event!
As a follower of Jesus Christ with a PASSION for a potential Business, Ministry Area, or Special Project … HOW do you REACH Your TARGET AUDIENCE?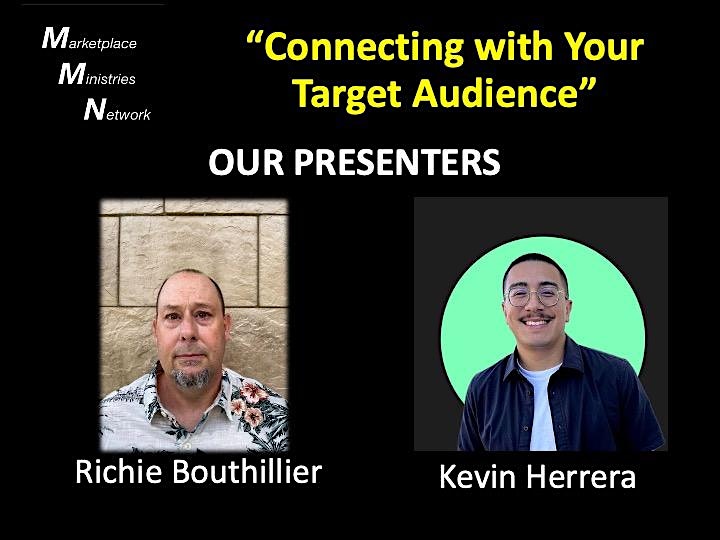 ON OUR PROGRAM:
RICHIE BOUTHILLIER - Pastor/Missionary/Community Builder
Richie has invested a good part of his life into working cross culturally. His family came to Canada after working for 24 years in the Amazon as a church planter, seminary class instructor, and coordinating various relief efforts. He's worked in a violent ghetto area in need of family development, programs for youth and street children, and engaged community leaders. He's worked in development of clean water and solar energy projects, and access to dental services, alongside evangelistic outreach and church planting into remote river communities. Currently, Richie is the Senior Pastor at High River Full Gospel Church (High River, Alberta). His passions, besides church planting, are the outdoors and motorcycles.
KEVIN HERRERA - Marketing Project Manager/Entrepreneur
Kevin is a Marketing Project Manager by profession, but a multidisciplinary creative at heart. He has a passion for marketing, design, fashion, branding, music and more. Kevin has led diverse teams of creatives through projects, hosted fashion shows, and has co-authored the book: "10 Ways To Market & Grow Your Business With Zero Advertising Dollars". Over the past six years he's worked with clients in diverse industries including: hospitality, real estate, and place & destination markets.
REGISTER TODAY for this FREE VIRTUAL Event
BE SURE TO REGISTER IN ADVANCE, as the VIRTUAL Meeting URL will ONLY BE SENT TO THOSE REGISTERED TO ATTEND.
We're looking forward to "connecting" with you and many others. Feel free to INVITE someone else to also register and participate.
Let's increase our effectiveness for Jesus Christ - locally and beyond - in the communities, corporations, churches and circles where we are every day.
Be with us and be encouraged with a greater sense of purpose in the Marketplaces of Life!
God bless,
- Jim and Myrna Ewing, for the Marketplace Ministries Team
FAQs
Are there ID or minimum age requirements to enter the event?
There is no minimum age requirements to participate, although we recommend that those registering have a genuine interest in the topics being addressed.
 Preparing for the event?
This is an online "Virtual Meeting" that will be delivered through the ZOOM platform. If you don't already have ZOOM, you can download a FREE version, which will allow you to participate through your computer or mobile device, and we encourage you to do so now. The ZOOM Website is at: https://zoom.us/
Several tutorial video are available through ZOOM to assist you with the basics of set-up and connecting into virtual meetings. Just scroll to the bottom of their home page, look down the "About" topics, and find "How to Videos". The "Join a Meeting" video may be all that you require, but other topics may also be of interest. 
Bring your interest and curiosity to learn and share with others.  Bring an openness and appreciation for the experiences of others.  Invite a friend or business contact you feel would be interested in our topic! Enjoy the meeting with a good beverage and you may want to have something for making a few notes as well!
We encourage participants to get to know each other and share experience that will be helpful to others however suggest that products and services are not overtly pitched or promoted at this event.
All participants are requested to respect and demonstrate appropriate behaviour within our meeting environment and sincerely trust that this is also how you engage with others in "the Marketplaces of Life".
How can I contact the organizer with any questions?
Jim Ewing can be contacted at:
     Phone: 1 (780) 915-4345 (Voice message can be left)
     E-Mail: PVSolutions.Online@gmail.com