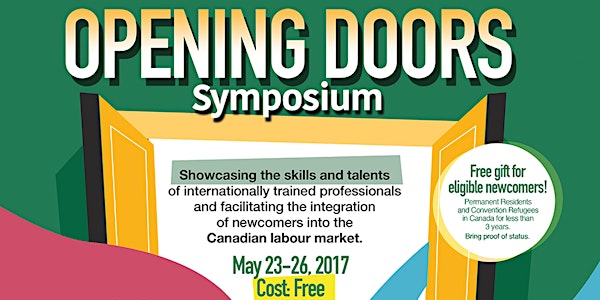 MNLCT Opening Doors Symposium
When and where
Location
Victoria Park office 3570 Victoria Park Avenue 2nd floor North York, Ontario M2H 3S2 Canada
Description
Join us for MNLCT's week-long Opening Doors event: May 23 - 26, 2017

Special Events
Thurs. May 25, 10am-3pm: Opening Doors Job Fair
Thurs. May 25, 3pm-7pm: Opening Doors Open House
All Week
Art Gallery, Workshops, and more!
Register to Participate

All events are FREE! Click the REGISTER button and select the number of tickets you want for each event, then go to the CHECKOUT page to provide your registration information.
Workshops require online preregistration (due to limited seating), but registration for the Job Fair, Open House, and Art Gallery is available online or on site (upstairs beside the elevator, or in Room 204).
More Info
Lots more details at http://mnlct.org/openingdoors, including the workshop schedule and employer & community partner participants.
FAQs
Who can attend?

All are welcome: clients, friends, neighbours, employers, and community partners.

How do I get there by TTC?

We are located at the intersection of Victoria Park Ave and Tempo Ave (just north of McNicoll Ave) in the Victoria Park Place Plaza. We are the last building behind the Golden Light Buffet Restaurant, and our entrance is off Tempo Avenue.
TTC buses at the door:
#24 A Victoria Park (stop Tempo Avenue for both directions)
#42 C Cummer (stop Tempo Avenue — 2nd stop after bus turns north onto Victoria Park)
TTC buses at Victoria Park and McNicoll:
#42 A Cummer (stop Victoria Park for both directions)
#42 B Cummer (stop Victoria Park for both directions)
#24 E Victoria Park EXPRESS (stop McNicoll for both directions)
Is there parking?
FREE indoor and outdoor parking is available in the plaza parking lot facing the Victoria Park and Tempo intersection. There is 1 accessible parking spot right in front of our main entrance.

Click to view the Opening Doors flyer with a map on the 2nd page:
http://mnlct.org/wp-content/uploads/2017/04/Opening-Doors-FLYER-2-pages-for-distribution.pdf
How can I contact the organizer with any questions?
Email us at openingdoors@mnlct.org or call 416-291-3248.