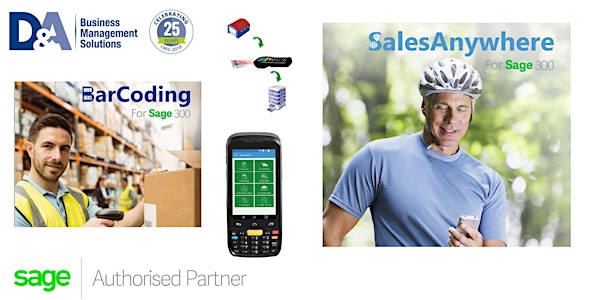 Mobile Solutions to Improve your Sage 300 Sales & Warehouse Automation
Description
Join us for a live webcast of AutoSimply Barcode Warehouse & Sales Anywhere, two Sage 300-integrated mobile solutions that can greatly improve your sales and warehouse efficiency.
With AutoSimply Sales Anywhere, there is no need to enter data in the back office.
Your mobile salesforce can create quotations, sales orders, invoices and record payments instantly and remotely. These documents are posted into Sage 300 in real time.
AutoSimply Barcode Warehouse solution brings warehouse transactions to the front-line when and where they happen. It is an easy to use mobile barcode system that plugs into Sage 300 for small to medium-sized companies to handle all the inventory movement transactions accurately and efficiently.
The D&A Team
_____________
Rejoignez-nous pour une diffusion Web en direct d'AutoSimply Barcode Warehouse & Sales Anywhere, deux solutions mobiles intégrées avec Sage 300 pouvant améliorer considérablement vos ventes et l'efficacité de votre entrepôt.
Avec AutoSimply Sales Anywhere, il n'est plus nécessaire de saisir des données dans le back-office.
Votre force de vente mobile peut créer des offres, des commandes, des factures et enregistrer les paiements instantanément et à distance. Ces documents sont affichés dans Sage 300 en temps réel.
La solution AutoSimply Barcode Warehouse amène les transactions d'entrepôt en première ligne, quand et où elles se produisent. Il s'agit d'un système de code à barres mobile facile à utiliser qui se connecte à Sage 300 pour que les petites et moyennes entreprises puissent gérer toutes les transactions de mouvements de stocks avec précision et efficacité.
Cette présentation est offerte en anglais mais nous offrons la possibilité de discuter de vos besoins en français.
L'équipe D&A