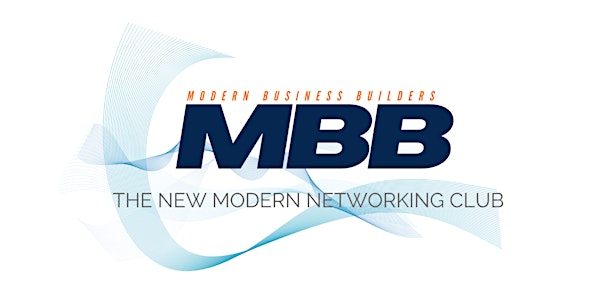 Modern Business Builders - In-Person Meeting
Grow your business, cultivate relationships, receive referrals! Join our business networking event and invest in your business.
When and where
Location
1601 Bayshore Dr. 1601 Bayshore Drive Vancouver, BC V6G 3H3 Canada
Refund Policy
Contact the organizer to request a refund.
Eventbrite's fee is nonrefundable.
About this event
***PLEASE NOTE***
This is an In-Person Meeting at The Marina, 1601 Bayshore Drive, Vancouver. Please select your menu item in the image below and email Roland at roland@kymbuna.com A MINIMUM OF 3 DAYS PRIOR TO OUR MEETING.
-----------------------------
Who are we?
We are a business-mastermind group that meets twice a month with a healthy sprinkle of networking and a good dose of referrals. A business relationship group that delivers value through efficient & concise bimonthly, structured meetings.
What makes our business building group different?
We are here to help our members create businesses worth owning
We believe in ensuring that people are rewarded for their hard work
We focus on maximizing the value for our members
We strive for a win-win outcome at all times
We minimize bureaucracy and structure.
Our opportunity
We are the evolution of Modern Networking, mixing the best of virtual and physical offerings. We are effectively layering business growth, professional development, coaching and fun into our organization. We are always open to change and improvements if it makes for a better outcome and result. We do not limit our member's networking opportunities by preventing them from joining other organizations.
Our vision, goal and founding principle is:
To create businesses worth owning and lives worth living;
We believe that we are the average of the people we surround ourselves with and in doing so we want to do good business with great people. We are passionate about giving back to our community We are not driven by money but value money for the good that money can do to help our family, ourselves and our community
Professional exclusivity
Our group holds one spot per profession/business category in order to offer full and powerful opportunities for members. Guests are welcome from any profession to any meeting as we believe that great connections and opportunities are created that way.
Current Members
Benjamin Chan
Benjamin is a Financial Advisor with Prometheus Private Advisory Group. He has a passion to help others and believes everyone should have the education to handle their finances regardless of their stage of life.
Dylan Gill
Dylan is a Commercial Mortgage Broker with a company called The Commercial Guys. Through many years of gaining knowledge and connections in this industry, they provide the opportunity for their clients to achieve their goals of starting a new business or achieving another stream of income.
Burcak Dogan
Burcak is a Canadian Visa, Skilled Worker, and Economic Immigration Services. He knows very well from his own experience: how difficult and sometimes frightening it is to leave the country of your birth and change the life you are used to and start a whole new life in a whole new country. You are likely to experience many financial and spiritual difficulties as you start a new life. At this stage, everyone needs to work with people who have both confidence and knowledge.
Kyle Edler
Kyler is an insurance broker. He can provide a variety of insurance products;
I can help with your ICBC insurance needs;
I can help with your home content needs;
I am able to insure your difficult assets;
I am just a phone call away to assist you.
Gavin Brar
Gavin is one of the leading industrial brokers in western Canada for KW Commercial specializing in the sale and leasing of industrial properties. Throughout his career, he has completed in excess of $200,000,000 in sales and lease transactions. Gavin specializes in finding off market sale opportunities for owner occupiers, private investors and small-to-mid size corporations.
Michael Lloyd
Helping people attain the goal of Homeownership is a fantastically rewarding part of Michael's role as the Team Leader of the HomeHappy Team. With the extensive lending experience gained from his various levels of lending management with local Credit Unions and large Trust Companies, Michael found his niche in 1999 becoming an Independent Mortgage Broker and never looked back.
Corina Stainsby
Corina is a Seniors Real Estate Specialist and founder of Heart and Home, a company dedicated to helping older Canadians love where they live. She ventured into Real Estate hoping to bring her personal brand of empathy to the industry. Heart and Home provides housing options and strategies so that Seniors can live life on their own terms, whether it be moving to a home that meets their needs or adapting their home to age in place.
Peter Farkas
Peter is the president of Electrum Networks. They offer a remotely managed IT department for small and medium businesses. You'll get your own IT director, high-quality support from our help desk, and access to a team of experts – all at a fraction of the cost of hiring your own.
Hassan El Masri
Hassan El Masri is a Notary Public in Vancouver BC. W. Masri Notary Corporation has been open since 2001 in the heart of East Vancouver providing Notarial Services to residents of the lower mainland. The Notaries at W. Masri Notary Corporation specialize in Real Estate Transactions, Mortgages, and Estate Planning.
Joyce Labbe
Joyce Labbe is the inspirational founder and Chief Consultant of business entrepreneur consulting practice, TKS Business Entrepreneur Consulting. Though based in Vancouver, British Columbia, she has worked as widely as Montreal, Winnipeg, and throughout Canada and has successfully supported over 30 entrepreneurs projects. Joyce's 20 years of professional experience, combining both the creative and business side of entrepreneurship, ensures she can manage complex projects with the highest level of flair and technical acumen.
Brandy Kawulka
Brandy's into wood, dust and all things renovation – as a red seal joiner (cabinetmaker) that's a good thing! Nearly 20 years ago she and her husband started a cabinetry shop called Wood Be Art and it gradually morphed into a full service contracting company - Wood Be Art Renovations. She brings her passion for creative ideas, fine woodwork and craftsmanship into all renovation projects.
Dharmesh Dass
Being an employee benefits specialist requires detailed knowledge and expertise. My experience working at a major Canadian insurance company along with industry specific education has given me the knowledge and skills to make sure that my customers get the best possible advice, service and price. Signet Financial Group has been in business for over 50 years servicing clients all across Canada with the majority of them being in BC and Alberta. Dharmesh jointly owns Signet Financial Group and as an owner, taking pride in being the contact point for his clients.
Nesrine Jabbour
I started my own full financial services firm 14 years ago, driven to excel by my own money story. Today as an established business owner myself, entrepreneur and business owners hire me to apply my unique blend of wisdom and tax planning to create more than prosperity and affluence for them. It is so much more than money it is what you want to do with your wealth that matters. We focus on understanding your business operations, your succession plan and your estate needs. We engineer a plan that delivers tax efficiency.
Meeting Breakdown
Opening the meeting with our visions, goals and founding principles;
President introduces all the members and guests;
Productivity Coach gives a 4-minute Growth Plan;
VP gives update since last meeting on referrals, connections and opportunities;
5-minute break-out session;
Members give their 2-minute presentation;
Guests give their 45-second presentation;
Featured non-profit gives their 5-minute presentation;
Secretary gives financial transparency report and presents investment opportunity to guests;
5-minute break-out session;
Members present their recent referrals, testimonials and BBM's;
Guests give their input on the meeting;
The President wraps up the meeting.
We meet every two weeks, the second Wednesday of the month we have a virtual meeting, the fourth Wednesday of the month we have an in-person luncheon.
We strive to ensure that our members will find growth and success in our model through powerful relationship building.
Will you join us to experience the difference?