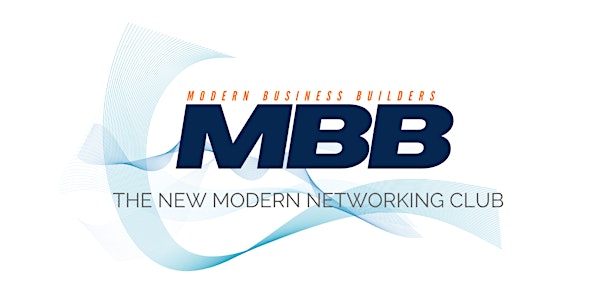 Modern Business Builders - Virtual Meeting Online
Grow your business, cultivate relationships, receive referrals! Join our business networking event and invest in your business.
Refund Policy
Contact the organizer to request a refund.
Eventbrite's fee is nonrefundable.
About this event
Who are we?
We are a business-mastermind group that meets twice a month with a healthy sprinkle of networking and a good dose of referrals. A business relationship group that delivers value through efficient & concise bimonthly, structured meetings.
What makes our business building group different?
We are here to help our members create businesses worth owning
We believe in ensuring that people are rewarded for their hard work
We focus on maximizing the value for our members
We strive for a win-win outcome at all times
We minimize bureaucracy and structure.
Our opportunity
We are the evolution of Modern Networking, mixing the best of virtual and physical offerings. We are effectively layering business growth, professional development, coaching and fun into our organization. We are always open to change and improvements if it makes for a better outcome and result. We do not limit our member's networking opportunities by preventing them from joining other organizations.
Our vision, goal, and founding principle are:
To create businesses worth owning and lives worth living.
We believe that we are the average of the people we surround ourselves with and in doing so we want to do good business with great people. We are passionate about giving back to the community We are not driven by money but value money for the good that money can do to help our family, ourselves, and our community
Professional exclusivity
Our group holds one spot per profession/business category in order to offer full and powerful opportunities for members. Guests are welcome from any profession to any meeting as we believe that great connections and opportunities are created that way.
Current Members
Benjamin Chan
Benjamin Chan is Founder and Financial Wellness Advisor at InterHealth Financial Inc., a boutique financial firm in Vancouver BC, that specializes in working with health professionals in BC, AB, and ON, to Reduce Taxes, Build Assets and Save for the Future. Benjamin believes financial planning should be made easy and offers a Simple 5-Step Process, which starts with a complimentary 20 mins introductory call to connect and better understand the goals you're working towards.
Daniel Seifried
Daniel is an Entrepreneur, Videographer, Web Designer, and social media, expert. Owner of DS90 Media an E-Marketing business serving Vancouver and the Metro area. A Film school graduate with multiple IT skills. DS90 Media provides Video Production and Website Design Services. We produce Corporate, Event, and Weddings Videos. We also design WordPress websites for our clients, and these include digital storefront websites and E-Commerce solutions. We provide digital marketing solutions that are optimized on all devices.
Kyle Edler
Kyler is an insurance broker. He can provide a variety of insurance products.
I can help with your ICBC insurance needs.
I can help with your home content needs.
I am able to insure your difficult assets.
I am just a phone call away to assist you.
Michael Lloyd/Brendan Turner
The HomeHappy Team is a dedicated group of Mortgage Experts with over 60+ years of combined lending experience who love to make their client's dream of home ownership a reality. The strength of the team is being able to ensure all of our clients are listened to, communicated with, educated, and confident in their mortgage plan moving forward in a consistent manner. We may not be able to take all of the stress away from buying your first home, dealing with changes in life, or all of the other issues that it can throw at you, but we will be with you all the way. The HomeHappy team prides itself on working with our clients through the initial experience, as well as helping to manage their mortgage forever, and great communication is a key part of every step. We constantly review the market for changes that may impact you and let you know when we think a change is needed. We are also always available for you when you have a question. We work for you, not the banks. While the lenders may pay us for bringing them the mortgage, enabling us not to have to charge you for our service, who we go through and why we go through them will be a big part of our discussion early on. After helping 2500+ families with their mortgage lending needs, we have seen almost every scenario, and can help you find the solution that fits your needs… building your mortgage plan is a key part of that. We want you to know what your next step is…whether fixing your credit, saving a down payment, buying a rental property, or any of the other steps you may want to take to reach your goals, we will be your guide and help you to get there.
We look forward to helping you!
Corina Stainsby
Corina is a Seniors Real Estate Specialist and founder of Heart and Home, a company dedicated to helping older Canadians love where they live. She ventured into Real Estate hoping to bring her personal brand of empathy to the industry. Heart and Home provides housing options and strategies so that Seniors can live life on their own terms, whether it be moving to a home that meets their needs or adapting their home to age in place.
Peter Farkas
Peter is the president of Electrum Networks. They offer a remotely managed IT department for small and medium businesses. You'll get your own IT director, high-quality support from our help desk, and access to a team of experts – all at a fraction of the cost of hiring your own.
Hassan El Masri
Hassan El Masri is a Notary Public in Vancouver BC. W. Masri Notary Corporation has been open since 2001 in the heart of East Vancouver providing Notarial Services to residents of the lower mainland. The Notaries at W. Masri Notary Corporation specialize in Real Estate Transactions, Mortgages, and Estate Planning.
Jeanette Delgrosso
Jeanette is the General Manager for the Vancouver Franchise. My focus is people - on the outside we are a residential painting company, but on the inside, we are a people development company. Whether you're remodeling your kitchen or looking for a change of pace in the office, a fresh splash of color can go a long way toward brightening up a space and giving it a new and improved feel.
Whatever your vision for your next painting project is—big or small—trust the experts at WOW 1 DAY PAINTING Vancouver to bring it to life! We'll get the job done right, quickly, and in just one day. With 8 years of leadership and coaching experience, I develop people into operations managers, sales specialists, and quality assurance managers. My goal is for people to grow a job into a career.
Joyce Labbe
Joyce Labbe is the inspirational founder and Chief Consultant of the business consulting practice, TKS Business Consulting Inc. Though based in Vancouver, British Columbia, she has worked as widely as Montreal, Winnipeg, and throughout Canada and has successfully supported over 30 entrepreneurs' projects. Joyce's 20 years of professional experience, combining both the creative and business sides of entrepreneurship ensures she can manage complex projects with the highest level of flair and technical acumen. Working with business clients immigrating to Canada and would like to open or starting a business. Assisting employers with gaining great employees in every business organization, big or small.
Brandy Kawulka
Brandys into wood, dust, and all things renovation – as a red seal joiner (cabinetmaker) that's a good thing! Nearly 20 years ago she and her husband started a cabinetry shop called Wood Be Art and it gradually morphed into a full-service contracting company - Wood Be Art Renovations. She brings her passion for creative ideas, fine woodwork, and craftsmanship into all renovation projects.
Dharmesh Dass
Being an employee benefits specialist requires detailed knowledge and expertise. My experience working at a major Canadian insurance company along with industry-specific education has given me the knowledge and skills to make sure that my customers get the best possible advice, service, and price. Signet Financial Group has been in business for over 50 years servicing clients all across Canada with the majority of them being in BC and Alberta. Dharmesh jointly owns Signet Financial Group and as an owner, takes pride in being the contact point for his clients.
Nesrine Jabbour
I started my own full financial services firm 14 years ago, driven to excel by my own money story. Today as an established business owner myself, entrepreneurs and business owners hire me to apply my unique blend of wisdom and tax planning to create more than prosperity and affluence for them. It is so much more than money it is what you want to do with your wealth that matters. We focus on understanding your business operations, your succession plan, and your estate needs. We engineer a plan that delivers tax efficiency.
Roland Kym
Roland Kym is a Father/Farmer/Realtor/Investor/Coach/Entrepreneur and Author. Roland and his wife and four children live in North Vancouver. Roland grew up on a farm in Pemberton, BC, and remains a passionate farmer & country boy. As a Presidential Award-winning Realtor, Roland is consistently in the top 1% of all Vancouver Realtors. Roland has been involved in more than 1000 transactions; Roland is a passionate investor with experience in various strategies. Owns a coaching business where he mentors and coaches Realtors and Investors. Co-owns several businesses including KW brokerage, Compliance Closing Company, Referral Networking Business, and more;
Roland published 52 weekly Wins several years ago and is going to be launching two books in 2021 focused on Realtors and Investors.
Meeting Breakdown
Opening the meeting with our visions, goals, and founding principles.
President introduces all the members and guests.
Productivity Coach gives a 4-minute Growth Plan.
VP gives updates since the last meeting on referrals, connections, and opportunities.
5-minute break-out session.
Members give their 2-minute presentation.
Guests give their 45-second presentation.
Featured non-profit gives their 5-minute presentation.
Secretary gives financial transparency reports and presents investment opportunities to guests.
5-minute break-out session.
Members present their recent referrals, testimonials, and BBMs.
Guests give their input on the meeting.
The President wraps up the meeting.
We meet every two weeks, the second Wednesday of the month we have a virtual meeting, the fourth Wednesday of the month we have an in-person luncheon.
We strive to ensure that our members will find growth and success in our model through powerful relationship-building.
Will you join us to experience the difference?